The Nashville Cats - Pete Anderson
First Published in Country Music International, May 1995
He's best known as Dwight Yoakam's co-pilot, the sidekick/guitarist/producer who helped define a winning formula. Now he's made his first solo record
An ace guitarist and maverick record producer, Pete Anderson is best known for his work with Dwight Yoakam. A Detroit-born music freak, raised on the blues, Anderson spent a good 10 years paying his dues on the LA club scene, playing everything from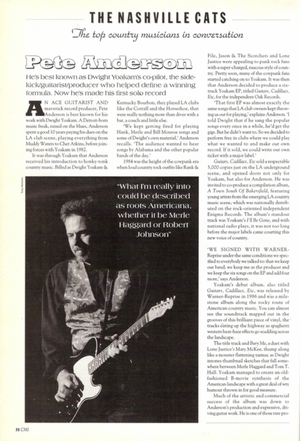 Muddy Waters to Chet Atkins, before joining forces with Yoakam in 1982.
It was through Yoakam that Anderson received his introduction to honky-tonk country music. Billed as Dwight Yoakam & Kentucky Bourbon, they played LA clubs like the Corrall and the Horseshoe, that were really nothing more than dives with a bar, a couch and little else.
"We kept getting fired for playing Hank, Merle and Bill Monroe songs and some of Dwight's own material," Anderson recalls. "The audience wanted to hear songs by Alabama and the other popular bands of the day."
1984 was the height of the cowpunk era when loud country rock outfits like Rank & File, Jason & The Scorchers and Lone Justice were appealing to punk rock fans with a super-charged, raucous style of country. Pretty soon, many of the cowpunk fans started catching on to Yoakam. It was then that Anderson decided to produce a six-track Yoakam EP, titled GUITARS, CADILLACS, ETC, for the independent Oak Records.
"That first EP was almost exactly the same songs that LA club owners kept throwing us out for playing," explains Anderson. "I told Dwight that if he sang the popular songs every once in a while, he'd get the gigs. But he didn't want to. So we decided to perform free in clubs where we could play what we wanted to and make our own record. If it sold, we could write our own ticket with a major label."
GUITARS, CADILLACS, ETC sold a respectable 5,000 copies just on the LA underground scene, and opened doors not only for Yoakam, but also for Anderson. He was invited to co-produce a compilation album, A TOWN SOUTH OF BAKERSFIELD, featuring young artists from the emerging LA country music scene, which was nationally distributed on the rock-oriented independent Enigma Records. The album's standout track was Yoakam's I'll Be Gone, and with national radio plays, it was not too long before the major labels came courting this new voice of country.
"We signed with warner-Reprise under the same conditions we specified to everybody we talked to: that we keep our band, we keep me as the producer and we keep the six songs on the EP and add four more," says Anderson.
Yoakam's debut album, also titled GUITARS, CADILLACS, ETC, was released by Warner-Reprise in 1986 and was a milestone album along the rocky route of American country music. You can almost see the soundtrack mapped out in the grooves of this brilliant piece of vinyl, the' tracks eating up the highway as spaghetti western heat-haze effects go scudding across the landscape.
The title track and Bury Me, a duet with Lone Justice's Mary McKee, thump along like a monster flattening tarmac as Dwight intones thumbnail sketches that fall somewhere between Merle Haggard and Tom T. Hall. Yoakam managed to create an old-fashioned B-movie synthesis of the American landscape with a great deal of wry humour thrown in for good measure.
Much of the artistic and commercial success of the album was down to Anderson's production and expressive, driving guitar work. He is one of those rare producers in country music who has been able to put his own personal stamp on an album.
Drifting between rock and country, without substantially changing style or backing instrumentation, has always been a characteristic of the Yoakam/Anderson partnership. As well as producing all of Yoakam's albums during the past 10 years, Anderson has also spent time on the road with him, playing dates around the world, and probably knows more about the singer than anybody.
Anderson was even partly responsible for Yoakam's habit of turning his back to the audience. "When I was growing up in Detroit, the hottest act around was Billy Lee & The Rivieras, who eventually became Mitch Ryder & The Detroit Wheels," he explains. "As each show began, they'd come out on stage and perform the entire first number with their backs to the audience. I never forgot that image and the defiant attitude it conveyed."
Both Anderson and Yoakam have shown open defiance in their approach to the music business. Anderson lets his artists speak for themselves, portraying naked emotion and delivering an unsentimental slice of real country soul, rather than shrink-wrapped Nashville product straight off the shelf.
Anderson has tended to work with real musical artists—the almost-rans, almost- made-its and other fringe and roots singer-songwriters who do it for love rather than money. He has been at the forefront of the trend for producers who nurture individual sounds for each artist they work with. The best are those who could get—and perhaps embellish just a little—an artist's distinctive sound.
Though Anderson has gone on to produce pop and rock acts as well, including Michelle Shocked, Steve Forbert and the Meat Puppets, his style remains integrally linked to Yoakam's. Early on he attempted to copy his success with Dwight Yoakam into hits for lesser talents, including Rosie Flores and George Highfill, but since then, his stature as a producer has grown as he's worked with fringe country artists like Jim Lauderdale and Lucinda Williams.
It has, however, taken him a while to get around to making his own album, WORKING CLASS, released late last year on his own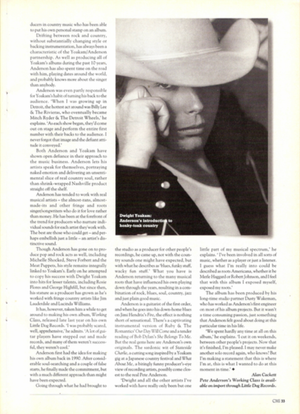 Little Dog Records. "I was probably scared, well, apprehensive," he admits. "A lot of guitar players have stepped out and made records, and many of them weren't successful, they weren't cool."
Anderson first had the idea for making his own album back in 1990. After considerable soul-searching and a couple of false starts, he finally made the commitment, but with a much different approach than might have been expected.
Going through what he had brought to the studio as a producer for other people's recordings, he came up, not with the country sounds one might have expected, but with what he describes as 'blues, funky stuff, wacky fun stuff.' What you have is Anderson returning to the many musical roots that have influenced his own playing down through the years, resulting in a combination of rock, blues, soul, country, jazz and just plain good music.
Anderson is a guitarist of the first order, and when he goes into his down-home blues on Jimi Hendrix's Fire, the effect is nothing short of sensational. There's a captivating instrumental version of Ruby & The Romantics' Our Day Will Come and a tender reading of Bob Dylan's She Belongs To Me. But the real gems here are Anderson's own originals. The sardonic wit of Stateside Charlie, a cutting song inspired by a Yoakam gig at a Japanese country festival and What About Me, a bitingly funny producer's-eye view of recording artists, possibly come closest to the real Pete Anderson.
"Dwight and all the other artists I've worked with have really only been but one little part of my musical spectrum," he explains. "I've been involved in all sorts of music, whether as a player or just a listener. I guess what I'm really into could be described as roots Americana, whether it be Merle Haggard or Robert Johnson, and I feel that with this album I exposed myself, exposed my roots."
The album has been produced by his long-time studio partner Dusty Wakeman, who has worked as Anderson's first engineer on most of his album projects. But it wasn't a time-consuming passion, just something that Anderson felt good about doing at this particular time in his life.
"We spent hardly any time at all on this album," he explains. "I cut it on weekends, between other people's projects. Now that it's finished, I'm pleased. I may never make another solo record again, who knows? But I'm making a statement that this is where I'm at, this is what I wanted to do at this moment in time."