The Mercey's Build Up Their British Following
First published in Country Music People, May 1979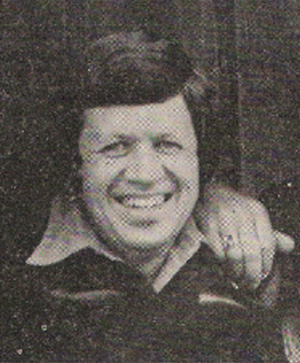 It was some seven or eight years ago that I first encountered the Mercey Brothers. The top Canadian country group were on a short visit to Britain as guest artists on a George Hamilton IV television series being recorded at the Elizabethan Barn, Tunbridge Wells. Though Ray, Larry and Lloyd were obviously suffering from the effects of jet lag, they were very keen to talk to people, projecting an image of friendliness flavoured with an infectious enthusiasm for their own career.
At the time, their single,
Hello Mom
, was high on the Canadian charts. Their performance in front of the BBC cameras was clean and professional, though lacking a little in impact. Their clear vocal harmonies had me hooked, and during the years that have followed I have kept a close watch on the Mercey Brothers' career, picking up the odd single or album along the way.
They promised on that first visit that they would be back to spend more time in Britain, hoping to build up a following. We had to wait a little over five years for that return, and Easter 1977 saw them make a favourable impression at the annual Wembley Festival. It gave me the opportunity to renew acquaintance with the three brothers, and besides reminiscing over their previous visit, we discussed at length the hopes and ambitions the group had for the future.
Bass guitarist, Ray, did most of the talking and he was enthusiastic about their recording studio in Elmira, Ontario, where, not only The Merceys, but also several other Canadian acts record. "We built the studio some four or five years ago, basically because we were not happy with the facilities provided by the various record companies. We do all of our own recordings there and lease them to RCA. They look after distribution and promotion, but we retain the master tapes."
Doesn't that involve you in a lot of administration work, I enquired. Ray and his two brothers nodded and Larry expanded upon the problems: "Quite honestly running the studio has kept us off the road more than we can afford in recent years. We find there's just not enough time to go out and entertain, which is also affecting our record sales. Hopefully we will overcome that problem, perhaps by getting a good guy in to run the studio for us."
Ray takes over from his brother: "Our plans and ambitions to become an internationally known act have been severely hampered by the time spent running the studio. We just didn't realise what it would all involve. We want to become more established, both here in Britain, and in America, and the only way to do that is to get out in front of the people."
The end of 1977 saw some important changes come about in The Merceys' set up. They appointed Larry Gregson as Managing Director of their various companies, which included the two publishing firms, Elmira Jingle Factory and the recently formed MBS Records. The Merceys' recording contract with RCA expired in January of last year, so they decided to record on their own MBS label. Their first single on the new label,
Home Along The Highway
, written by Canadian writer Lee Bach, rapidly climbed on the charts, giving MBS Records a very good beginning.
Since then they have followed up with hits like
Comin' On Stronger
and
Fancy Cars And Late Night Bars
, plus they released the excellent LP, COMIN' ON STRONGER, which is to receive a British release this month on Westwood. The boys have also undertaken a series of tours that have seen them appearing right across Canada with several television shows, including George Hamilton IV's Canadian series, Ronnie Prophet's Grand Ol' Country and a 'special' with Carroll Baker.
The past year has obviously been a productive one for the Merceys. While their first appearances here eight years ago suggested a strong, if somewhat unsure young group, their return two years ago signalled their emergence as a promising outfit that had retained its exuberance while developing further musical proficiency.
At the beginning of their career there seemed to be a marked similarity between the Merceys' vocal styling and that of Tompall and the Glaser Brothers. In fact the trio's whole attitude to the music business can be likened to that of the Glasers, with the setting up of their own studio, nurturing and developing talent, and signing young writers to their own publishing firms. I tackled Ray on this subject and he was insistent that he and his two brothers were not consciously out to emulate The Glasers.
"We've never set out to copy any one, but I guess, as we're three brothers who sing harmony, we are sure to be compared with the Glasers. We always enjoyed what Tompall and his brothers used to do, but we never do any of their material. From the beginning we always strived for our own identity. The recording studio was something we had in mind to do for several years and of course it makes sense for us to keep an eye on young songwriters who can provide us with material," then he added with a laugh: "Besides The Mercey Brothers have no intention of splitting up!"
The Mercey Brothers are well established on the Canadian country music scene; in the past 11 years they have won seven Juno awards as Canada's Top Country Group. They have released 10 albums, initially being signed to Columbia, then moving to RCA before forming their own label. Their hit singles include songs like
Silver Dish Café, Loving You From A Distance, Who Wrote The Words, Uncle Tom
and
Kentucky Turn Your Back
.
Like so many Canadian country artists, they have been neglected record wise in Britain, although their last LP for RCA, HOMEMADE did receive a British release to tie-in with their Wembley visit. It's a more commercially-orientated record than the Merceys would have liked, but it did provide them with four very successful Canadian singles. Highlights are the catchy
Loving You From A Distance
, featuring some finely sung vocal harmonies, Baker Knight's
Jamie
, and a good version of Don Williams'
Don't You Believe
.
The trio leans heavily on their own smooth vocal arrangements and fine counteraction between lead and harmony vocals. But like all smooth harmony vocal groups, they have been steered away from straight country toward a middle-of-the-road approach, and this album is a perfect example of that problem.
As Ray explained: "We've always considered ourselves a country group, but sometimes to get the airplay, we have aimed our music at the crossover audience. The problem then is one of identity. If we are not too careful we could become too middle-of-the-road, you stop fitting into a country music format. In Canada there are a lot more radio stations playing country music now than ever before and we hope to bring our music much closer to its roots."
There's no doubt with COMIN' ON STRONGER that the Merceys have achieved that goal. They have cleverly blended some well-known country songs like
Lucille
and
A Whole Lotta Things To Sing About
with some excellent new songs. To each they bring a great country feel utilising fiddles, banjo, steel guitar and keyboards leaving plenty of room for the clean and clear vocal work of Ray, Lloyd and Larry.
The Merceys are strong in the vocals department—all three are singers, and their unison singing is excellent in its economy and precision. Lee Bach's
Home Along The Highway
and
I Could Take Your Lovin' All The Time
are fine compositions. There are some excellent passages and well constructed instrumental tapestries over which the harmonic voices are laid with precision and poise.
Their on-stage vitality cuts most larger groups down very quickly. Their energy is irresistible and they project their own hits as well as some very strong lively covers of popular Nashville fare with enormous energy. Larry on guitar performs most of the lead vocals, with Ray on bass handling a major portion of the harmony and Lloyd on drums sweetening the sound with his vocal blend. The Merceys have always been craftsmen in the old-fashioned sense of the term, working solidly toward a long defined goal. One can only hope they gain some sort of recognition in Britain, we've been ignoring them for too long.