First Published in Country Music International, May 1995
They were notorious for tearing up the Miami beach clubs with three-hour honky-tonk jams. Now there's a marathon country rock session coming to a town somewhere near you
The Mavericks, a Nashville-Miami country band with a platinum-selling third album under their belts, are about to hit our shores, and they could easily score high dividends. Straddling the styles of the past and present, this hard-driving and equally hard-nosed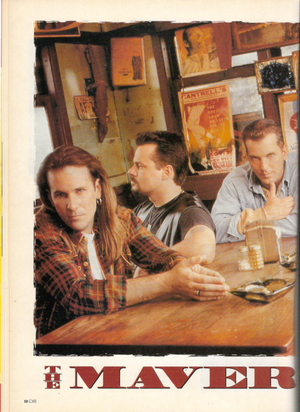 band are succeeding in bringing the periodically flagging Nashville sound to interesting and life-sustaining new levels.
The Mavericks have brought a fresh, cutting-edge sound to country music, reviving the styles of the 1940s and 1950s, adding a modern rock edge, and wrapping it all around timeless country lyrics. But because modern music has been divided into neatly defined categories, it's not been easy to sell music that overflows those strict boundaries.
The Mavericks are a band fused together by their shared musical passion, fuelled by the powerful lead vocals and songwriting of Raul Malo, and drawing from a refreshingly diverse set of influences. Each member of the band comes from a different musical background—rockabilly, jazz, Latin, folk, progressive rock, country and blues—but they meet where all American musical styles converge: in roots country.
Raul Malo, a first generation Cuban-American, was raised in Miami in a household where country, rockabilly and Spanish folk songs were heard side by side. He was introduced to country music by his father and to Spanish folk songs by his grandfather. Malo had been playing in various pop bands for a number of years, but had never sung lead vocals in a band prior to the formation of the Mavericks in 1988.
Bound by a mutual love for the music they play, the Mavericks never set out to take home gold or platinum albums. Instead, all that they've ever wanted to do is to play their own kind of music in their own kind of way. "You've got to love the music you play and not play anything you don't love," declares Malo. "There's a lot of stuff to put up with in this business, but if you love what you're doing, then you can handle the rest."
"We haven't had a top 10 single, and yet we have a million record seller and it's gone gold in Canada," says bassist Robert Reynolds. "I think we've built from the ground up and it's been a solid foundation. The Mavericks are contemporary country, but on the edge because of the power and drive we deliver live and on record. We don't compromise."
Reynolds also played all styles of music as he moved with his family from Kansas City to Dallas and then eventually to Miami. He started in rock bands but emigrated to country early on, discovering it during garage sales expeditions with mother, who steered him to the 1950s records she'd loved as a teenager. Reynolds transmitted his passion for these old records to ex-jazz drummer Paul Deakin, and it was his introduction of Patsy Cline and Johnny Cash records into Deakin's life that convinced the future of Maverick's drummer to move to the country side.
Nick Kane, the newest member of the band, replaced original guitarist David Lee Holt in late 1993. Kane was raised in Georgia, Germany and England, played folk, British beat, roots rockabilly, traditional Chicago blues, and even gigged with Roy Orbison on USO tours before turning to the Maverick's style of country music. He had known Deakin for more than a decade and both had played in a Miami band called Jolene, led by a 300lb singer with two-tone hair, performing everything from reggae to Top 40 covers.
Each of the Mavericks brings his own musical history and personal identity to the group, where they mesh with that of the other three partners. The individual love of the music of all genres ignites a blazing stage show that easily engulfs their audience. The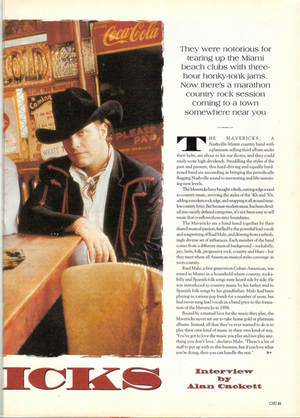 band have been jamming in Miami clubs since the late 1980s, playing beach bars like Cactus Cantina Grill and the Island Club, where bands don't get into their stride until 3am. As such, the Mavericks can still turn the most sedate concert hall into a honky-tonk frenzy. It was their on-stage reputation that led to the Mavericks being courted by major labels in Nashville and out on the west coast. In the end it was Music City that won.
The Mavericks were flown to Nashville in 1990 by MCA Records, and were signed by label chief Tony Brown during a soundcheck while rehearsing for that all-important showcase. As a man who's become synonymous with developing left-field country acts such as Lyle Lovett, Nanci Griffith, Kelly Willis and Steve Earle, only to watch them walk away from Nashville after being met with indifference by country radio, Brown was determined not to lose the Mavericks to either the east or west coast, or worse, total obscurity.
"They're a contemporary country band unlike anybody else," insists Brown. "They look like U2 and they sound like Buck Owens and Roy Orbison. Their chemistry is so cool, but Raul's voice coming out of those speakers, man, how can you deny that? I think it's one of the greatest voices to come down the pike in Nashville."
A hip, urban four-piece that many assumed would never break into the country mainstream, the Mavericks experienced many problems following their move to Nashville. By the end of 1993 they were in trouble. Their MCA debut, FROM HELL TO PARADISE, had stiffed, both at the radio stations and in stores, even though it had been rapturously received by the critics. The band ended one of their busiest years with just a closet full of press clippings and very little else to show for their efforts.
A year later the Mavericks released WHAT A CRYING SHAME, their second album for MCA, fully appreciating that this was their last shot. An adoring press could not pay their rent. "Obviously we were disappointed," admits Reynolds. "When we recorded the Crying Shame record we were afraid that it might be our last album.  We're very proud of all our records and we feel that each one is a natural progression, a step forward in the development of the Mavericks."
"We started as a pretty rough garage band in the early days," he continues, "and I'm pleased that we still sell quite a few copies of that first independent album (THE MAVERICKS, 1990). I'm not ashamed of it, because it caught the Mavericks as we were at that time. When we cut FROM HELL TO PARADISE, that was how the band was at that particular time, that was our sound. It may not have caught on, but it wasn't a bad record."
In comparison to the band's MCA debut, the Don Cook-produced follow-up, WHAT A CRYING SHAME, found the Mavericks getting close to the Nashville mainstream. Raul Malo had teamed up with Nashville writers like Kostas to produce three-minute country heart-breakers. The result was rich, dramatic harmonies of the 1960s colliding with the cutting edge of the 1990s, as the powerful retro vocals rang through the driving guitar riffs.
Throughout the country boom of the 1990s there has been considerable talk about 'new country,' but, musically, very little of it has qualified as such. The Mavericks are one of the few acts helping to forge a healthy new direction for country music. WHAT A CRYING SHAME is an album where style meets intelligence. Whether smoking through the snarling, bluesy burner The Losing Side Of Me, creating ethereal sculptures on Jesse Winchester's O What A Thrill or delighting with the haunting balladry of I Should Have Been True, the Mavericks show a meticulous craft and an unerring sense of melody.
"Musically, we were very interested in having the same energy that the band has live," explains Reynolds. "It's a real outstanding energy that you won't see in every country band today. It's got a good kick. There was also a conscious decision to get Don Cook in as he's been producing some of today's biggest acts, and they all have this raw, edgy sound that the Mavericks like."
The very idea of a sell-out band whose very name symbolises the collective rebelliousness is far-fetched. The Mavericks hadn't sold out, they'd matured and developed naturally. Survival was another important issue. "Don gave us the possibility of moving forward, yet remaining true to ourselves," believes Reynolds. "The idea was to keep this band and the music alive."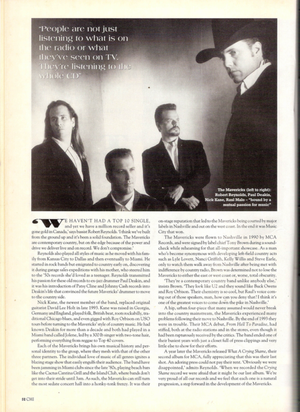 At first it appeared that this last-ditch effort had failed, as radio still refused to pick up on the band. What turned their fortunes around was, interestingly enough, their strong lives shows. While scores of rock bands have built careers on word-of-mouth praise and endless touring, the costly road option is almost unheard of in Nashville, where radio airplay still dictates the winners and losers. Yet by playing small club gigs, such as Chicago's Whiskey River, Nashville's Ace Of Clubs and an annual radio trade convention in San Francisco, where important radio programmers were invited along, the band started denting and eventually removing many of the barriers they had previously faced.
"All we know is that when we go out to play, kids, grown-ups—all the fans that come out to see us—they all know the album," says Reynolds, "and that's important to the band and to what we're about. People are not just listening to what is on the radio or what they've seen on TV or the singles that have been played. They're listening to the whole CD."
The Mavericks still play three-hour live epics, and a secret weapon in their shows is Nashville keyboard player Jerry Dale McFadden. With Deakin's thunderous drumming, Kane's and Reynold's blazing strings and McFadden's frantic and powerful piano, frontman Raul Malo has a solid base to work from.
"We're proud of our live show," states Reynolds. "I believe it comes from a lot of hard work. We have that raw, earthy thing, really down to the essential band of guitar, bass, drums and piano."
"I think that there's something to be said for the experience of sharing the performance with a band on stage," he continues. "Working in the studio on an album or even shooting a three-minute music video can become unreal. You spend a minimum of 12-15 hours just filming a video, and that's not taking into account the time spent on editing. And that's just for three minutes. You know you're really putting together your very best pieces, whereas on stage what you see is what you get."
At a time when most country concerts, whilst entertaining in their own right, are often predictable, 90 minute run-throughs featuring a hefty chunk of new material, a smattering of the oldies, by-the-numbers hits and probably a Hank Williams or Merle Haggard revival, the Mavericks' stunning shows, complete with such diverse covers as Sweet Dreams, Return To Sender and even Stir It Up, continue to separate them from the pack.
"When I saw Bruce Springsteen at the Miami Orange Bowl during the Born In The USA tour, he changed my whole life," announces Malo. "He really inspired me to do those exhaustive rollercoaster shows, but to do them in country music. If we're having fun and the place is still rocking, then we'll keep playing."
"Cover songs show our audience a little bit of what we're about," he adds. "I think a lot of our fans are people who listen to Bruce Springsteen and Bob Dylan, as well as Ray Price and Patsy Cline. Our original stuff shows the songwriting side, but the covers represent a little bit of our mischievous sense of humour. We might do stuff that is not normally expected from a country band., just to throw people for a loop. But whatever cover we do, we do it because we love it."
Having made that all-important commercial breakthrough, the Mavericks now have the difficul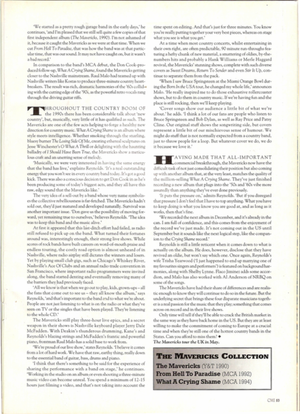 t task of not just consolidating their position but also coming up with another album that, at the very least, matches the quality of the million-selling WHAT A CRYING SHAME. They've just finished recording a new album that plugs into the 1950s and 1960s vibe more assuredly than anything they've ever done previously.
"It puts the pressure on," admits Reynolds. "But if you disregard that pressure I don't feel that I have to top anything. What you have to keep doing is what you know you are good at, and as long as it works, then that's fine."
"We recorded the next album in December, and it's already in the can. I am full of confidence, and this comes from the enjoyment of the record we've just made. It's not coming out in the US until September but it sounds like the next logical step, like the companion to the Crying Shame record."
Reynolds is still a little reticent when it comes down to what is actually on the album. He does, however, disclose that they have revived an oldie, but won't say which one. Once again, Reynold's wife Trisha Yearwood ('I just happened to end up marrying one of my favourite singers and performers') is featured on background harmonies, along with Shelby Lynne. Flaco Jiminez adds some accordion, and Malo has also worked with Al Anderson of NRBQ on some of the songs.
The Mavericks have had their share of differences and are realistic enough to know they will continue to do so in the future. But the underlying secret that brings these dour disparate musicians together is a real passion for the music that they play; something that comes across on record and in their live shows.
Only time will tell if they'll be able to crack the British market in the same way as they have back home in the US. But they are at least willing to make the commitment of coming to Europe at a crucial time and when they're still one of the hottest country bands in the States. Can you afford to miss them.