The Lynns - Under The Spotlight
First Published in Country Music International – May 1998
They may be the daughters of a country music legend, but it was a mixture of raw talent and hard work that got the Lynns a record deal.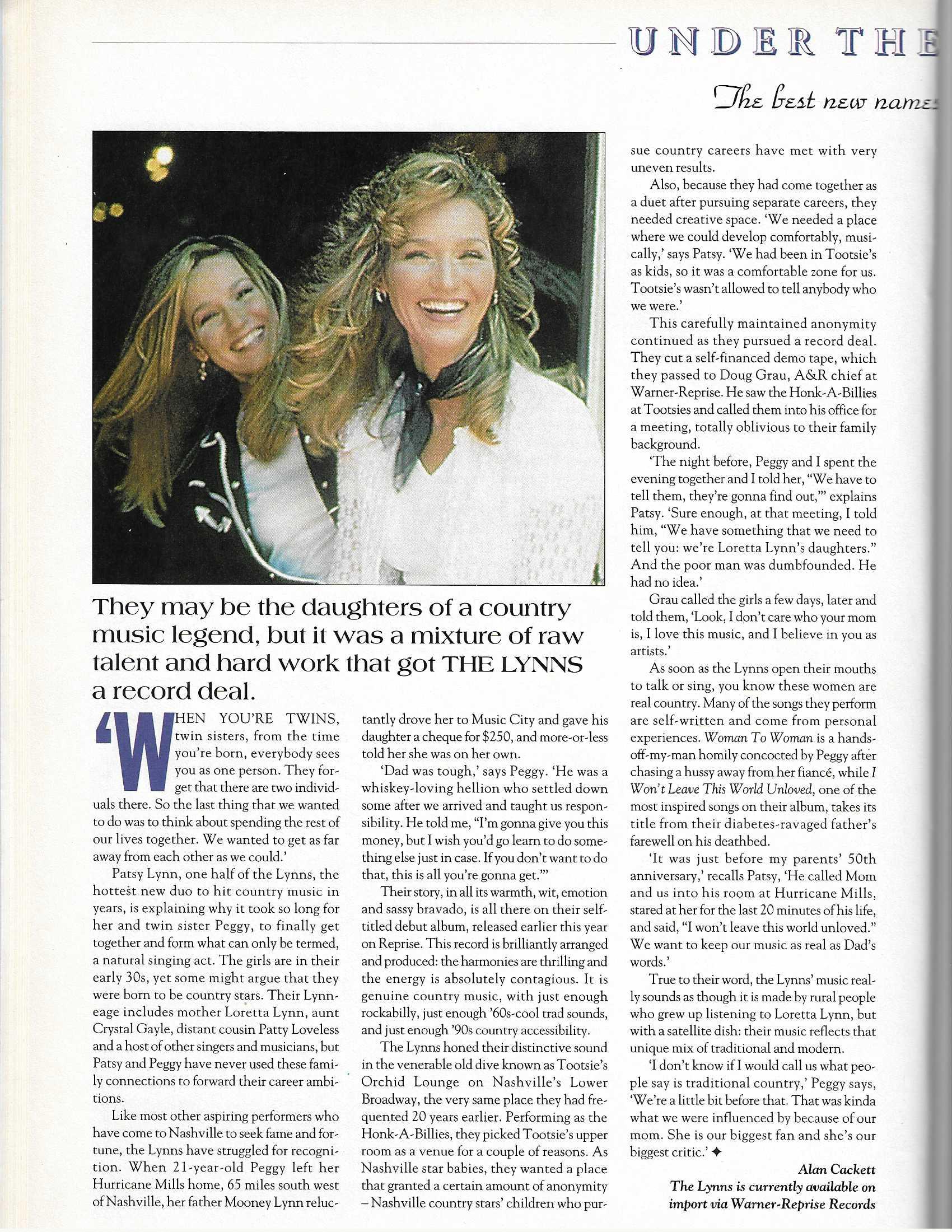 "When you're twins, twin sisters, from the time you're born, everybody sees you as one person. They forget that there are two individuals there. So the last thing we wanted to do was to think about spending the rest of our lives together. We wanted to get as far away from each other as we could."
Patsy Lynn, one half of the Lynns, the hottest new duo to hit country music in years, is explaining why it took so long for her and twin sister Peggy, to finally get together and form what can only be termed, a natural singing act. The girls are in their early 30s, yet some might argue that they were born to be country stars. Their Lynneage includes mother Loretta Lynn, aunt Crystal Gayle, distant cousin Patty Loveless and a host of other singers and musicians, but Patsy and Peggy have never used these family connections to forward their career ambitions.
Like most other aspiring performers who have come to Nashville to seek fame and fortune, the Lynns have struggled for recognition. When 21-year-old Peggy left her Hurricane Mills home, 65 miles southwest of Nashville, her father Mooney Lynn reluctantly drove her to Music City and gave his daughter a cheque for 250 dollars, and more-or-less told her she was on her own.
"Dad was tough," says Peggy. "He was a whiskey-loving hellion who settled down some after we arrived and taught us responsibility. He told me, I'm gonna give you this money, but I wish you'd go learn to do something else just in case. If you don't want to do that, this is all you're gonna get."
Their story, in all its warmth, wit, emotion and sassy bravado, is all there on their self-titled debut album, released earlier this year on Reprise. This record is brilliantly arranged and produced; the harmonies are thrilling and the energy is absolutely contagious. It is genuine country music, with just enough rockability, just enough 1960s-cool trad sounds, and just enough 1990s country accessibility.
The Lynns honed their distinctive sound in the venerable old dive known as Tootsie's Orchid Lounge on Nashville's Lower Broadway, the very same place they had frequented 20 years earlier. Performing as the Honk-A-Billies, they picked Tootsies' upper room as a venue for a couple of reasons. As Nashville star babies, they wanted a place that granted a certain amount of anonymity— Nashville country stars' children who pursue country careers have met with very uneven results.
Also, because they had come together as a duet after pursuing separate careers, they needed creative space. "We needed a place where we could develop comfortably, musically," says Patsy. "We had been in Tootsie's as kids, so it was a comfortable zone for us. Tootsie's wasn't allowed to tell anybody who we were."
This carefully maintained anonymity continued as they pursued a record deal. They cut a self-financed demo tape, which they passed to Doug Grau, A&R chief at Warner-Reprise. He saw the Honk-A-Billies at Tootsies and called them into his office for a meeting, totally oblivious to their family background.
"The night before, Peggy and I spent the evening together and I told her: 'We have to tell them, they're gonna find out,'" explains Patsy. "Sure enough, at that meeting, I told him: 'We have something that we need to tell you: we're Loretta Lynn's daughters.' And the poor man was dumbfounded. He had no idea."
Grau called the girls a few days later and told them: 'Look, I don't care who your mom is, I love this music, and I believe in you as artists.'
As soon as the Lynns open their mouths to talk or sing, you know these women are real country. Many of the songs they perform are self-written and come from personal experiences. Woman To Woman is a hands-off-my-man homily concocted by Peggy after chasing a hussy away from her fiance, while I Won't Leave This World Unloved, one of the most inspired songs on their album, takes its title from their diabetes-ravaged father's farewell on his deathbed.
"It was just before my parents' 50th anniversary," recalls Patsy, "He called Mom and us into his room at Hurricane Mills, stared at her for the last 20 minutes of his life, and said: 'I won't leave this world unloved.' We want to keep our music as real as Dad's words."
True to their word, the Lynns' music really sounds as though it is made by rural people who grew up listening to Loretta Lynn, but with a satellite dish: their music reflects that unique mix of traditional and modern.
"I don't know if I would call us what people say is traditional country," Peggy says, "We're a little bit before that. That was kinda what we were influenced by because of our mom. She is our biggest fan and she's our biggest critic."