The Lucky Ones - The Lucky Ones
Self-released
****
This Canadian outfit, hailing from the ragged wilds of the Yukon, live and breathe traditional stringband and bluegrass music, in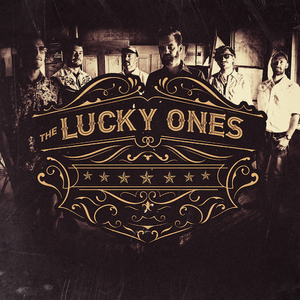 the studio and on stage. Their love for the old-time way is evident, as is their obvious command of time honoured technique. Still, there is something unique about their approach that will surely appeal to die-hard traditional country fans and seduce a good many bluegrassers over to the old school as well. That said, they also make it a point not to stray too far afield, especially as far as the musical mix is concerned. No matter, though, they still manage to come across with a decided dose of freshness and finesse. Remaining true to the template doesn't diminish their drive or dexterity, skills that are clearly a factor in their favour. The album's songs are driven by character-rich stories that will envelop listeners. They've assembled nine players, weaving fiddle, banjo, guitars, piano, mandolin, bass and vocal harmonies into a rich tapestry of sound, providing different perspectives with each listen. Fortunately, while it's a set of songs that's deeply rooted in old-timey realms, it's a musical mix that's sewn together with exemplary picking, a strong collection of original material, and an upbeat enthusiasm that reflects their obvious affection for their chosen genre.
Clearly confident due to their instrumental acumen, the six-piece—JD McCallen (guitar, vocals), Ian Smith (guitar, vocals), Ryan West (mandolin, guitar, vocals), Aaron Burnie (banjo), Kieran Poile (fiddle), Jerome Belanger (double bass)—ply a unique traditional tapestry even as they forge a contemporary connection. They also bring in Susu Robin (piano) plus Andrew Laviolette and Kristen Poenn (vocal harmonies) to add to the overall diversity of sound. Their songs are full of sensory imagery and deeply felt instrumentation, and it's their unique way of trying to approach universal joys and sorrows that allows the band to achieve the emotional connection with their listeners that makes them so special.
The opener, Fool's Gold, combines a folkish melody with country tones, including an old-timey fiddle running through the tale of the gold rush days of more than a century ago. Neatly, the lyrics, simultaneously dig into the boom-and-bust era that has plagued western economies over the years. Snowflakes In The Sun is one of those cheerful heartbreak songs that are so popular in bluegrass music. An infectious toe-tapper, masterful fiddling flavored by mandolin licks and rollicking acoustic guitar, adds to this shining example of instrumental interplay between bandmates. Led again by spot-on fiddling from Poile, The Old '98 is a nostalgic look back at a one-room bar that was once the hub of a one-horse town. Reminiscing on the good ole days and the characters that peopled the place to a familiar waltz melody, this has the vibe of Saturday night fights and couples smooching round a sawdust floor. There's a honky-tonk feel to Waitin' On A Paycheque, a down-on-your-luck blue-collar lament, with a smoky bar vocal enhanced by barroom piano and ragged vocal harmonies. The austere music doesn't offer false comfort but embodies an unbreakable resilience that's especially valuable in tough times. There's more hardship in Since The Farm Got Sold, but this song is given an up-tempo treatment, with an expressive fiddle energetically dancing in and out of the melody, that is carried along by vibrant acoustic guitar. Jangly bluegrass with a country twang laced to each other with the lyrics carrying an acceptance of the inevitability, as the third-generation son returns home to pick up the pieces of what's left of the family's homeplace.
There's depth, experience and inconsolable sadness to Wish, the album's emotional focal point. A Civil War saga of epic proportions, this stark song hums with a harrowing atmosphere as the laconic, abstract drawl of a soulful vocal reveals the very maw of the desolate lyrics. This debut album is a much-needed reminder of how the roots of country music can still resonate in the 21st century, especially if presented in a modern, yet classic setting. The Lucky Ones have created an album of heritage musical styles that sits comfortably in its own niche between traditional mountain music and earthy bluegrass with tinges of classic honky-tonk.
October 2021