First published in Country Music People, March 1974
Of all the many country duet teams that were popular in the 1950s, none had more old-time flavour in their singing style than the Louvin Brothers. Ira and Charles Louvin learned old-time country and gospel songs at their home in Henegar, Alabama, and used them as the basis for a commercial career. Beginning as gospel singers, the Louvin Brothers performed with mandolin and guitar and sang in a very close but high-pitched harmony. They eventually expanded their repertoire to include country love ballads and later added electric guitar instrumentation to their basic sound.
Ira and Charles Louvin are considered the foremost exponents of country gospel music, and this is only natural as they became so well known for this type of singing; too often today with so many artists, a song is but a few minutes of entertainment, but not so with Ira and Charlie, for what they sung about came from the heart. They were born and reared in what people referred to as being "The Bible-Belt," and they began singing in church and at revivals from quite a young age. The Louvin Brothers had a special love for gospel music, maybe this is what made their sacred material so convincing.
Ira Louvin was the eldest of the two boys, born April 21, 1924, in a rural farmhouse, in Henegar, Alabama. Charlie was born there on July 7, 1927. Their parents' name was Loudermilk, and music played an important part in the Loudermilk household. The most remarkable thing about their boyhood days was their musical talent. Their olderst memory of home was the banjo picking and fiddle playing of their father, Colonel Morena Loudermilk. Ira was intent on following his father in a banjo career, just as soon as he could pick the instrument up. However, as two banjos in the family didn't work too well, Ira turned instead to the mandolin.
Charlie at this time just sang at family get-togethers, as he did at the amateur talent shows they performed at, a friend by the name of Lonnie Justice would pick the guitar. Eventually as a permanent guitarist was needed in the family group, Charlie was automatically chosen for the part.
The few idle moments on the Loudermilk farm were spent with the whole family singing, or listening to the radio, absorbing the music of the Monroe Brothers, the Delmore Brothers, Karl and Harty and most important The Blue Sky Boys. These were the big influences on the Louvin Brothers, and all through their career, traces of the styles of these old time groups can be found in their recordings.
  In 1943 the two boys left their parents farm and moved to Chattanooga, Tennessee where they found work in a cottonmill. They were persuaded to enter a contest there, first prize being a 15-minute programme on a 250-watt radio station, at the unearthly hour of four-thirty in the morning. Assisting Ira and Charlie at this time were fiddle player Bob Douglas and bass player Bob Bell. The boys won the contest and the show led to a good many local bookings. Known by the name of Foggy Mountain Boys (a band which included both Douglas and Bell), they soon played out their immediate listening area, as so often happened on local radio and when their bookings began to become infrequent, Charlie found it impossible to find a job because of his age, he was turned eighteen at just the right age for army service. Rather than put his service off any longer, he joined the army and only served for just a year, returning to civvy street in 1946. Ira was at this time playing mandolin for Charlie Monroe, but as Monroe had a good tenor singer, Ira was singing bass for the Kentucky Pardners, which is most odd as Ira Louvin is one of the greatest natural tenors in country music.
The two boys soon re-formed their own group, and after trying several names like The Sand Mountain Playboys, they finally chose The Louvin Brothers. This name was chosen as their own German name Loudermilk had proved too difficult for most people to spell but even now people have great trouble spelling 'Louvin' so maybe the change of name was not really necessary.
As the Louvin Brothers they moved to Knoxville in Tennessee, and appeared as regulars on the Cas Walker show on Radio WNOX. It was there they met up with Smilin' Eddie Hill, who talked them into moving to Memphis, where according to Charlie: "We did quite well—but a lot better for Eddie than the Louvin Brothers." However, Hill did persuade Fred Rose of the Acuff-Rose music company to publish their songs, and also got their first record release on the Apollo Label. This would have been in late 1947, and Ira and Charlie recorded just the one song
Alabama
which they co-wrote with Hill, who had the 'B' side with
Melting Steel
. Eddie Hill then moved to the Decca label, and took the tapes he'd made for Apollo with him, this included the Louvin Brothers recording and also a track by the Louvins which Apollo hadn't released—
Seven Year Blues
. These two were then coupled and released by Decca in the summer of 1948.
Fred Rose in an attempt to protect his publishing interests in the Louvin Brothers persuaded MGM Records to sign Ira and Charlie. This was the early 1950s and the heyday of Hank Williams, another Fred Rose discovery, who was also signed with MGM. While with this label the Louvin Brothers recorded twelve titles, all of which were sacred songs, with the possble exception of
Robe of White
which could well be described as a tragic song of life. MGM originally only released ten recordings by The Louvins on 78 rpm discs, these all had the simple accompaniment of guitar, mandolin and fiddle, and were produced by Fred Rose. Whoever is responsible for the fiddle work is not known but he certainly does some great work on these recordings. Every number is a duet, with neither of the boys singing lead, unlike many of their later recordings for Capitol. Six of the songs were composed by Ira and Charlie, who showed on these songs that they had a great feel for gospel and sacred material.
In 1950 MGM were more concerned in promoting their big name artists like Hank Williams, Patti Page and Rosemary Clooney, and Fred Rose decided that The Louvin Brothers were not receiving the promotion necessary to create a successful recording career, and so for about a year the Louvins were without a recording contract. They left Memphis for a while in 1951, moving first back to Knoxville then to Greensboro, North Carolina and finally ending up at Danville, Virginia, where they tried out a new sound that suited their singing—bluegrass.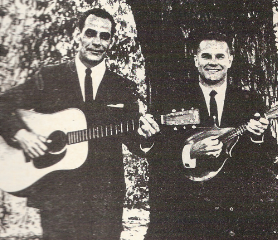 At this time there was an abundance of bluegrass groups trying to make a start in the music business, and only the really great groups like The Stanley Brothers, Bill Monroe and Flatt and Scruggs had the chance to get onto records. The Louvin Brothers, for almost a year carried a full bluegrass band consisting of Wiley Burchfield on the banjo, Page Heppler on fiddle, Sandy Sandusky on bass and, of course, Ira on mandolin and Charlie on guitar. Unfortunately for lovers of bluegrass and fans of The Louvins, they never made any recordings in this style, and due to the high cost of running the band, Ira and Charlie reluctantly decided to disband, and return to working as a duo.
Fred Rose had kept the Louvin Brothers under his watchful eye, again because he could see success coming from their songwriting, and in 1952 he persuaded Ken Nelson, of Capitol Records, to give the boys a chance. Their first recording for Capitol gave the Louvin Brothers their first taste of recording success with
The Family Who Prays
, which had Charlie singing lead and Ira, with his beautiful tenor voice joining in on chorus. In 1952 Charlie was again called into the Army, Ira continued for a short time as a solo, but called this off, and waited for Charlie's return from service, which came in early 1954. Ira had worked as a postal clerk in Memphis while Charlie had served in Korea, although when Charlie had leave from the army the boys got together to do shows and continue with their recording career. Among the many great recordings made at this time were such classics as
Born Again,
with some outstanding mandolin work,
Satan Lied To Me
with a touching recitation from Charlie and
God Bless Her ('Cause She's My Mother)
with such heartfelt lyrics.
Up until mid-1954 Ira and Charlie had been semi-professional, finding it necessary to work during the day and perform in the evening or at the weekend. As a duo they were not accepted on gospel shows, as all the gospel acts were quartets, and they also found it very hard working on country shows as most of the established artists closed their acts with gospel music anyway. Determined to really make a career in the music business they quit their jobs in Memphis and moved to Birmingham, Alabama, only to find there was a group imitating the Louvin Brothers' sound already established in the area. Within months Ira and Charlie were broke—they sold their car, their trailer, and they were virtually left with the clothes they stood up in, and this was despite consistent record sales.
Broke and desperate they tried to persuade their recording manager, Ken Nelson to allow them to record non-sacred material. Nelson was against this idea as other gospel acts like Martha Carson and Estel Lee had also switched from gospel to country ballads and virtually finished their career. Nelson finally gave into the boys' request, and their first non-sacred release was the self-written
When I Stop Dreaming
which featured some beautiful harmony singing and Ira's simple but effective mandolin work. The boys had their first big hit and from 1955 until 1958 the Louvin Brothers were the most successful country duet team.
Capitol were obviously not too sure what to do with the Louvin Brothers, and their next release was another sacred tune
Just Rehearsing
, which featured duet all the way through. But with the success of
When I Stop Dreaming,
another love ballad was called for, and the result was Autry Inman's
I Don't Believe You've Met My Baby
, which gave the Louvin Brother their first number one record. At this time they were using Ray Edenton on lead guitar and Lightning Chance on upright bass for their live appearances, and also these two assisted on some of the recordings.
Ken Nelson was very pleased with the way that Ira and Charlie had made the transition from pure gospel to country and persuaded Jack Stapp, head of the Grand Ole Opry to sign the boys before they joined the rival Ozark Jubilee, and so in January 1955, The Louvin Brothers, became regulars on the Opry. Soon after joining the Opry, Edenton left the Louvins, and Paul Yandell replaced him and is credited on many of their recordings. His guitar work was more suitable than Edenton's and in fact he played a major part in the Louvin Brothers' sound and their commercial success.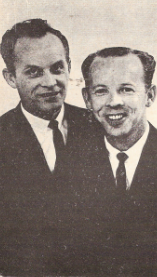 The Louvin Brothers first album for Capitol, TRAGIC SONGS OF LIFE (T-769) is regarded as one of the finest albums of the 1950s. Most of the titles like
I'll Be All Smiles Tonight, Knoxville
Girl
, and
Katie Dear
are from the old-time style of country music. The overall sound of the album can be likened to the Blue Sky Boys, who were so popular before the Second World War. Four of the songs were originally recorded by The Blue Sky Boys, and Ira and Charlie's own song
Alabama
was recorded by Bill and Earl Bolick, The Blue Sky Boys in the twilight of their career, on one of their last RCA releases. This album has been unavailable for many years, but if you do come across a copy it's well worth snapping up.
Capitol released six sacred albums by the Louvin Brothers, and most probably the best of these is the first NEARER MY GOD TO THEE (T-825). The title song is one of the few solos from Ira, and is one of the finest things that the boys have ever recorded. On later albums extra accompaniment was added to the usual line-up of mandolin and guitar, but as this was usually only kept to either piano or steel guitar, it never marred the quality of the recordings.
Most country fans would naturally be more interested in The Louvin Brothers country material, and as far as I'm concerned there has never been a duet team to touch Ira and Charlie on love ballads. They seem to breathe a new life into well-known classics like
Nobody's Darlin' But Mine,
Here Today And Gone Tomorrow
and
Are You Teasin' Me
, with the unusual mandolin accompaniment and the boys beautiful old-time flavoured harmony. The Louvin Brothers had vowed to record four tribute albums to the four acts of the past that had most influenced them. Unfortunately only one of these albums was released before Ira and Charlie decided to split and try solo careers, A TRIBUTE TO THE DELMORE BROTHERS (T-1440) which completely retains the old-time flavour of the original recordings from Alton and Rabon Delmore. In fact, instead of playing mandolin, Ira plays the original four-string tenor guitar that Rabon Delmore had used. This is undoubtedly the greatest tribute album to the Delmore Brothers, and included among the titles are
Blues Stay Away From Me, Freight Train Blues, Brown's Ferry Blues
and the catchy
Sand Mountain Blues
. This album spotlights the Louvin Brothers at their best.
The other three tribute albums planned were to be dedicated to Bill Monroe, The Blue Sky Boys and Roy Acuff, and in fact the Roy Acuff album was released almost three years after the partnership between Ira and Charles had finished for good. The album features the usual line-up of mandolin and guitar with plenty of Dobro and harmonica in keeping with Acuff's original recordings. A listen to songs like
Wait For The Light To Shine, Wabash Cannonball
and
The Great
Speckled Bird
takes the listener back nearly 30 years to when Acuff was at his best vocally.
As I said earlier the years 1955-58 were the peak years of the Louvin Brothers, but with the onslaught of rock'n'roll it was a case of hardship for the traditional sounding groups who couldn't or wouldn't change their sound. Capitol tried to force Ira and Charlie to change their sound and in fact on one or two titles like
Red Hen Boogie
and
The Stagger
, the duo did attempt rock'n'roll, but it didn't work.
Discouraged and depressed, their music seeming to suffer in a search for a more commercial sound, the brothers found their personal relationship growing very strained and so they formally dissolved the Louvin Brothers in August 1963. Ira virtually retired from the music business, and only accepted local club dates, although he did continue recording for Capitol, and released two singles, the latter,
Yodel Sweet Molly
, giving him a small hit. But while returning from an engagement in Kansas City with his wife on June 28, 1964, he was killed in a car crash. Later on Capitol released the one and only solo album by Ira Louvin, THE UNFORGETTABLE IRA LOUVIN (Capitol ST- 2413), which was a pleasant collection of country ballads, but nothing as exciting or as good as what the Louvin Brothers had done before.
Charlie Louvin has carved a very successful solo career for himself, after beginning in a pronounced 'Louvin Brothers' Style,' he has since created a sound of his own, and has many big hits in a solid country style, including the Dallas Frazier song
Will You Visit Me On Sundays?,
Bill Anderson's
Think I'll Go Somewhere And Cry Myself To Sleep
and Ed Bruce's beautiful
Lonesome Is Me
. Throughout his solo career Charlie has always paid tribute to the Louvin Brothers, and each album always includes at least one of their old hits.
The Louvin Brothers have left a great legacy of music behind them, but unfortunately most of their recordings have been deleted. The Louvin Brothers were stronger from a vocal standpoint rather than instrumental. Charlie was a strong but unexceptional rhythm guitar player, while Ira's mandolin work, though beautiful and thoughtful, was derived from a simple old-time style and not up to the high standard of someone like Bill Monroe.
It was their singing however which left such a lasting and profound impression on country music. Very distinctive in sound, it smoothed out the rough spots of older harmonies from the pre-war groups, yet maintained a power and feeling often lost by the smooth singing groups like The Browns. Their versatility alone was remarkable. They could move effortlessly from straight ballads like
We Could
to the more gospel-tinged, almost shouting camp meeting style of
There's A Higher Power
. With many duet teams it's easy to dismiss one half as relying on the other, while the Louvins, they both appear to put in an equal share to the finished result. Ira with his beautiful high tenor vocals adds a distinctive touch to much of their repertoire, whereas Charlie with his deeper vocals sets the sad and mournful feeling that makes the Louvins just that little better than so many other country duos.
Many groups have benefited from the influence of the Louvin Brothers. The Everly Brothers owe much in their style, which could best be described as the Louvin Brothers polished and commercialised for the urban market. Jim and Jesse are another team that have idolised Ira and Charlie, and as well as recording a tribute album to them, The McReynolds brothers for many years included Louvin Brothers' songs on their albums. Several bluegrass groups have drawn from the Louvin Brothers songbag including The Osborne Brothers, The McCormick Brothers and even the great Bill Monroe who recorded
Seven Year Blues
on one of his albums.
The Louvin Brothers are one of the great lost sounds of country music, Ira and Charlie began recording when country music was still not accepted by the mass media. They were never assured of success but had to fight for it—they never had to follow trends, but were able to sing what they liked, how they liked. The Louvin Brothers can be remembered as one of the great pioneer acts of country music—a trend-setting act rather than an act which followed others—that's why I still consider The Louvin Brothers as the greatest duo team in country music.