First published in Country Music International, January 1995
The Haleys
After spending five years on the nation's motorways British country's finest duo are following the signs to Nashville
Jo-Ann And Becky Haley are still in their early 20s, yet they have achieved more on the British country music scene in the past five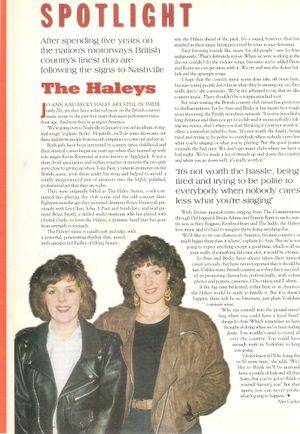 years than most performers twice their age.  And now they're going to America.
"We're going over to Nashville in January ro record an album of original songs," explains Becky. "Hopefully, we'll do some showcases out there and invite people from record companies to come out and see us."
Both girls have been interested in country since childhood and their musical career began six years ago when they teamed up with solo singer Kevin Raymond as a trio known as Applejack. It was a short-lived association and in a matter of months the two girls were close to giving up when Tony Best, a veteran promoter on the British scene, took them under his wing and helped to mould a totally inexperienced pair of amateurs into the highly polished, professional act that they are today.
They were originally billed as The Haley Sisters, a self-contained duo playing the club scene and the odd concert date. Eighteen months ago they recruited drummer Rosey Haywood, previously with Les Close, John. J. Paul and Sarah Jory, and lead guitarist Brian Smith, a skilled studio musician who has played with Crystal Gayle, to form the Haleys, a dynamic band that has gone from strength to strength.
The Haley's music is equally soft and edgy, with a powerful, penetrating rhythm that, mixed with unexpected flashes of lilting beauty, sets the Haleys ahead of the pack. It's a sound, however, that has resulted in their music being perceived by some as easy-listening.
"Easy-listening sounds like music for old people." says Jo-Ann indignantly. "That's definitely not us When we were working as the duo we couldn't do the rockier songs, but since we've added Brian and Rosey we can get away with it. We try and mix the slower ballads and the uptempo songs."
"I hope that the country music scene does take off over here, because young people don't know what they're missing out on, they really don't," she continues. "We're not ashamed to say that we like country music. There shouldn't be a stigma attached to it."
But years touring the British country club circuit has given rise to disillusionment. For Jo-Ann and Becky it has meant five tough years traversing the British motorway network. "If you've travelled a long distance and then you get to a club and it seems nobody's taking any notice, that's when you start thinking it's just not worth it," offers a somewhat jaded Jo-Ann. "It's not worth the hassle, being tired and trying to be polite to everybody when nobody cares less what you're singing or what you're playing. But the good points overrule the bad ones. We don't get many clubs where we have a bad night. We've made a lot of friends up and down the country and when you go down well, it's really worth it."
With diverse musical tastes ranging from The Commitments through Def Leppard, Bryan Adams and Bonnie Raitt to such country acts as Suzy Bogguss, Restless Heart and The Judds, the Haleys love music and it's hard to imagine them doing anything else.
"We'd like to try our chances in America, because country's so much bigger there than it is here," explains Jo-Ann. "But we're not going to expect anything except a good time, which is all we want really. If something did come of it, it would be a bonus."
Jo-Ann and Becky have always taken their musical career seriously, but have never forgotten that it should be fun. Unlike many British country acts they have succeeded in promoting themselves professionally, with colour photos and posters, cassettes, CDs , videos and T-shirts.
If the big time beckoned, either here or in America, the Haleys would be ready to handle it. But if it doesn't happen, there will be no bitterness, just plain Yorkshire common sense.
"Why run yourself into the ground travelling when you could have a local band?" shrugs Jo-Ann. "Which sometimes we have thought of doing when we've been feeling down. You wouldn't need to travel all over the country. You could have enough work in Yorkshire to keep you going."
"'I don't know if I'll be doing this in 10 years time," she adds. "We'd like to think we'll be married, have a couple of kids and all that. Sorry, but you've got to think of yourself, haven't you? But then again, you can never predict what's going to happen."