First published in Country Music People, April 1980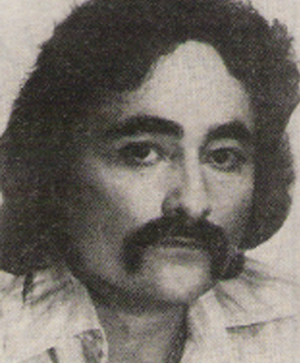 Harmony in country music is as much a part of the traditions of the music as fiddles and banjos, and during the past 50 years there has been some outstanding harmony acts associated with country music, but none have been as exciting, nor as successful as the three-brother act known professionally as Tompall and The Glaser Brothers.
Tompall, Chuck and Jim had been professionally involved in the music business for sixteen years when they dropped the bombshell in 1973 that they were to split up. They had reached the point where each brother's individual desire for self-expression could no longer be satisfied within the group.
There was no row, no histrionics, just a realistic assessment of their situation.
It was only a matter of time, anyway; each brother was already involved in all aspects of the music business, and the group had achieved almost all they could as a trio, with a formidable following which was growing rapidly, yet the full importance of the group hadn;t been widely recognised.
Unique is word widely abused in music circles, but t was rightfully applied to The Glasers who were doing extraordinary things with vocal harmonies. There was nothing like them, they were out on their own, ahead of their time.
Quitting while you're on top automatically creates a mystique and an aura, and The Glasers weren't long in becoming elevated to immortality. We made them gods and built a reputation that surely would have frightened them off even had they any desire to re-form and make a comeback.
Last year the whispers started and we await in fear and trembling for the return, half not wanting them to go through with it, thinking it may serve only to shatter the illusion. Will they sing as well as they did before?
Will they make their comeback, as far as the British fans are concerned, at Wembley's annual country festival? But the talk, planning and rehearsals have been underway for many months, When Jim Glaser undertook his second solo club tour of Britain last October, they had already been in the studios, experimenting with songs and generally getting the feel of working together again.
I spoke to Jim during his tour, mainly about the reformation of The Glasers.
"The brothers, after seven years apart, are back together in the studio recording for an album," he told me. "We have three songs completed, which took us about six weeks to finish, so I estimate the album will be out sometime in the late 1980s!"
Becoming more serious, he added: "It should be out sometime after the first of the year." So far the album is nowhere near complete, though discussions are at an advanced state regarding The Glaser Brothers signing with Elektra Records.
The boys' polished harmony work was first employed by Marty Robbins, who was quick to appreciate the talents that the three possessed. They backed Robbins on many live shows and were also featured on some of his famous cowboy ballads their unique voices blending perfectly with Robbins, creating an excitement on recordings that is quite indescribable.
The brothers' own recordings suffered for many years mainly because their record company never really understood which direction The Glasers should be pushed. The threesome have always been capable songwriters, and from the beginning of their career they were writing some outstanding country songs. Yet with this background, Decca Records, who signed them up in 1959, tried to develop them as folk singers.
This association with Decca did not produce the sort of recordings that appealed to country fans, although The Glasers themselves were very popular with country audiences, due entirely to their incredible stage act.
It was with a change of labels in 1966 when they signed a long-term contract with MGM that The Glasers began to achieve the success on record they so richly deserved. The harmony work they had perfected for their stage act was at last transferred to long-lasting plastic.
The Glasers Brothers' sound was captured on record and you could listen to those harmonies any time you cared to turn your record player on.
The group's initial records for MGM—
Gone On The Other Hand, Through The Eyes Of Love
and
The Moods Of Mary
—were probably over-produced. They failed to completely capture that magic the group was able to conjure up on stage. Their songs were mainly about love. The lyrics brilliantly constructed and woven into the melodies so that when all three of them came together at the mic it made one's hairs stand on end, and when either Jim with his soaring tenor voice, or Tompall with his gentle, soothing vocals was singing lead, it just took one's breath away with the sheer feeling that was discharged. The excitement that Tompall, Chuck and Jim were able to create on stage somehow got lost in the studio. Their recordings were good, but after watching them on stage you somehow felt cheated with just their recordings. It's possible that to achieve the perfection for their live shows that the boys overlooked the importance of recordings. Certainly there was nothing drastically wrong with their recordings, but how many ideas did The Glasers themselves put forward at their sessions?
I think it was more a case of quickly in and out of the studio and leave the production and arrangement to other.
This is where they suffered. They had the cream of Nashville backroom boys on their sessions, but the ideas the techniques, were all wrong. This had been proved by the later albums produced in the famous Glaser Sound Studios.
"In the old days we used to do too many live dates," explained Jim. "Now we're together again we'll do a limited amount of live dates. We're talking about doing a maximum of ten day tours a month. This will leave us more time to devote to our other commitments, including recording and writing."
When they spend time in the studios, The Glasers proved that they can come up with the goods. THE AWARD WINNERS album, made in 1971, didn't quite come off, but the good parts were brilliant.
I See His Love All Over You
was a typical Glaser song, but the sensitive production made it a masterpiece. The main asset to this album was that the boys had been caught 'live.' Instead of going into the studio with pre-arranged ideas, they had to work at the arrangements. Ideas were actually thrown about on the studio floor. Tompall, Jim and Chuck really put more feeling into the album, and it comes out every time you play it back.
This way of working in the studio continued and the best ever album from the trio was the ultimate result. RINGS AND THINGS, released in 1972, was a complete album, not because it had a theme, but for the first time everything The Glasers had ever stood for came out on one album.
Somehow the songs complemented each other and didn't sound alike, the arrangements had a freshness about them. The use of fiddles and horns worked. In fact, I was surprised that the fiddles would work with The Glasers, having been so accustomed to the 'pop' sound they had used on their previous recordings.
I had the impression that the boys were trying to get back into their roots, but at the same time keep a contemporary sound about the album: keep it country but reach a wider audience.
A few months later though they were to split and embark on solo careers. Tompall headed towards on outlaw image that was in complete contrast to the pop leaning of The Glasers. He recorded six solo albums, which ranged from the brilliant (TAKE THE SINGER) to the mediocre (THE WONDER OF IT ALL) and apart from contributing two tracks to the successful WANTED: THE OUTLAWS album, he failed to make much impression in commercial terms.
Jim Glaser produced the more satisfying music for Glaser Brothers' fans, placing songs
like I See His Love All Over You, Fools Passin' Through, Forgettin' Bout You
and
She's Free, But She's
Not Easy
on the country charts. For a short time he was produced by the famed Allen Reynolds and though he took over the legendary Nashville Studio Band, he was unable to sustain the kind of commercial success that leads to the regular release of albums.
"I've recorded an album," he explained during his first solo tour of Britain last spring. "But so far I've been unable to get it released. I thought that MCA might go with it, but so far they've shown no interest."
Following his British tour of last October, Jim's single,
Who Were You Thinking Of (When We Were Making Love Last Night)?
, gained a lot of radio play and came close to giving him a British chart placing. It certainly would have posed problems to The Glasers and their reunion if it had taken off.
Chuck Glaser released one single,
Gypsy Queen
, which scraped into the country charts at the beginning of 1974, and formed his own band, The Tennessee Express. It was a short-lived flirtation and he went into production and also ran the Nova Agency, which handled the bookings for Waylon Jennings, Willie Nelson and of course Tompall.
In February 1975 Chuck suffered a stroke which for a while left him paralysed on the left side. He is now fully recovered and has been successfully producing people like Hank Snow.
"Chuck's health is improving," said Jim "He works very hard and goes to health clubs—yes he's doing very well," then chuckled before continuing: "His keep fit bug has hit me. I started running, jogging you call it, after my last tour, and that coupled with a few weeks of going on one or two-day fasts. And now I've dropped a little weight."
" It's been very good getting back together again," he said. "I think we sound, to my ear, better than we sounded before. There's more of a laid-back feel as we work together now and we're more content to go into the studio and take as much time as we need to arrive at what we mutually agree on as the finished product."
The Glasers have always been the perfect compromise between showmanship and musicianship. Each member today is more than a special solo, but there are things that they can do best only when united.
"Having independence over the last few years has made a lot of difference to our individual judgement on what we've learned in being apart," continued Jim. "There's a lot of sheltering in working together in such a tightly-knit family structure. Being on our own I think we've learned a lot of things we can take advantage of."
The Glaser Brothers' first record now that they are back together is likely to couple Jimmy Payne's
Feeling The Weight Of My Chains
with Shel Silverstein's
Lucy Jordan
. The climb back to the top in America is likely to be hard, where people tend to forget musical heroes much too quickly. In Britain, The Glasers are sure to be welcomed back with open arms.
How I long for the brilliance and simplicity of
Sweet Love Me Good Woman
and
Just A Girl I Used To Know
. The magic of their music remains only a sweet memory, rather than the standard by which good music can e measured. Though for several years they no longer existed as a unit, The Glasers have always retained a strong core of loyal fans. Jim was quick to point out how aware they are of their British following.
"Of course we are thinking about coming to Britain," he pointed out. "We don't have anything definitely planned as to when, but we definitely want to come back over here because we've been so well received over the years."
Well The Glasers are coming back sooner than anyone ever thought, so it's fingers crossed, hopes raised (but not too high) that they once again make the rafters ring with their sweet harmonies and the Wembley audience give them the kind of reception that made the Festival so special back in the early 1970s.