The Freddie Steady Revue - Dandy
SteadyBoy Records
****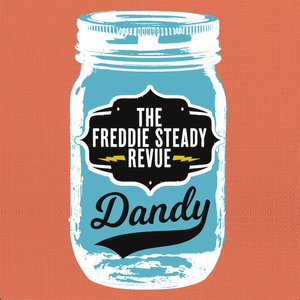 DANDY is such an apt title for this album. It's just so … 'fine and dandy' in every way. This sure-footed, grooving record doesn't stray far from the inspirational well. With a set of songs that finds melody absolutely on par with musicality, Texas music legend Freddie Steady Krc has brought together a skilled and talented bunch of musicians for his most lyrically intricate and sonically ambitious record. With a close-up production feel that will draw you into feeling like you are sitting right there listening live, it comes across (deliberately) like a group of friends at a party, jamming together in the living room until the wee hours. You can hear one or more of the participants almost chuckling softly after each cut, satisfied with themselves and the sound. It's catching—pass it on. It's a big man's dose of glossy country-rock with good vibes that will get you thinking and moving at the same time. You'll dance to these songs even if you're a song-and-dance man who never learned to dance. You'll sing to these songs even if you don't have the prettiest voice. Best of all, you'll feel good for having listened.
Inspired by his trips to Prague, Bohemian Dandy unfolds melodically, tracing various musical phrases and themes through a sonic landscape that evokes bright or pensive memories, joyous contemplation, and searching playfulness. The exuberant Chopped Beef rings with both innocence and enthusiasm and sounds like a juke joint late at night after the band has drained the jug and is as ripped as the audience, all enjoying themselves immensely. An album that mixes his Texas roots with a storyteller's perspective and sharp songwriting savvy, the vulnerable moments are also key to this record's beating heart. He showcases a softer side with the shimmery Don't Blow Out The Candle, a sad tale of loneliness and unrequited love. A delicate melody, atmospheric guitars, and Freddie's sensitive vocal makes for a compelling listening experience.
He brings forward toe-tapping Tex-Mex into the mix with Muchacho Borracho which soars delightfully through the collisions and convergences of Adrian Ruiz's swirling trumpet, Cam King's crystalline guitar notes, Floyd Domino's shimmering keyboards, Layton DePenning's smoothly probing bass, and Freddie's vibrant drumming; the tune flowing along its own path like a stanza exploring the freshets and rivulets of its own cosmic geography. An older song from the early 1990s given a fresh new treatment, Train To Nowhere, is a wonderfully rattly trainwreck. Typically tumbling and analytical, though there's no hard truths or any attempt at revelation, his upbeat attitude suffices. Walk Tall is another revival from Freddie's back catalogue. Originally recorded with his first band the Shakin' Apostles in 1990, it's stripped back to an effective acoustic arrangement. With Floyd's piano to the fore, this is gorgeously textured and reflects the dirt-road view of life limned with traces of the surreal. Sometimes life can be as easy as a good song that takes you somewhere else for just a little bit, even if it's only for a minute at a time. Full of subtly forceful country-rock songs with great clarity and chemistry, this is the perfect record for cosmic cowboys, tag-team Bohemians and downtown dreamers, that roll in concrete canyon jams and dappled musical rapture.
June 2022