The Forester Sisters - Whatever Happened To.......
First Published in Country Music International, September 1996
After taking time out to attend to family matters, Georgia's 1980s hit-makers are back with a new album of "positive music."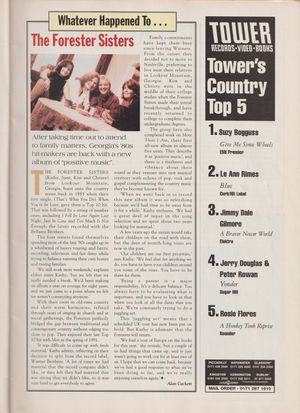 The Forester Sisters (Kathy, June, Kim and Christy) from Lookout Mountain, Georgia, burst onto the country scene back in 1985 when their first single, (That's What You Do) When You're In Love, gave them a Top 10 hit. That was followed by a string of number ones, including I Fell In Love Again Last Night, Just In Case and Too Much Is Not Enough, the latter recorded with the Bellamy Brothers.
The four sisters found themselves spending most of the late 1980s caught up in a whirlwind of heavy touring and hectic recording, television and fair dates while trying to balance running their own homes and raising families.
"We still work most weekends"' explains eldest sister Kathy, "but we felt that we really needed a break. We'd been making an album a year on average for eight years, and we just came to a point where we felt we weren't connecting anymore."
With their roots in old-time country and their warm harmonies, refined through years of singing in church and at social gatherings, the Foresters perfectly bridged the gap between traditional and contemporary country without edging too close to pop. They enjoyed their last Top 10 hit with Men in the spring of 1991.
"It was difficult to come up with fresh material," Kathy admits, reflecting on their decision to split from the record label, Warner Brothers. "A lot of times we had material that the record company didn't like, or they felt they had material that was strong that we didn't like, so it was very hard to get everybody to agree."
Family commitments have kept them busy since leaving Warners. From the outset they decided not to move to Nashville, preferring to live near their relatives in Lookout Mountain, Georgia. Kim and Christy were in the middle of their college studies when the Forester Sisters made their initial breakthrough, and have recently returned to college to complete their undergraduate degrees.
The group have also completed work on MORE THAN I AM, their first all-new album in almost five years. They describe it as 'positive music', and there is a freshness and vibrancy about their sound as they venture into new musical territory with echoes of pop, rock and gospel complementing the country music they've become known for.
"When we went back in to record this new album it was so refreshing because we'd had time to be away from it for a while," Kathy enthuses. "We had a great deal of input in the song selection and we spent about two years looking for material."
A few years ago the sisters would take their children on the road with them, but the days of month-long tours are now in the past.
"Our children are our first priorities," says Kathy. "We feel that for anything we do, you have to have your children around you some of the time. You have to be there for them."
"Being a parent is a responsibility. It's a delicate balance. You always have to be evaluating what is important, and you have to look at that when you look at all the dates that you take. We're constantly trying to do a juggling act."
This 'juggling act' means that a scheduled UK tour has now been put on hold. But Kathy is adamant that the Foresters will return.
"We had a tour of Europe on the books for this year," she reveals, "but a couple of us had things that came up, and it just wasn't going to work out for at least two of us. I hope that we can come back, because we've had a good response to what we've been doing so far, and we're enjoying ourselves again."