The Forester Sisters - Travellers Choice
First Published in Country Music International, August 1997
Forester Sister Kathy picks her favourite sounds for the long road ahead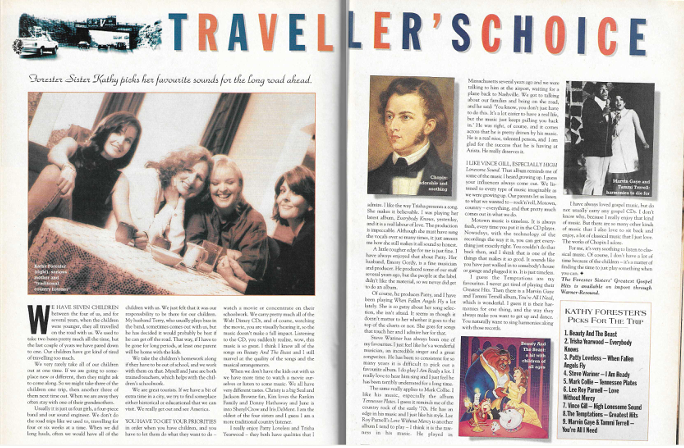 "We have seven children between the four of us, and for several years, when the children were younger, they all travelled on the road with us. We used to take two buses pretty much all the time, but the last couple of years we have pared down to one. Our children have got kind of tired of travelling too much.
We very rarely take all our children out at one time. If we are going to someplace new or different, then they might ask to come along. So we might take three of the children one trip, then another three of them next time out. When we are away they often stay with one of their grandmothers.
Usually, it is just us four girls, a four-piece band and our sound engineer. We don't do the road trips like we used to, travelling for four or six weeks at a time. When we did long hauls, often we would have all of the children with us. We just felt that it was our responsibility to be there for our children. My husband Terry, who usually plays bass in the band, sometimes comes out with us, but he has decided it would probably be best of he can get off the road. That way, if I have to be gone for long periods, at least one parent will be home with the kids.
We take the children's homework along if they have to be out of school, and we work with them on that. Myself and June are both trained teachers, which helps with the children's schoolwork.
We are great tourists. If we have a bit of extra time in a city, we try find someplace either historical or educational that we can visit. We really get out and see America.
You have to get your priorities in order when you have children, and you have to let them do what they want to do—watch a movie or concentrate on their schoolwork. We carry pretty much all of the Walt Disney CDs, and of course, watching the movie, you are visually hearing it, so the music doesn't make a full impact. Listening to the CD, you suddenly realise, wow, this music is so great. I think I know all the songs on Beauty And The Beast and I still marvel at the quality of the songs and the musical arrangements.
When we don't have the kids out with us we have more time to watch a movie ourselves or listen to some music. We all have very different tastes. Christy is a big Seal and Jackson Browne fan, Kim loves the Rankin Family and Donny Hathaway and June is into Sheryl Crow and Iris DeMent. I am the oldest of the four sisters and I guess I am a more traditional country listener.
I really enjoy Patty Loveless and Trisha Yearwood—they both have qualities that I admire. I like the way Trisha presents a song. She makes it believable. I was playing her latest album, EVERYBODY KNOWS, yesterday, and it is a real labour of love. The production is impeccable. Although she must have sung the vocals over so many times, it just amazes me how she still makes it all sound so honest.
A little rougher edge for me is just fine. I have always enjoyed that about Patty. Her husband, Emory Gordy, is a fine musician and producer. He produced some of our stuff several years ago, but the people at the label didn't like the material, so we never did get to do an album.
Of course, he produces Patty, and I have been playing FALLEN ANGELS FLY a lot lately. She is so gutsy about her song selection, she isn't afraid. It seems as though it doesn't matter to her whether it goes to the top of the charts or not. She goes for songs that touch her and I admire her for that.
Steve Wariner has always been one of my favourites. I just feel likes he's a wonderful musician, an incredible singer and great songwriter. He has been so consistent for so many years it is difficult to pick out a favourite album. I do play I AM READY a lot. I really love to hear him sing and I just feel he has been terribly underrated for a long time.
The same applies to Mark Collie. I like his music, especially the album TENNESSEE PLATES. I guess it reminds me of the country-rock of the early 1970s. He has an edge in his music and I just like his style. Lee Roy Parnell's LOVE WITHOUT MERCY is another album I tend to play—I think it is the rawness in his music. He played in Massachusetts several years ago and we were talking to him at the airport, waiting for a plane back to Nashville. We got to talking about our families and being on the road and he said: 'You know, you don't have to do this. It's a lot easier to have a real life, but the music just keeps pulling you back in.' He was right, of course, and it comes across that he is pretty driven by his music. He is a real nice, talented person, and I am glad for the success that he is having at Arista. He really deserves it.
I like Vince Gill, especially HIGH LONESOME SOUND. That album reminds me of some of the music I heard growing up. I guess your influences always come out. We listened to every type of music imaginable as we were growing up. Our parents let us listen to what we wanted to—rock'n'roll, Motown, country—everything, and that's pretty much comes out in what we do.
Motown music is timeless. It is always fresh, every time you put it in the CD player. Nowadays, with the technology of the recordings the way it is, you can get everything just exactly right. You couldn't do that back then, and I think that is one of the things that makes it so good. It sounds like you have walked into somebody's house or garage and pulled it in. It is just timeless.
I guess the Temptations are my favourites. I never get tired of playing their GREATEST HITS. Then there is a Marvin Gaye and Tammi Terrell album, YOU'RE ALL I NEED, which is wonderful. I guess it is their harmonies for one thing, and the way they always make you want to get up and dance. You naturally want to sing harmonies along with those records.
I have always loved gospel music, but do not usually carry any gospel CDs. I don't know why, because I really enjoy that kind of music. But there are so many other kinds of music that I also love to sit back and enjoy, a lot of classical music that I just love. The works of Chopin I adore.
For me, it's very soothing to listen to classical music. Of course, I don't have a lot of time because of the children—it's a matter of finding time to just play something when you can."