Urban Cowboys
First published in Country Music International, June 1994
The 1970s was the year when country went Californian, and the Eagles became the platinum-selling soundtrack to the west coast generation. Nearly 15 years after they disbanded, the band have become the subject of a tribute album and are staging a reunion tour this summer. Back through the years with the EAGLES by Alan Cackett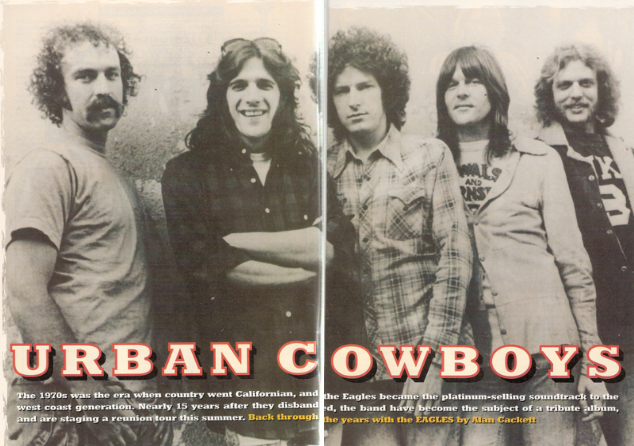 'The Eagles were a very definite influence on me,' said Vince Gill recently. As one of the 13 modern country artists to have contributed to the Eagles tribute album Common Thread – The Songs Of The Eagles, Gill is not a alone in his appreciation.
Often wrongly credited as the pioneers and leaders of country-rock, the Eagles nevertheless took that sound and ran with it, becoming the most successful American rock band of the 1970s. From their formation in 1971 until their disintegration some ten years later they sold around 40 million albums and were rarely absent from the American charts, scoring major hits with singles like Take It Easy, Peaceful Easy Feeling and Lyin' Eyes and albums such as On The Border, Hotel California and their country-tinged masterpiece, Desperado.
While not ground-breakers themselves, the original line-up of Don Henley (drums/vocals), Glen Frey (guitar/vocals), Randy Meisner (bass/vocals) and Bernie Leadon (guitar/banjo/vocals) did have a couple of pioneers in the ranks. Leadon had served his apprenticeship in Scottsville Squirrell Barkers (a west coast bluegrass outfit), then moved on through Hearts And Flowers, Dillard & Clark and The Flying Burrito Brothers. While Meisner was a founder member of Poco and, along with Frey and Henley, had also been in Linda Ronstadt's backing band.
The Eagles' timing was impeccable. Country-rock had been tipped as the new craze in 1968 but by 1970 it had faltered: the Byrds had glided up into acid heaven and the Burritos flown off at a countrified tangent that didn't appeal to the mass market. Along came the Eagles to build their nest on a finely balanced edge between country and rock. A kind of peaceful easy feelin' rounded off the sharp edges of rock and a hard-nosed raunch provided the bite for the country numbers.
Although they were at the forefront of west coast rock, none of the Eagles were actually California boys. Drummer Don Henley was from Texas, where he had started out in a Dixieland jazz band, before joining a rock group, Felicity, which evolved into Shiloh, a country-influenced outfit that also featured steel guitarists Al Perkins, keyboard player Jim Ed Norman, and brothers Mike and Richard Bowden. Henley handed lead vocals and it was at his insistence that Shiloh relocated to Los Angeles in 1970 and recorded an album for Amos Records. A few months later Shiloh disbanded and Henley became a member of Linda Ronstadt's band.
Glenn Frey, originally from Detroit, was also in Ronstadt's band at this time. He had arrived in LA in 1967 and formed a folk-rock duo, Longbranch Pennywhistle, with John David Souther. This pair had also recorded a long-forgotten album for Amos, a Los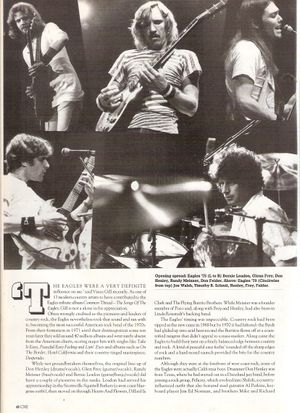 Angeles label owned by ex-rock'n'roller Jimmy Bowen.
Randy Meisner's family came from Nebraska, and it was there that he joined The Dynamics in 1962. A couple of years later Meisner was in Colorado playing with another folk-rock outfit, the Poor. This band moved to LA in 1967. But disillusionment over broken promises and unfulfilled dreams led Meisner to join a new band, Poco, being formed by Richie Furay and Jimmie Messina. He stayed with Poco for almost a year, playing on their first album, Pickin' Up The Pieces, but felt left out as Furay and Messina stamped their authority on Poco's musical direction. Close to packing in music altogether, Meisner worked in a tractor factory for some time before being invited to join Rick Nelson and the Stone Canyon Band in 1969, teaming up with Allen Kemp and Pat Shanahan (who had previously been in the Poor) plus steel guitarist Tom Brumley (ex-Buck Owens' Buckaroos). Meisner toured on-and-off with Nelson for the next 18 months and also played on the albums, Rick Nelson In Concert and Rudy The 5th.
Bernie Leadon, initially the musical driving force behind the Eagles, was playing bluegrass banjo in the early 1960s. He replaced Kenny Wertz in the Scottsville Squirrel Barkers. When this outfit broke-up in 1964 Leadon moved to Florida and lived with his father for the next three years. Feeling the urge to get back into music, he drove the 3,000 miles back to the west coast and joined Hearts and Flowers, teaming up with the guitarist Larry Murray, who had previously played with him in the Scottsville Squirrel Barkers. This band played all folkie haunts in southern California and also recorded two albums for Capitol Records. Following the demise of Hearts and Flowers in 1968, Leadon became firm friends with Doug Dillard and Gene Clark and ended up playing on their A&M album The Fantastic Expedition Of Dillard and Clark. In early 1969 Leadon became a member of Linda Ronstadt And Her Corvettes. At the end of that year he moved on again, joining the Flying Burrito Bros and playing on the Burrito Deluxe album.
Leadon left the Burritos in July 1971 and was back playing behind Linda Ronstadt, this time alongside guitarists Glen Frey, drummer Don Henley and bass player Randy Meisner. Within a month the idea for a new band was hatched. The initial suggestion coming from Linda Ronstadt's manager John Boylan, who was also a noted producer of several west coast acts, including the Dillards.
Glen Frey was contracted to David Geffen's management company and he approached Geffen, who was in the throes of launching his own record label. Geffen signed the fledgling band and packed them off to rehearse and play a month of gigs at the Fallery, a club in Aspen, Colorado.
The band were playing four sets a night, working on originals for the first album and filling in with songs by such diverse writers as Chuck Berry and Neil Young. Producer Glyn Jones, who had worked with the Rolling Stones and Steve Miller Band, checked out the fledgling Eagles while they were rehearsing at a ski resort. Suitably impressed, he agreed to produce their debut album. The four musicians packed their bags and headed for the less glamorous climbs of Olympic Studios in London, England.
Ironically, it was at Olympic that they recorded the perfect summer record Take It Easy. Co-written by Frey and Jackson Browne, this superb single didn't make any waves in Britain, although it swept the board in America; the differential probably being climatic conditions! It was the first of a string of American hit singles that the Eagles were to have over the next few years. Released in 1972, their first album, simply titled The Eagles, was a wonderful slice of acoustic/electric rock'n'roll propelled along by multi-tracked acoustic guitars, with Frey's electric guitar fleshing out the sound. Leadon's banjo-picking added a little to the country ambience, but in reality the whole Eagles''sound and style was Californian rock. 'A return to rock'n'roll,' raved US magazine Rolling Stone in their review of the record.
For many years the Eagles reached the peak of musical creativity on their second album, Desperado, released in the summer of 1973. 'Desperado was a reaction to our initial success and a prediction of what was to come,' said Henley, elaborating on the album's concept: the story of the Doolin' Dalton Gang, outlaws in the 19th Century and the similarities with being a travelling musician in the 1970s. The songs ranged from light cowboy sketches to heavy soulful statements and the musical arrangements, based around the interplay between Leadon's banjo and Frey's Dobro, were pure magic. The album's title cut was later covered by Linda Ronstadt and Bonnie Raitt. While film director Sam Peckinpah even toyed with the idea of turning the Desperado story into a movie.
However, the band were now feeling a little restricted by their mainly acoustic-based arrangements, which led to the recruitment of a fifth member in 1974. Originally brought in to augment their sound in the studio, guitarist Don Felder gave the group's total sound a harder edge with a greater sense of texture and buoyancy. He was recruited full-time and made his Eagles debut on their third album, On The Border, in 1974.
On The Border achieved gold status in the US and the Eagles were now firmly established as a hit factory. As such, they began thinking more in terms of their commercial potential rather than just making good music. 'We were a song-orientated group. That's the bottom line,' insisted Henley, some years later. 'We could write that country stuff all day long. Now we can do a lot of other things too.'
The Eagles seemed to have tapped into the consciousness of an entire generation of twenty-something Americans during the early 1970s. 'What you have are five guys in ragged Levis, sneakers, dirty boots and tee-shirts, not really giving a shit,' explained Don Felder in a rare interview during the band's 1975 tour. 'No smoke screens or stacked shoes or theatrics. You're seeing five real guys.'
Never the greatest of friends in the first place, friction between band members began to surface as the band worked on a gruelling schedule of live concerts, interviews and guest recording session. In particular, Bernie Leadon, who was more enthusiastic about being a musician than a pop star, became very unhappy with the way the Eagles' superstar status was developing.
Their next album, One Of These Nights, was released in 1976, and included Leadon's I Wish You, Peace alongside the blue-eyed soul of the title track, which became a Top 10 hit in the US and gave them their first Top 20 hit in the UK.
Shortly after completing the album, Leadon left the band to be replaced by critically acclaimed guitarist Joe Walsh. With Leadon
went the last real traces of the Eagles' country music influence. Joe Walsh, who had shared the bill with the band at Elton John's Wembley Stadium concert in 1975, was an obvious choice. 'We knew a year before Bernie left that Joe was going to replace him' admitted Glenn Frey. Walsh had come to the fore as one-third of the James Gang, an American hard rock band from the late 1960s. A rock'n'roller with a keen sense of humour and a taste for a drink, he had embarked upon his own solo career just a few years prior to becoming an Eagle, scoring a US hit with Rocky Mountain Way in 1973. Walsh had a major part to play on the band's next album, Hotel California, in 1977; adding guts to the searing Life In The Fast Lane, one of the album's best tracks and yet another chart-topping single.
Hotel California not only sold in excess of 10 million copies, it also presented the Eagles with a major problem. Like the Beatles' Sgt. Pepper's Lonely Hearts Club Band and the Beach Boys' Pet Sounds, it set standards of songwiriting, musical arrangement and overall recording production that the band found difficult to match again.
As spokesmen for a 1960s generation that had now grown up, the Eagles had made what Felder called: 'a real valid statement about a certain group of people and their evolution at a certain point in time.' While Henley observed with cutting accuracy that rock'n'roll is out of its adolescence. It's in its twenties now.'
The band kicked off their European tour with a performance at London's Wembley Arena in April 1977. Yet, despite the album and tour's enormous success, an exhausted Randy Meisner quit the band in September. He was replaced by ex-Poco player Timothy B.Schmit.
In September 1979, the Eagles released the music anticipated follow-up to Hotel California. Their weakest record yet, The Long Run still spent many months at the top of the American charts (in the number one position for eight weeks). It seemed, however, that the internal friction and the inability to produce new, original songs to the same quality as before had taken its toll on the band. The close of the 1970s found the band pitched against adult radio rivals like Fleetwood Mac. Punk and disco had arrived and the Eagles had become the embodiment of sleek American rock.
With the release of the customary double live greatest hits set, Eagles Live, in 1981, it became clear that the Eagles had drifted apart. It was later revealed that the band had actually taken the mutual decision to split directly after the recording of The Long Run. Henley and Frey, the only two perennial members, both went on to achieve solo success, whilst Walsh, Felder and Schmit all pursued solo careers without matching what had been achieved as members of the Eagles.
Whilst the band had certainly drifted away from their original country-rock ethos by the time they split up, their contributions to the genre should never be under-estimated. The release, last year, of Common Thread – The Song Of The Eagles confirms their influence over the current generation of country stars, with the likes of Suzy Bogguss, Travis Tritt and Alan Jackson paying their respects.
Since Glen Frey and Timothy B Schmit joined Don Henley on stage at his solo concert in Worcester, Massachusetts in April 1990, rumours have circulated that the Eagles were planning to reform. The final Eagles line-up of Henley, Frey, Felder, Walsh and Schmit are, however, planning another US tour this summer. Meanwhile, the legacy of their music has enjoyed a critical re-appraisal. Were they to have arrived 25 years later, the Eagles would have dominated the country radio airwaves that eluded them first time around.
'It won't be bound in leather books and handed down from generation to generations,' said Don Felder, talking about band's music in 1975. He was wrong. It seems that the Eagles' pristine melodies and unmistakably languorous style still have a place in popular music today.
The Eagles Collection
The Eagles
(Asylum)
Frey, Henley, Leadon and Meisner had been in various semi-successful country-rock bands for quite some time before they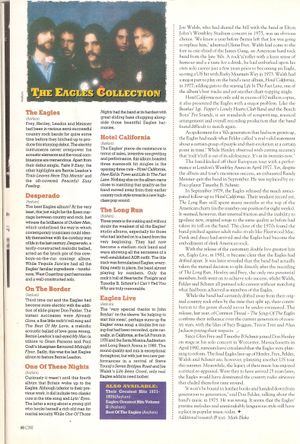 hitched up to produce the stunning debut. The electric instruments never overpower the acoustic elements and the vocal combinations are tremendous. Apart from their debut single, Take It Easy, the other highlights are Bernie Leadon's Train Leaves Here This Morning' and the oft-covered Peaceful Easy Feeling.
Desperado
(Asylum)
The best Eagles album? At the very least, this just might be the finest marriage between country and rock. Just witness the brilliance of Outlaw Man, which underlined the way in which contemporary musicians could identify themselves with the cowboy way of life in the last century. Desperado, a tautly-constructed melodic ballad, acted as the lynch-pin of this cowboys-on-the-run concept album. While Tequila Sunrise had all the Eagles' familiar ingredients – tunefulness, West coast four-part harmonies and a well-constructed solo.
One Of These Nights
(Asylum)
Curiously it wasn't until this fourth album that Britain woke up to the Eagles. Although inferior to their previous work, it did include two classic cuts in the title song and Lyin' Eyes. The latter a song about a young girl who hooks herself to a rich old man for marital security while One Of Those Nights had the band at its hardest with great sliding bass chugging alongside those beautiful Eagles harmonies.
Hotel California
(Asylum)
The Eagle's piece-de-resistance in terms of sales, inventive songwriting and performance, this album boasted three mammoth hit singles in the opening three cuts – Hotel California, New Kid In Town and Life In The Fast Lane. Nothing else on the album came close to matching that quality as the band moved away from their earlier country-rock style towards a new high-class pop sound.
The Long Run
(Asylum)­
Three years in the making and without doubt the weakest of all the Eagles' studio albums, especially for those who had latched on to a band from the very beginning. They had now become a stadium rock band and were showing all the excesses of a well-established AOR outfit. The title track was formularised Eagles; everything neatly in place, the band almost playing by numbers. Only the rock'n'roll of Heartache Tonight and Timothy B.Schmit's I Can't Tell You Why are truly memorable.
Eagles Live
(Asylum)
The 'very special thanks to Boylan' on the sleeve 'for helping to start this mess,' perhaps sums up the Eagles' swan song: a double live outing that had been recorded, quite naturally, in California, at the LA Forum in 1976 and the Santa Monica Auditorium and Long Beach Arena in 1980. The sound quality and mix is exceptional throughout, but with just two new performances in a revival of Steve Young's Seven Bridges Road and Joe Walsh's Life's Been Good, Only real Eagles addicts need bother.
Also Available
Their Greatest Hits 1971-1975 (Asylum)
Eagles Greatest Hits Volume II (Asylum)
Best Of The Eagles (Asylum)