First published in Country Music People, September 1978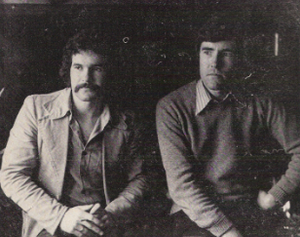 The Duffy Brothers gained that all-important national recognition at Easter when they deservedly won the Marlboro Country Music Awards at the Wembley Country Music Festival. This breakthrough led to a highly successful tour with Marty Robbins and a recording contract, currently being negotiated with a major label. For those of us who have witnessed The Duffy's entertaining stage act before, the success at Wembley was certainly not unexpected. What is surprising, though is how long this recognition has taken.
They have taken their special blend of bluegrass and comedy to most of the country music clubs up and down the land, appeared in cabaret and stole many a concert from under the nose of a star name. In short, The Duffy Brothers, more than any other act I can think of, have brought bluegrass music to the kind of audiences, who in the past have turned away from the earthy sounds of banjo, fiddle and mandolin.
Bluegrass music in Britain began to gain a firm foothold shortly after the release of the film, Bonnie and Clyde in 1968 with the Flatt & Scruggs'
Foggy Mountain Breakdown
anthem inducing many aspiring musicians to take up fiddles, banjos, mandolins and Dobros in a mad rush to play the 'new' foot-tapping music that was sweeping the country.
Ray and Leo Duffy, two young men from Peterborough, also came under the spell of bluegrass music after seeing the film at their local cinema. Ray, the eldest of the two, already had a healthy interest in music, having learnt to play guitar, initially favouring pop music, but then turning to country music, favouring the Chet Atkins' style. Before the brothers saw Bonnie and Clyde, Leo had shown very little interest in music, but then in typical fashion, went on to amaze friends and relations, by learning to play banjo and fiddle.
He gave up on banjo, after mastering the basics, as Ray learnt to play bluegrass style very rapidly, leaving Leo to learn fiddle and ultimately to take up the mandolin as well. With this new found musical experience, they both had a yearning to do more than just play for their own amusement, and were on the look-out for a suitable group to join. Living with close ties to an Irish community—both boys were in fact born in Country Mayo, Southern Ireland and moved with their parents to a farm North of Peterborough in 1955—they joined a traditional Irish group called The Garvii. This five-piece outfit played both traditional English and Irish folk music and also dabbled in bluegrass music.
This group had in its ranks, Dave Skews, an old school chum on guitar and a mandolin player, Ron Steavens, who is now playing with the Acme Country Band. Like all acoustic country/folk/bluegrass groups, The Garvii was playing mainly local folk clubs where the opportunity to play bluegrass music was very limited.
Both Ray and Leo wanted to branch out into a pure bluegrass outfit and in 1971 along with Ron Steavens and a local singer, they formed New Roads, a band that survived almost a year, before another split. This time the break-up was down to a problem that always seem to plague bluegrass bands. Ray and Leo, though happy with the musical presentation, felt that the band failed to entertain an audience, and for this reason the musical ability of the band was not being fully appreciated by audiences.
The two brothers had certainly got the bluegrass bug now and were busy learning all that they could from American records both traditional and progressive bluegrass artists. Ray and Leo joined an American band, Anny, Green Springs Country Wine, a five-piece group playing country and bluegrass. When the three American members returned to the States, Ray and Leo were wondering what to do next.
They got together with Dave Skews, who was playing bass, and appeared at a few local clubs and found instant rapport with the audiences. They had incorporated comedy into the music and by concentrating on the presentation had begun to present bluegrass music as entertainment as well as musical skills.
A tour of the West Country in the spring of 1974 gave more impetus to their act, when Ray's father-in-law, Alasdair Barke fitted Ray and Leo out in Boater, old school jacket, raincoat and wellingtons with Dave Skews wearing bib overalls. The result was one of the weirdest dressed outfits you ever saw. The three warmed to their new outfits and really sharpened their comedy, which was now beginning to challenge the music as the focal part of their act.
The Duffy Brothers' reputation began to spread and in the autumn of 1974 they recorded an LP, WILD OVER US for the Folk Heritage label. It might not have been the most unique event one has ever heard, but this album revealed The Duffys to be full of potential and enabled us to look forward with great anticipation to their development during the coming months.
They featured mainly well-known bluegrass classics like
Will The Circle Be Unbroken, Uncle Pen
and
Black Mountain Rag
. The comedy was apparent with
Bucking Mule
, featuring Ray's hilarious impressions of the dumb animal and Dave Skews' amusing
Wild Over Me
, but for me the highlight was the fine vocalising of Ray, especially on the slower tempo tunes like
I'm Crying My Heart Out Over You.
During the next few months the act improved at a great rate, bringing in new little touches of comedy, with Ray and Leo playing-off each other brilliantly. Musically they continued to experiment, and with such a small line-up, they found it necessary to fill in all of the little gaps with flourishes and runs that could never have been tried in a full bluegrass band.
The beginning of 1975 almost brought the Duffy Brothers to an end, when Dave Skews decided to quite through lack of time to keep up with the increased travelling. The act had developed beyond the confines of a local name, and were travelling down to the Home Countries in the South and Manchester in the North, and still the three were holding down full-time employment!
Ray and Leo decided to continue as a duo and immediately won The Nottingham Country Music Award for the best duo of 1974/75 and numerous other awards from local clubs and country music organisations. November 1975 they appeared at the New Victoria, London in a British Country Music show and stole the honours with a well-timed and very entertaining act.
This led them to seriously consider turning professional, but a car smash in late December left those plans in tatters. Leo fractured his wrists, and for a few nail-biting weeks, the future of The Duffy Brothers was certainly in the balance. Luckily, he recovered fully and after a three-month lay-off, Ray and Leo were back on the road with plans to turn fully-professional shelved until Ray could pass the necessary exams to qualify as a civil engineer.
March 1978 was when the brothers finally decided to take the gamble and turn to a fully professional career in country music. It was also the time when they won that all-important award at Wembley and undertook a tour with Marty Robbins. But what of the future. Can a British bluegrass group really survive as a fully-professional unit? Both Ray and Leo think they can.
"Bluegrass music in Britain is still small, say in comparison to modern country music, but there are lots of musicians all over the place. Some are very good, but it is not always easy to get the best musicians together to form bands," Ray continues. "Like The Cambridge Folk Festival is infested with bluegrass musicians, all picking away, but there are still not many bands around. It is a minority music."
So how do The Duffy Brothers hope to survive when other groups have not?
"We intend to sell the music better than other groups. Primarily we aim to concentrate on entertaining. We hope to carry on with the style we have, but take it to a vast audience. We might agree to expand to a full modern country band, say with steel guitar, but still playing bluegrass, and of course entertaining an audience."
Having spoken to Ray and Leo many times during the past four years, I have found both to be fully immersed in bluegrass music. Ray listens to the great banjo players and cites, naturally enough Earl Scruggs, but he also favours the development of chromatic playing, especially Bill Keith, Bobby Thompson and Vic Jordan of Lester Flatt's band. Quite often, because of his great dexterity on banjo, the guitar work of Ray Duffy is overlooked. If ever you've seen him play, you will know that he is a very fine picker, and it will come as no surprise to hear him name Clarence White and Norman Blake as his heroes.
Leo is one of the finest fiddle players on the British bluegrass scene, and though he will quite often 'muck about' in a tune, it takes a real pro to play off-key, then come straight back into the tune. He favours Ricky Skaggs, who is currently playing with Emmylou Harris, but also notes the influence of Kenny Baker, Howdy Forrester and Byrone Berline. His mandolin playing is heavily influenced by Jesse McReynolds.
I have always found both brothers very amicable toward each other, they never appear to argue, so I wondered if they always manage to get on well together. "I think initially, as brothers, we do get on better," Ray answers. "We know each other's habits and over the years we have come to respect and understand each other. We do disagree over musical policy, but all agreements are reached democratically." And Leo quite happily agreed!
Although The Duffy Brothers have reached a wider audience this year primarily due to their comedy, they emphatically want to continue playing bluegrass, but realise that they are becoming more well-known as entertainers rather than bluegrass musicians. They remain totally individual, capable of producing music, which is, at the very least, the equal of many of their American contemporaries. The music has been moulded, subtly arranged, making it acceptable to the public at large.
Marty Robbins likened their act to the great American comedy outfits like Homer & Jethro and Stringbean. Like those, Ray and Leo are not just two very funny entertainers, but also highly- skilled musicians.
They are still in an embryonic stage of development so we can be sure to find their work slowly evolving to an even more artistic level. However for the present, they stand as one of the most popular acts to have surfaced on the British country scene in the last few years.