The Dinallos - The Dinallos
Memphis International Records
****
This album is a masterful example of classic pop-rock songcraft and accomplished musical performance. It holds attention from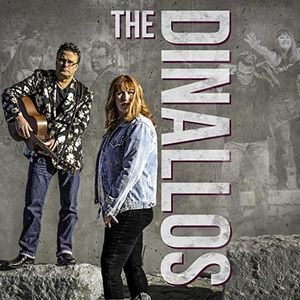 track to track, varying the palette just enough to keep the interest intact. These different sonic textures are held together by Juliet Dinallo's vocals. What makes the record such a worthwhile listen is the way she merges the singing style of a throwback classic pop-folk chanteuse with forward-thinking arrangements and instrumentation. Ace guitarist Michael Dinallo met his future wife Juliet at the Berklee School of Music some 30 years ago. Over the years Juliet has released three solo albums, whilst Michael has been a long-time member of Boston rock band the Radio Kings and an acclaimed producer. This is their first album together and it begs the question, why has it taken this long. The couple's tightly structured pop is an invigorating take on an evergreen sound. The songs, mainly written by Juliet, deliver a poignant and evocative reflection on the disappointments, the fears, the joys, and the hopes we face in our lives. Listening to the sheer spirit behind her singing though, it almost seems silly to confine the Dinallos to the boundaries of one genre or another. The music is here in all its glory, and that's what matters. Clearly then, they prioritise more than Juliet's emphatic delivery, with a sound that is crisp and concise, thanks in part to some astute auxiliary players. In addition to Michael's superb guitar work that is front-and-centre, there are such well-known players as Dave Roe, Mike Daly, Mike McAdam, Dave Jacques, Aaron Till, Justin Amaral, Tom Hambridge and Tim Carter, who shares production with Michael.
The album is book-ended by a couple of instrumentals featuring Michael's guitar work. All The Ponies Go 'Round (Danny's Lullaby) is a subdued melody set-up by delicate guitar with Jim Gambino's swirling B3 wafting away in the background creating the vision of a slowly turning carousel. The aptly titled The Long Goodbye, which closes the album, has a steady groove with all of the musicians taking their turn to solo with Jim Gambino's piano dove-tailing perfectly with Michael's soulful electric lead. There's a third, very brief, instrumental, Eggemoggin Interlude, midway through the 16 tracks, with a heady atmospheric vibe.    
Each song on the record stands out in its own way. Kilimanjaro is a polished pop gem overflowing with magnetic personality. Driven forward by Juliet's charismatic vocal and the uplifting gospel-styled background voices of the three McCrary Sisters, this mesmeric song about ending a toxic relationship will have you unthinkingly singing the chorus after just one listen. There's a singalong feel to When the World Was Mine, with more than a hint of 1960s girl-groups vocal vibe brought to the fore by the lyrical fluidity and brief spoken line. The couple's daughter, Annabel¸ takes the lead on the chunky Lemonade, with Juliet joining in on the chorus and Michael providing bluesy guitar in the break. Purgatory Road is a foot stompin,' instant singalong as Will Kimbrough's duet vocal dovetails perfectly with Juliet's crystal voice like prime Richard and Linda Thompson on this catchy reflection on the joys of first love from some 20 years past.
Other tracks—I Need To Be Free, Private Hell and Nothing To Lose But the Blues—come across with equal measures of drive and determination. In fact, with the exception of the forlorn, dreamy Time Machine, there's not a single song that doesn't possess that upbeat impulse. There's a haunted, ethereal quality to the song, with spiritually searching lyrics, impeccable harmonies, that give way to wistful, heart-aching intertwined steel and electric guitars, to create a gorgeous bittersweet balm.
With sharply focused lyrics, the Dinallos bring their perceptions of modern life to the fore. That ability to express emotions so effusively shows that they're also unwilling to waste any time while creating an emphatic impression. The songs possess a vividness and might that begets artists of their calibre and they astonish with their forward-moving, straight-shooting direction. All the while they will earn even more respect from those who put a premium on musical skill, integrity, originality and inventiveness. Ultimately then, this dynamic debut suggests that whatever follows will be cause for ever-increasing anticipation.
March 2021