The Delevantes - New York Times
First published in Country Music International, May 1996
Beware! Hillbillies in New York. The Delevantes are east coast good ol' boys, out to prove that you don't have to wear a Stetson or pretend to ride a horse to produce great country music. "We've always loved the sound of pedal steel," they tell Alan Cackett
These days, hillbillies aren't just from the Appalachian Mountains. There are hillbillies in Pittsburgh and even in New Jersey. Hoboken, which falls into the urban sprawl of New York City, is where brothers Bob and Mike Delevante were raised. Known as The Delevantes, this east coast hillbilly duo are cutting-edge country's unlikeliest future stars.
Last summer, their debut album, LONG ABOUT THAT TIME, released on the independent Rounder Records label, gained rave reviews. A lovably ramshackle album which manages to cram a multiplicity of styles into its 42 minutes of running time, it has provided the brothers with two popular VH-1 and CMT videos in Pocketful Of Diamonds and the more recent Driving At Night. The Delevantes's music could be described as country-rock, but such a classification would not do justice to their versatility.
"We're definitely song-oriented," explain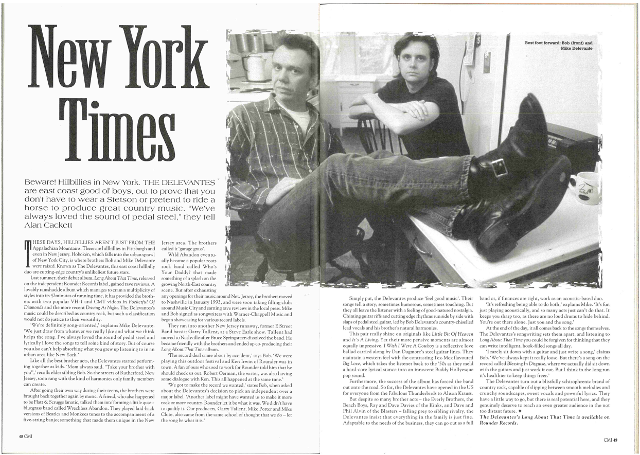 s Mike Delevante. "We just draw from whatever we really like and what we think helps the song. I've always loved the sound of pedal steel and lyrically I love the songs to tell some kind of story. But of course you also can't help absorbing what you grew up listening to in an urban area like New York."
Like all the best brother acts, the Delevantes started performing together as kids. "Mom always said: 'Take your brother with you'," recalls elder sibling Bob. So the streets of Rutherford, New Jersey, soon rang with the kind of harmonies only family members can create.
After going their own way during their teens, the brothers were brought back together again by music. A friend, who also happened to be a Flatt & Scruggs fanatic, talked them into forming a little quasi-bluegrass band called Wreckless Abandon. They played laid-back versions of Beatles and Monkees tunes to the accompaniment of a five-string banjo; something that made them unique in the New Jersey area. The brothers called it 'garage grass.'
Wild Abandon eventually became a popular roots rock band called Who's Your Daddy? that made something of a splash on the growing North-East country scene. But after exhausting any openings for their music around New Jersey, the brothers moved to Nashville in January 1993, and were soon taking to filling clubs around Music City and earning rave reviews in the local press. Mike and Bob signed as songwriters with Warner-Chappell Music and began showcasing for various record labels.
They ran into another New Jersey runaway, former E Street Band bassist Garry Tallent, at a Steve Earle show. Tallent had moved to Nashville after Bruce Springsteen dissolved the band. He became friendly with the brothers and ended up co-producing their LONG ABOUT THAT TIME album.
"The record deal came about by accident," says Bob. "We were playing this outdoor festival and Ken Irwin of Rounder was in town. A fan of ours who used to work for Rounder told him that he should check us out. Robert Oerman, the writer, was also having some dialogue with Ken. This all happened at the same time."
"We got to make the record we wanted," states Bob, when asked about the Delevantes' decision to pick an independent over a major label. "Another label might have wanted us to make it more rock or more country. Rounder let it be what it was. We didn't have to qualify it. Our producers, Garry Tallent, Mike Porter and Mike Clute, also came from the same school of thought that we do—let the song be what it is."
Simply put, the Delevantes produce 'feel good music.' Their songs tell a story; sometimes humorous, sometimes touching. But they all leave the listener with a feeling of good-natured nostalgia. Chiming guitar riffs and cutting-edge rhythms run side by side with slaps of pedal steel guitar, led by Bob Delevante's country-chiselled lead vocals and his brother's natural harmonies.
This pair really shine on originals like Little Bit Of Heaven and It's A Living. Yet their more pensive moments are almost equally impressive. I Wish I Were A Cowboy is a reflective love ballad carried a long by Dan Dugmore's steel guitar lines. They maintain a western feel with the contrasting Tex-Mex flavoured Big Love, which takes the listener back to the 1950s as they meld a hard-core lyrical stance into an innocent Buddy Holly-esque pop sound.
Furthermore, the success of the album has forced the band out onto the road. So far, the Delevantes have opened in the US for everyone from the Fabulous Thunderbirds to Alison Krauss.
But despite so many brother acts—the Everly Brothers, the Beach Boys, Ray and Dave Davies of the Kinks, and Dave and Phil Alvin of the Blasters—falling prey to sibling rivalry, the Delevantes insist that everything in the family is just fine.  Adaptable to the needs of the business, they can go out as a full band or, if finances are tight, work as an acoustic-based duo.
"It's refreshing being able to do both," explains Mike. "It's fun just playing acoustically, and so many acts just can't do that. It keeps you sharp too, as there are no loud drums to hide behind. You're out there alone. Just you and the song."
At the end of the day, it all comes back to the songs themselves. The Delevantes' songwriting sets them apart, and listening to LONG ABOUT THAT TIME you could be forgiven for thinking that they can write intelligent, hook-filled songs all day.
"I rarely sit down with a guitar and just write a song," claims Bob. "We've always kept it really loose. But there's a song on the record called Blessing In Disguise, where we actually did sit down with the guitars and just work it out. But I think in the long run it's healthier to keep things freer."
The Delevantes turn out a blissfully schizophrenic brand of country-rock, capable of slipping between smooth melodies and crunchy soundscapes, sweet vocals and powerful lyrics. They have a little way to go, but there is real potential here, and they genuinely deserve to reach an even greater audience in the not too distant future.