First Published in Country Music International, April 1995
Alan Cackett offers a personal guide to the Top 10 New Country Albums of the 1980s
GEORGE STRAIT - Strait Country (MCA-5248)
Strait's debut album from 1981 could be considered the most influential of all the New Traditionalist records. This was the one that Garth Brooks cited as the album that turned him back on to country music. It showed Strait to be a superbly confident vocalist in total charge of his material; a cool, no-nonsense synthesis of western swing and honky-tonk that still sounds guileless, straightforward and timeless.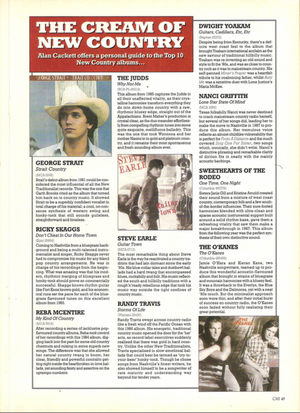 RICKY SKAGGS - Don't Cheat In Our Home Town (Epic 25654)
Coming to Nashville from a bluegrass background and being a multi-talented instrumentalist and singer, Ricky Skaggs never had to compromise his music for any bland pop-country arrangements. He was in charge of his recordings from the beginning. What was amazing was that his modern, rhythmic merging of bluegrass and honky-tonk should prove so commercially successful. Skaggs knows rhythm guitar like Fort Knox knows gold, and his economical runs set the pace for each of the bluegrass flavoured tunes on this excellent album from 1983.
REBA McENTIRE - My Kind Of Country (MCA-5516)
After recording a series of lacklustre pop-flavoured country albums, Reba took control of her recordings with this 1984 album, digging back into the past for some old country chestnuts and mixing in some superb new songs. The difference was that she allowed her natural country twang to boom, her clear, friendly and powerful contralto getting right inside the heartbroken-in-love ballads, yet sounding feisty and assertive on the up-tempo numbers.
THE JUDDS - Why Not Me • (RCA PL-85319)
This album from 1985 captures the Judds in all their unaffected vitality, as their crystalline harmonies transform everything they do into down-home country with a raw, rhythmic bluesy edge, straight out of the Appalachians. Brent Maher's production is crystal clear, as the duo meander effortlessly from compelling rhythmic tunes into some quite exquisite, mellifluous balladry. This was the one that took Wynonna and her mother Naomi into gold and platinum country, and it remains their most spontaneous and fresh-sounding album ever.
STEVE EARLE - Guitar Town (MCA-5713)
The most remarkable thing about Steve Earle is the way he reactivated a country tradition that had lain dormant since the early 1950s. His blue-collar tales and dustbowl ballads had a hard twang that encompassed blues, rockabilly and folk. His music reflected the south and hillbilly traditions with a rough'n'ready rebellious edge that took his music way outside the tight confines of country music.
RANDY TRAVIS - Storms Of Life (Warners 25435)
Randy Travis swept across country radio like a fresh wind off the Pacific Ocean with this 1986 album. His energetic, traditional country music opened the door for the 'hat' acts, as record label executives suddenly realised that there was gold in hard country. Unlike the other New Traditionalists, Travis specialised in slow emotional ballads that could best be termed as 'cry-in-your-beer' honky-tonk. Though he chose songs from Nashville's finest writers, he also showed himself to be a songwriter of rare maturity and understanding way beyond his tender years.
DWIGHT YOAKAM - Guitars, Cadillacs, Etc, Etc (Reprise 25372)
Despite being from Kentucky, there's a definite west coast feel to the album that brought Yoakam international acclaim as the new saviour of traditional hillbilly music. Yoakam was re-inventing an old sound and style to fit the 1980s, and was as close to country-rock as it was to mainstream country. His self-penned Miner's Prayer was a heartfelt tribute to his coalmining father, whilst Bury Me was a sensitive duet with Lone Justice's Maria McKee.
NANCI GRIFFITH - Lone Star State Of Mind (MCA3364)
Texas folkabilly Nanci was never destined to crack mainstream country radio herself, but several of her songs did, leading her to make the move to Nashville in 1987 to produce this album. Her tremulous voice reflects an almost childlike vulnerability that is perfect for From A Distance and the much-covered Sing One For Sister, two songs which, ironically, she didn't write. Nanci's distinctive phrasing and remarkable clarity of diction fits in neatly with the mainly acoustic backings.
SWEETHEARTS OF THE RODEO One Time, One Night (Columbia 460779) Sisters Janis Gill and KristineArnold created their sound from a mixture of west coast country, contemporary folk and a few south-of-the-border influences. Their sure-footed harmonies blended with ultra-clean and sparse acoustic instrumental support built around a solid rhythm base, gave them a refreshing vitality that saw them make a major breakthrough in 1987. This album from the following year was the perfect synthesis of their own distinctive sound.
THE O'KANES – The O'Kanes (Columbia 466459)
Jamie O'Hara and Kieran Kane, two Nashville songwriters, teamed up to produce this wonderful acoustic-flavoured album that brought in strains of bluegrass and mountain harmonies with a bluesy feel. It was a throwback to the Everlys, the Blue Sky Boys and the Delmores, yet with a neat 1980s touch. But the minimalist approach soon wore thin and after their initial burst of success on country radio, the O'Kanes soon faded without fully realising their great potential.