The Cox Family - Old Ways
First Published in Country Music International, September 1995
Describing their music as "good ol' three-chord songs like nobody writes anymore" is as good a guide as any of the pure American sounds of THE COX FAMILY. Alan Cackett goes back to their roots.
"Daddy's been going after music for nearly 50 years," explains Sidney Cox, guitarist, singer and songwriter with the Cox Family. "The family story is that his father let him sell a hog to get the money for his first guitar. He came up playing and singing in the church, then played country and rockabilly for years and is, in fact, still a walking encyclopaedia of country songs."
The Cox Family plays pure American music—plain and simple. They recently made the all-important transition from an independent label act to a major deal with Asylum. But it's only been during the past couple of years that this family band have started to gain something more than just a local cult following, despite having been making their distinctive brand of music around America's Deep South for more than two decades.
While they have made an impact with bluegrass music, that label can be a little misleading. The Cox Family's music is an amalgam of folk, country, blues, cajun and gospel which seems to fit most comfortably within the confines of bluegrass. The Cox Family are one of the few 'real' family groups. They're a musical act that could never have been created, but simply evolved as the children have grown up.
"All of us kids came by music naturally and we'd sing and play at family get-togethers and such," says Sidney. "As we got older, I think Dad realised he had a band on his hands."
The Cox Family come from the oilfield town of Cotton Valley, Louisiana, where the family still resides. Willard Cox passed his love for music on to his children. He began playing as a small boy, absorbing country songs from Saturday evenings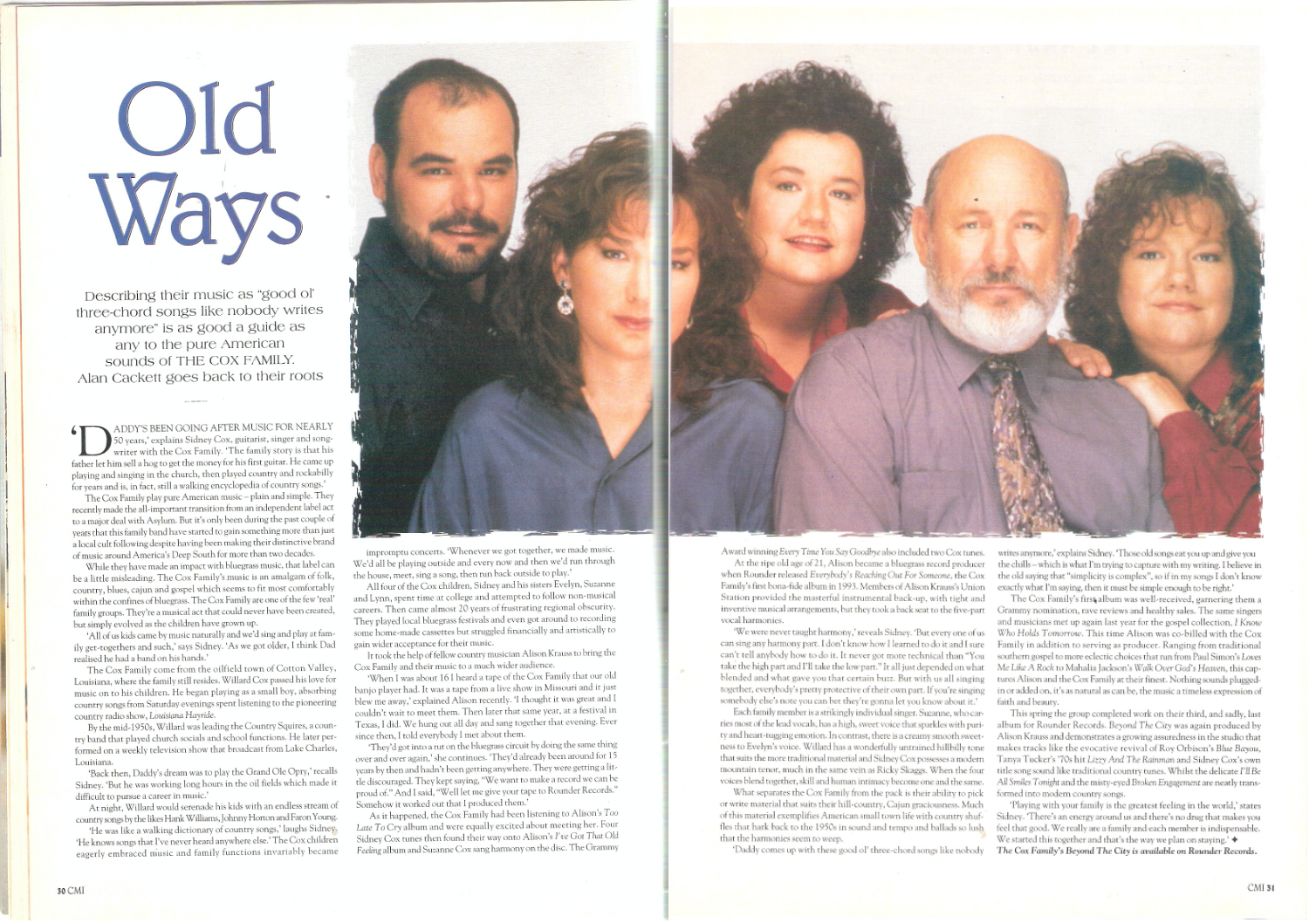 spent listening to the pioneering country radio show, Louisiana Hayride.
By the mid-1950s, Willard was leading the Country Squires, a country band that played church socials and school functions. He later performed on a weekly television show that broadcast from Lake Charles, Louisiana.
"Back then, Daddy's dream was to play the Grand Ole Opry," recalls Sidney. "But he was working long hours in the oil fields which made it difficult to pursue a career in music."
At night, Willard would serenade his kids with an endless stream of country songs by the likes of Hank Williams, Johnny Horton and Faron Young.
2He was like a walking dictionary of country songs," laughs Sidney. "He knows songs that I've never heard anywhere else." The Cox children eagerly embraced music and family functions invariably became impromptu concerts. "Whenever we got together, we made music. We'd all be playing outside and every now and then we'd run through the house, meet, sing a song, then run back outside to play."
All four of the Cox children, Sidney and his sisters Evelyn, Suzanne and Lynn, spent time at college and attempted to follow non-musical careers. Then came almost 20 years of frustrating regional obscurity. They played local bluegrass festivals and even got around to recording some home-made cassettes, but struggled financially and artistically to gain wider acceptance for their music.
It took the help of fellow country musician Alison Krauss to bring the Cox Family and their music to a much wider audience.
"When I was about 16 and I heard a tape of the Cox Family that our old banjo player had. It was a tape from a live show in Missouri and it just blew me away," explained Alison recently. "I thought it was great and I couldn't wait to meet them. Then later that same year, at a festival in Texas, I did. We hung out all day and sung together that evening. Ever since then I told everybody I met about them."
"They'd got into a rut on the bluegrass circuit by doing the same thing over and over again," she continues. "They'd already been around for 15 years by then and hadn't been getting anywhere. They were getting a little discouraged. They kept saying: 'We want to make a record we can be proud of.' And I said: 'Well let me give your tape to Rounder Records.' Somehow it worked out that I produced them."
As it happened, the Cox Family had been listening to Alison's TOO LATE TO CRY album and were equally excited about meeting her. Four Sidney Cox tunes found their way onto Alison's I'VE GOT THAT OLD FEELING album and Suzanne Cox sang harmony on the disc. The Grammy Award winning EVERY TIME YOU SAY GOODBYE also included two Cox tunes.
At the ripe old age of 21, Alison became a bluegrass record producer when Rounder released EVERYBODY'S REACHING OUT FOR SOMEONE, the Cox Family's first bona-fide album in 1993. Members of Alison Krauss's Union Station provided the masterful instrumental back-up, with tight and inventive musical arrangements, but they took a back seat to the five-part vocal harmonies.
"We were never taught harmony," reveals Sidney. "But every one of us can sing any harmony part. I don't know how I learned to do it and I sure can't tell anybody how to do it. It never got more technical than: 'You take the high part and I'll take the low part.' It all just depended on what blended and what gave you that certain buzz. But with us all singing together, everybody's pretty protective of their own part. If you're singing somebody else's note you can bet they're gonna let you know about it."
Each family member is a strikingly individual singer. Suzanne, who carries most of the lead vocals, has a high, sweet voice that sparkles with purity and heart-tugging emotion. In contrast, there is a creamy smooth sweetness to Evelyn's voice. Willard has a wonderfully untrained hillbilly tone that suits the more traditional material and Sidney Cox possesses a modern mountain tenor, much in the same vein as Ricky Skaggs. When the four voices blend together, skill and human intimacy become one and the same.
What separates the Cox Family from the pack is their ability to pick or write material that suits their hill-country, Cajun graciousness. Much of this material exemplifies American small-town life with country shuffles that hark back to the 1950s in sound and tempo and ballads so lush that the harmonies seem to weep.
"Daddy comes up with these good ol' three-chord songs like nobody writes anymore," explains Sidney. "Those old songs eat you up and give you the chills—
which is what I'm trying to capture with my writing. I believe in the old saying that 'simplicity is complex,' so if in my songs I don't know exactly what I'm saying, then it must be simple enough to be right."
The Cox Family's first album was well-received, garnering them a Grammy nomination, rave reviews and healthy sales. The same singers and musicians met up again last year for the gospel collection, I KNOW WHO HOLDS TOMORROW. This time Alison was co-billed with the Cox Family in addition to serving as producer. Ranging from traditional southern gospel to more eclectic choices that run from Paul Simon's Loves Me Like A Rock to Mahalia Jackson's Walk Over God's Heaven, this captures Alison and the Cox Family at their finest. Nothing sounds plugged in or added on, it's as natural as can be, the music a timeless expression of faith and beauty.
This spring the group completed work on their third, and sadly, last album for Rounder Records. BEYOND THE CITY was again produced by Alison Krauss and demonstrates a growing assuredness in the studio that makes tracks like the evocative revival of Roy Orbison's Blue Bayou, Tanya Tucker's 1970s hit Lizzy And The Rainman and Sidney Cox's own title song sound like traditional country tunes. Whilst the delicate I'll Be All Smiles Tonight and the misty-eyed Broken Engagement are neatly transformed into modern country songs.
"Playing with your family is the greatest feeling in the world," states Sidney. "There's an energy around us and there's no drug that makes you feel that good. We really are a family, and each member is indispensable. We started this together and that's the way we plan on staying."