With all of the technological advances that have been made in the past 50-odd years, it's very easy to lose sight of our past and the heritage that has formed the bedrock of how we live in this modern age. Fashions and trends change, this is all part of evolution. The same is true of musical styles, especially country music, to the point where today's country music would be unrecognisable to our parents and grandparents. But, increasingly, there are young singers and musician who are recreating the so-called 'traditional' sounds of yesteryear for a new, younger audience. We have witnessed such acts as the Secret Sisters, Old Crow Medicine Show and a few years earlier Gillian Welch & David Rawlings, recreating old-time country and hillbilly music.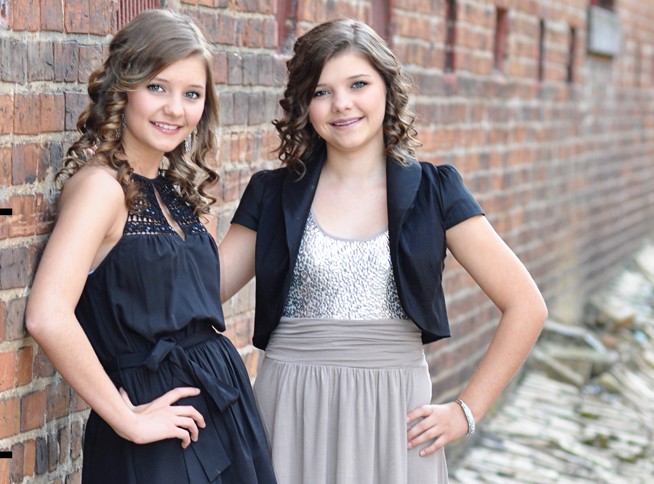 All too often, to match the sounds of yesteryear, these performers would also dress up in yesteryear fashions. I can understand the reasoning behind this, but it can be counter-productive, as by appearing out of step with today's fashions, these acts could be unwittingly missing out on a large untapped younger audience. One act that has seemingly not chosen that path is the Church Sisters. Teenage twin sisters, Sarah and Savannah Church, dress as the hip teenagers that they are. Alongside the mountain and gospel music they heard growing up in the coal-mining region of Dickenson County, Virginia, they also listened to such diverse music as Disney's High School Musical, Brad Paisley, Alison Krauss, The Civil Wars, Brandon Heath, Dolly Parton, Miranda Lambert and Rhonda Vincent. "We listen to all sorts of music and have a high respect for all genres," they say. This diversity of musical influences is carried over into their own musical sounds.
I've always been smitten by family harmonies. In my teens I discovered the Everly Brothers, and from there I reached back to the Louvins, the Delmores, the Monroes, the Blue Sky Boys and the Carter Family. As time moved on I latched onto the Bellamy Brothers, the McCarters, the Judds, the Steffin Sisters and the Dixie Chicks. Any two great singers can harmonise, but few can match the instinct and tone of two blood relatives, making the art-form seem as effortless as breath. From the Carter Family to the Louvin Brothers, harmony is one of the most indelible foundations of country and roots music, and will always be relevant to the audio palette no matter what the trends of popular music are.
Unlike the current crop of mainstream female country singers who appear to be selling themselves more for their sex appeal and outer beauty rather than their talent and skill as singers and musicians, the Church Sisters display the type of wholesome talent that gives you hope for the future of country music; genuine talent nurtured through hard work and dedication that needs no window dressing, no bells and whistles for attention. Sarah and Savannah exemplify this with their sensational harmonies, skilled musicianship and down-to-earth approach to their musical careers. From traditional country to bluegrass and gospel, they have an organic bluegrass/country sound that sets them apart.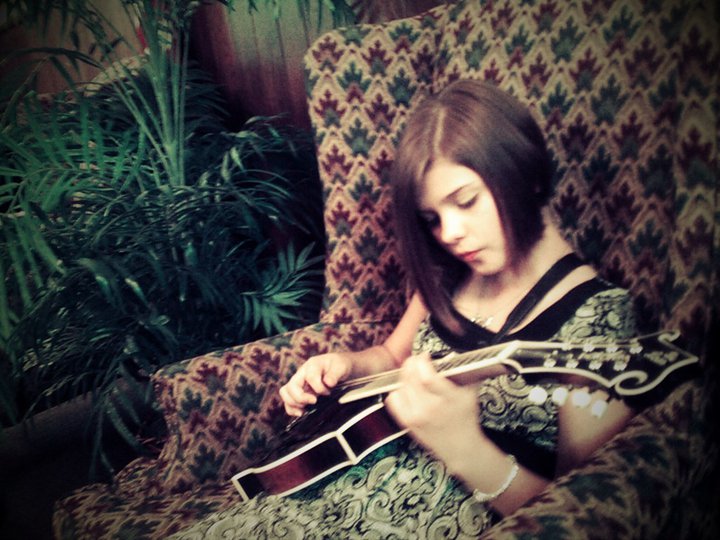 Savannah sings lead and plays the fiddle. Sarah sings angelic harmony and plays mandolin, shaker and tambourine. They were born on December 11, 1995 in the coal mining area of Dickenson County, Virginia. After residing in Haysi, Virginia for a short while, they returned to Danville, Virginia, hometown of their mother, Stephanie Duncan. Music featured prominently throughout their childhood, especially church music. They would often sing and harmonise together during the evening ride home from church in their mother's car. Savannah the dominant vocalist, entered a local talent contest accompanied by her guitar-playing step-dad Jay Duncan. Though she didn't win, it whetted the then ten-year-old's appetite to sing more.
Shortly after, Savannah's twin Sarah began harmonising with her sister, initially just for fun. Encouraged by their mum and step-dad, they practised and practised
What I've Been Looking For
from the Disney Channel's High School Musical. Later they learnt the gospel song
Farther Along 
and in March 2007 they entered a local talent competition, WAKG Rising Stars, won it, and so began the Church Sisters singing career.
Enquiries came in for them to appear at various places including local churches and small events. As their reputation grew demand for appearances wider afield and invites from major artists to join them either in the studio or onstage rapidly developed. They were just 12 years old and though initially they performed with just their step-dad on guitar, Savannah (fiddle) and Sarah (mandolin), it wasn't too long before the band expanded to include their brother, Seth Church, who plays lead and rhythm guitar; their stepfather, who moved across to bass; their cousin Josh Pickett on lead guitar, telecaster and mandolin; and sound engineer and technology guru Eddie Day. Their mother, Stephanie Duncan, manages the band and occasionally lends vocal talent.
Seth, who is two years older than his twin sisters, has only been playing guitar since 2008. He has quickly advanced from just a rhythm guitar player to the lead. His guitar breaks are solid and have perfect timing. More recently he began adding a different element to the group with a percussion styling on an instrument known as a cajon. It's simply a box type drum played with the hands. As a guitarist, Seth has been placed high in guitar competitions, and in 2012 he won in his age class at the prestigious Merle-Fest.
Jay Duncan, the Church Sisters' stepfather, is referred to as 'dad' and he has been very influential in their love for singing and performing. Something of a music veteran, he brings with him years of experience in music. Initially in rock music, mostly he played electric guitar and was a member of the highly popular Danville group known at first as Jagged Edge and then later the band changed its name to Uncle Kiljoy. Over the past few years he has immersed himself in country, bluegrass and bluegrass gospel and adds a smooth, rhythmic bass line to the Church Sisters' sound.
Cousin Josh is also something of a veteran musician, having started his musical career at age 11. He began playing with local band Fast Forward, mostly on weekends and at various festivals around Virginia. The band also released an album called 1420 BROKEN HEART AVENUE. At the time high school graduation came, Josh had several major accomplishments under his musical belt. In 2001 he won the International Guitar Championship at Merle-Fest, being the youngest ever to hold this title at 17. He went on to play music full-time with Valerie Smith & Liberty Pike, touring all across America and also a couple of tours of the UK. In 2005, he was a founding member of the band No Speed Limit. They were a favourite bluegrass band of Virginia's governor, Tim Kaine, and they performed at his 2006 inaugural celebration along with the legendary Beach Boys. In 2007, they also had the honour of being chosen to play at the welcome ceremonies for Queen Elizabeth in Williamsburg. His tasteful lead work and hard-driving rhythm playing and tasteful session work make him one of the top guitarists in the industry. More recently he has been touring with Larry Cordle and Lonesome Standard Time and The Church Sisters. Having taken his career to a new level, Josh owns his own recording studio and does session work as well as studio rentals and producing. Josh enjoys teaching students of all ages and musical abilities.
Spencer Strickland joined The Church Sisters in March, 2013, playing mandolin, rhythm guitar, fiddle, and harmony vocals for the sisters. He grew up in a family steeped in music from Lambsburg, Virginia. His mother sang, and father played guitar in a family gospel band that performed at churches and community events. At the age of ten, Spencer began mandolin lessons with local musician and sound engineer, Wesley Easter. Spencer has gone on to win prestigious awards such as first place mandolin in 2004 and 2008 at the Old Fiddlers' Convention held in Galax, first place in the 2005 Merle Watson Mandolin Championship held at MerleFest, as well as the Best All Around Performer award at the 2004 Galax Old Fiddlers' Convention.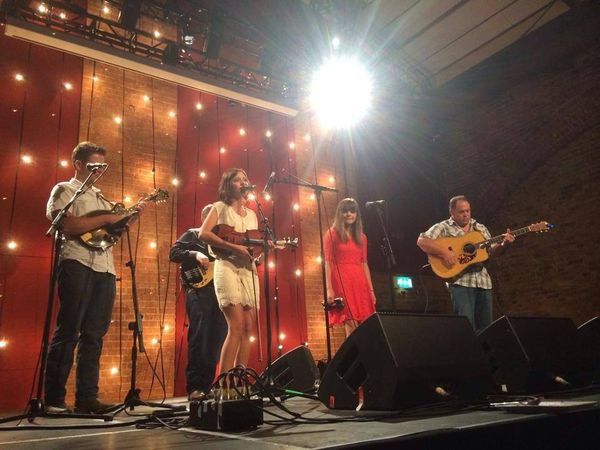 In the autumn of 2004, he began an apprenticeship through the Virginia Folklife Programme with guitar and mandolin builder, Gerald Anderson. The apprenticeship, in turn, led to a partnership business known as Anderson & Strickland String Instruments. Together, Gerald Anderson and Spencer Strickland made up the performing act Anderson-Strickland. The two friends still perform together occasionally to this day. Currently, Spencer works for himself under the name of Strickland String Instruments, and has built over 40 guitars, 10 mandolins, and assisted Gerald Anderson in the making of over 100 instruments. He is now regarded as one of Virginia's top luthiers.  One of his custom made guitars is owned by Marcus Mumford of the Grammy Award winning Mumford and Sons. In August of 2009, Spencer began playing professionally for the award winning Kenny & Amanda Smith Band, and toured for over two years as the band's mandolin player performing all over America, Canada and the UK.
The Church Sisters self-released their first album, FARTHER ALONG, when they were 14. A collection of classic hymns and mountain gospel favourites, their heartfelt delivery and understated musical arrangements brought a freshness to such well-known songs as
I'll Fly Away, Amazing Grace
and
Keep On The Sunnyside
. Their technique and their still-maturing voices may occasionally falter, but their performances radiate authenticity; they mean every word they sing. Andrae Crouch's
Through It All
, is a luminous duet and a confession of faith that brims with the pain of trials and the vulnerability that comes with trusting Jesus through the pain.
Despite their youth, the Church Sisters had learned the secret to making old favourites new again. Claude Ely's
Ain't No Grave
mixes bluesy guitar with a contemporary bluegrass vocal.
Nothing
But The Blood
, a stark, a capella version of the Robert Lowry hymn, fuses old-time style and contemporary licks. Their unadorned style almost begs the listener to sing along as they show themselves to be just as skilled at exciting, driving performances of
I Am Weary (Let Me Rest)
and
I'm Gonna Move
presenting a down-home feel that's more little mountain church house than uptown southern gospel. From the raw, yet smooth quality of their harmonies mixed with classic country instrumentation, one could easily mistake those velvety vocals for someone twice their age.
The sisters began garnering hometown awards and thousands of views on YouTube and came to the attention of Grammy award-winning singer, songwriter and producer, Carl Jackson. He decided to include them on the all-star album, MARK TWAIN WORDS AND MUSIC. The album was created to commemorate 2010: The Year of Mark Twain, and combines spoken word and music to tell the life story of Samuel Langhorne Clemens. The double-CD was released on Jimmy Buffett's Mailboat Records in September 2011. Included in the stellar cast of performers are Brad Paisley, Sheryl Crow, Clint Eastwood, Vince Gill, Marty Raybon, Garrison Keillor, Doyle Lawson & Quicksilver, Rhonda Vincent, Bradley Walker, Emmylou Harris, Angela Lovell, Val Storey, Joe Diffie, Ricky Skaggs, Carl Jackson, Jimmy Buffett and the Church Sisters, who sing a stunning version of
I Wandered By A Brookside
.
Before they'd reached their sixteenth birthday, Savannah and Sarah had met and performed with such prestigious names as Rhonda Vincent, The Isaacs, Carl Jackson, Larry Cordle, Jerry Salley, and Tony Rice. Due to the haphazard life of being travelling singers and musicians, they are home-schooled to have a more flexible schedule for both education and music, and eventually want to dive into music full-time. "We want to be on the road 24/7. We just loved touring so much... it was a good experience for us," says Savannah.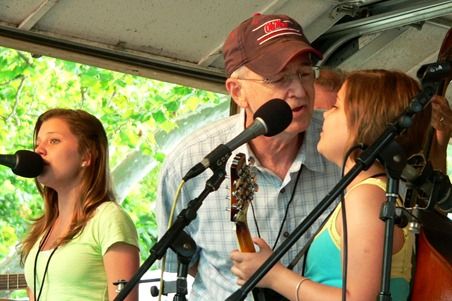 In between all the touring they worked on a second album, THERE'S YOU, which took more than a year to complete. Released in July 2012, the album was produced by Josh Pickett at his Creekside Recording Studio. The Sisters' flair for brave musical choices shines through the album that mixes down-home mountain gospel with modern southern gospel licks and blues. I particularly enjoyed their vibrant rendition of
One Step Ahead Of The Blues
whilst
The Angels Rejoiced
c
reates a sound that is emotionally devout while remaining wholeheartedly endearing.
You'll find a reverence for the tales of everyday life and loss and you'll also find that the Church Sisters never wear their influences on their sleeves. Savannah's velvety, achy voice sounds grounded but wounded on
Never Were My Baby
and exudes the vulnerability of someone who's loved and lost. Fans of finely crafted folk-country-gospel music will find these spiritually uplifting tunes irresistible. They are accompanied by their brother Seth on lead guitar, Josh on guitar and bass, mandolin virtuoso, Adam Steffey, whom the girls are proud to call a friend, Jody King on banjo and Jenee Fleenor, the fiddle player for Martina McBride, who adds a melodic fiddle to complete the clear and clean  sound that lets their voices shine beautifully.
Savannah and Sarah showcased their unique talent when they made an appearance on the popular reality series America's Got Talent. After performing live in front of judges Howard Stern, Howie Mandel and Sharon Osbourne, the sisters received rave reviews. They were voted through to the next round in Las Vegas, but they turned it down, choosing instead to earn a record deal the traditional way.
Following that the Church Sisters embarked on their first extensive tour, which gave them a taste of the life that a career in music would entail... and they loved every minute of it. They joined Christian artist Brandon Heath on his Blue Mountain Tour in early October which ran through late November 2012. They drove 14,000 miles in seven weeks with a few shows of their own in Nashville before returning home for Thanksgiving and the Christmas break.
In the spring of 2013 it was decided that the family should move to Galax, Virginia to be closer to the many events they play regularly, and to be closer to Pickett and their studio, Creekside Recording. They have maintained a busy performance schedule and have also worked in the studio on their own recordings and worked with other acts. They joined forces with Georgia musician Barry Waldrep on his latest recording project: THE BAND OF BROTHERS AND SISTERS, and are also featured on the forthcoming ORTHOPHONIC JOY project. Produced by their long-time supporter Carl Jackson, this is an all-star tribute to the historic Bristol Session of 1927, which are referred to as 'the big bang of country music.' Savannah and Sarah have also appeared on numerous TV shows, including The Joey and Rory Show, Larry's Country Diner and Country's Family Reunion.
They are currently completing their third album whilst Savannah has begun writing her own material. Having seen these talented Southern teens I can tell you that they have a great stage presence and the ability to interact with an audience. Sarah and Savannah Church have talent that stretches far beyond their years. Their organic bluegrass/country sound definitely sets them apart from the young artists of today and I have no hesitation in predicting an exciting future for the Church Sisters.