The Buffalo Club - Under The Spotlight
First Published in Country Music International, July 1997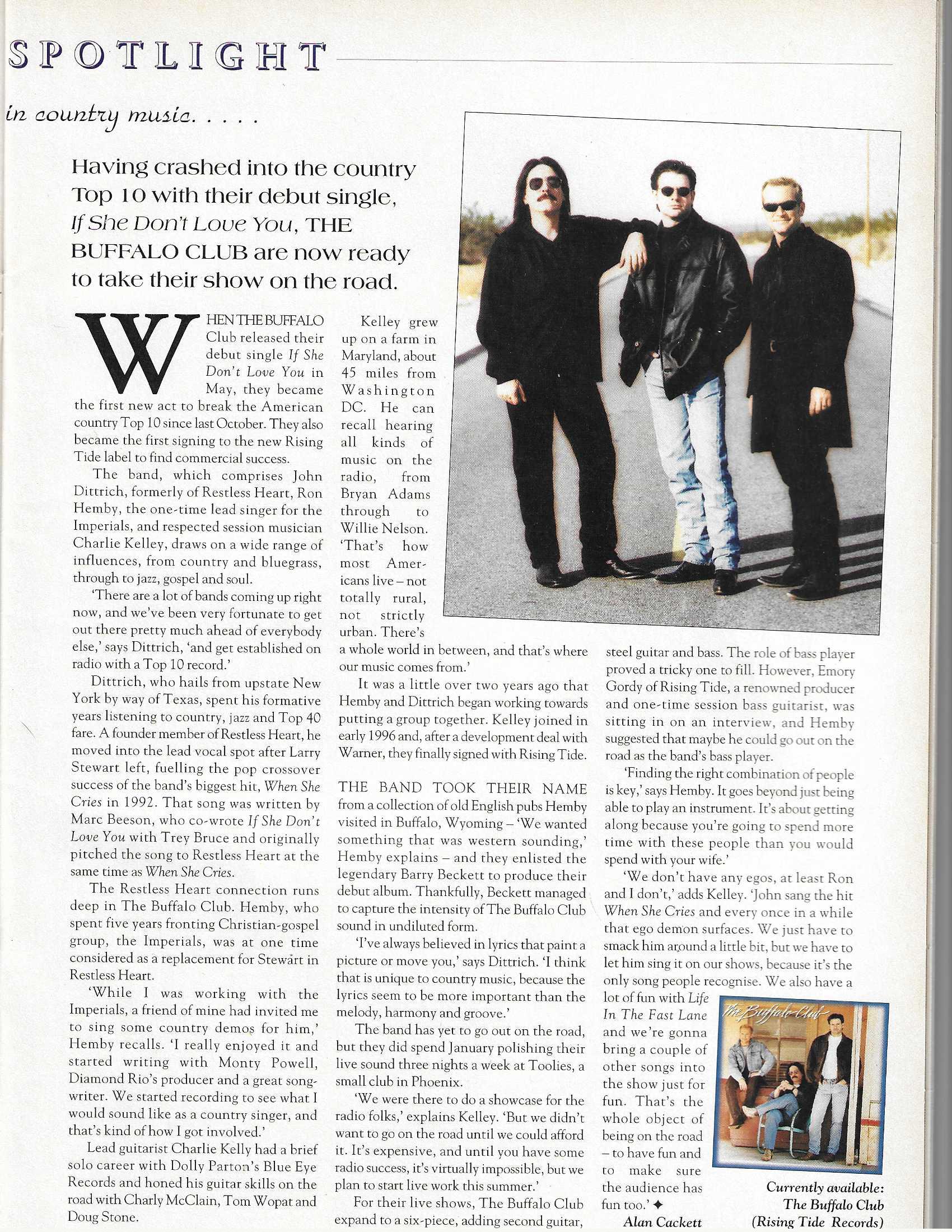 Having crashed into the country Top 10 with their debut single, If She Don't Love You, The Buffalo Club are now ready to take their show on the road.
When The Buffalo Club released their debut single If She Don't Love You in May, they became the first new act to break the American country Top 10 since last October. They also became the first signing to the new Rising Tide label to find commercial success.
The band, which comprises John Dittrich, formerly of Restless Heart, Ron Hemby, the one-time lead singer for the Imperials, and respected session musician Charlie Kelley, draws a wide range of influences, from country and bluegrass, through to jazz, gospel and soul.
"There are a lot of bands coming up right now, and we've been very fortunate to get out there pretty much ahead of everybody else," says Dittrich, "and get established on radio with a Top 10 record."
Dittrich, who hails from upstate New York by way of Texas, spent his formative years listening to country, jazz and Top 40 fare. A founder member of Restless Heart, he moved into the lead vocal spot after Larry Stewart left, fuelling the pop crossover success of the band's biggest hit, When She Cries in 1992. That song was written by Marc Beeson, who co-wrote If She Doesn't Love You with Trey Bruce and originally pitched the song to Restless Heart at the same time as When She Cries.
The Restless Heart connection runs deep in the Buffalo Club. Hemby, who spent five years fronting Christian-gospel group, the Imperials, was at one time considered as a replacement for Stewart in Restless Heart.
"While I was working with the Imperials, a friend of mine had invited me to sing some country demos for him," Hemby recalls. "I really enjoyed it and started writing with Monty Powell, Diamond Rio's producer and a great songwriter. We started recording to see what I would sound like as a country singer, and that's kind of how I got involved."
Lead guitarist Charlie Kelly had a brief solo career with Dolly Parton's Blue Eye Records and honed his guitar skills on the road with Charly McClain, Tom Wopat and Doug Stone.
Kelley grew up on a farm in Maryland, about 45 miles from Washington DC. He can recall hearing all kinds of music on the radio, from Bryan Adams through to Willie Nelson. "That's how most Americans live—not totally rural, not strictly urban. There's a whole world in between, and that's where our music comes from."
It was a little over two years ago that Hemby and Dittrich began working towards putting a group together. Kelley joined in early 1996 and, after a development deal with Warner, they finally signed with Rising Tide.
The band took their name from a collection of old English pubs Hemby visited in Buffalo, Wyoming—"We wanted something that was western sounding," Hemby explains—and they enlisted the legendary Barry Beckett to produce their debut album. Thankfully, Beckett managed to capture the intensity of The Buffalo Club sound in undiluted form.
"I've always believed in lyrics that paint a picture or move you," says Dittrich. "I think that is unique to country music, because the lyrics seem to be more important than the melody, harmony and groove."
The band has yet to go out on the road, but they did spend January polishing their live sound three nights a week at Toolies, a small club in Phoenix.
"We were there to do a showcase for the radio folks," explains Kelley. "But we didn't want to go on the road until we could afford it. It's expensive, and until you have some radio success, it's virtually impossible, but we plan to start live work this summer."
For their live shows, The Buffalo Club expand to a six-piece, adding a second guitar, steel guitar and bass. The role of bass player proved a tricky one to fill. However, Emory Gordy of Rising Tide, a renowned producer and one-time session bass guitarist, was sitting in on an interview, and Hemby suggested that maybe he could go out on the road as the band's bass player.
"Finding the right combination of people is key," says Hemby. "It goes beyond just being able to play an instrument. It's about getting along because you're going to spend more time with these people than you would spend with your wife."
"We don't have any ego, at least Ron and I don't," adds Kelley. "John sang the hit
When She Cries 
and every once in a while that ego demon surfaces. We just have to smack him around a little bit, but we have to let him sing it on our shows, because it's the only song people recognise. We also have a lot of fun with
Life In The Fast Lane 
and we're gonna bring a couple of other songs into the show just for fun. That's the whole object of being on the road—to have fun and to make sure the audience has fun too."