The Brothers Comatose - Ear Snacks
Swamp Jam Records
****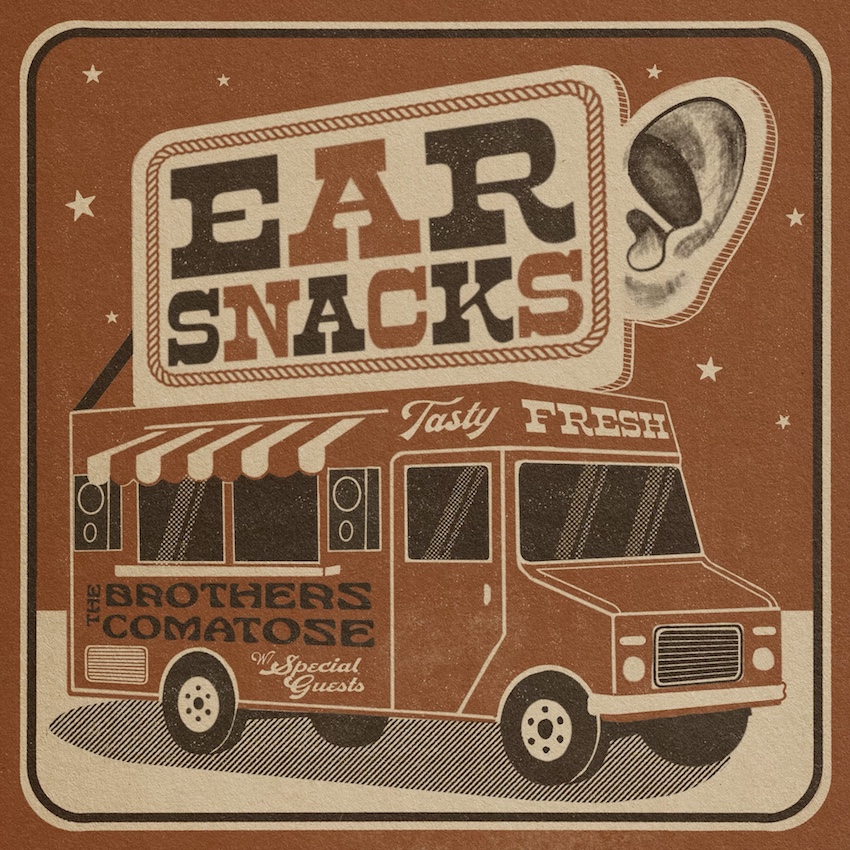 With the following for bluegrass music growing all over the world, there's a constant flow of groups with new ways of expressing it, especially among young musicians. If, at times, they serve up similarities to like-minded contemporaries—Nickel Creek, the Punch Brothers, Yonder Mountain String Band and the like—then that is probably par for the course.  San Francisco quintet the Brothers Comatose, though, are quite different to the majority of the contemporary bluegrass-styled outfits. Formed by brothers Ben and Alex Morrison (vocals, guitar and banjo) with their classically trained friend Philip Brezina in 2009 and subsequently enlisting Greg Fleischut (mandolin) and Steve Height (bass), this is their sixth album, and continues to push stylistic boundaries. Ben and Alex grew up in a musical family in Petaluma, California. Their home was a musicians' magnet in which family singalongs and impromptu picking parties were commonplace with famed musicians dropping-in at the drop of a hat. The Brothers utilised this ad-hoc approach for their aptly titled EAR SNACKS. During the latter days of the pandemic, the band members got together to shoot videos to share on YouTube to compensate for their lack of touring. This soon led to get-togethers with a whole cast of like-minded singers and players—California Honeydrops, Charlie Parr, Rainbow Girls, Nicki Bluhm, Meaghan Maples, Lindsay Lou, Sean Hayes, Tom Quell—to perform and record both covers and new songs to share on social media platforms. The 15-track collection shows that the Brothers Comatose and their musical pals were clearly capable of creating a sense of celebration at a time when music fans needed it the most.
If a group of musicians make an album that sounds like something you and your friends could sing along to while cruising around, from start to finish, then I think that group has officially reached classic status. I wholeheartedly believe that EAR SNACKS is one such record.While the style and stance vary to a degree, from track to track, they find a foundation in bluegrass, with banjo, fiddle and mandolin used to underscore their sound. The opening Ain't No Grave devours the listener and deposits them somewhere between the ionized air and the skull crunch that follows a leap made with ambitions and a lack of fear. The song redlines the brain before skidding to a stop in a cloud of dust and destruction. Charlie Parr, who recorded the song for his own WHEN THE DEVIL GOES BLIND album in 2010, handles the lead vocal honours. His gritty voice gives the song a crossover appeal, with traces of other familiar takes on this bluesy gospel standard. It's a far cry from a sedate church setting; this rendition is tangled and raw with a feverish quality of someone putting their entire heart into fomenting insurrection, a refreshing, rocking dose of subliminal incitement.
With its Mumford-y stomp, the Stones' Honky Tonk Women is transformed by the Rainbow Girls' gutsy vocals into a honky-tonk jukebox soundtrack for blasting yourself into chemical oblivion. The wacky Stickshifts and Safetybelts ramble, the slightly more sedate River, featuring the sweet tones of Meaghan Maples and I Want To Sing That Rock'n'Roll, with Ben Morrison showcasing his smooth baritone to great effect, all form a tipsy trifecta of sorts, a combined ode to intoxication that offers evidence that indeed, there's reason to believe a relapse may be a prime possibility. The latter rocks along in a familiar way, but by focusing on songs rather than jams, the Brothers Comatose have created a genuinely interesting album.   
February 2023