The Brother Brothers - Cover To Cover
Compass Records
****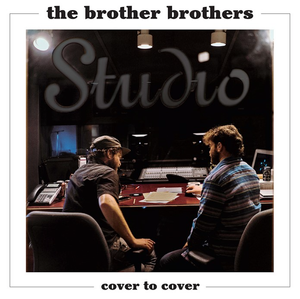 It's a double-edged sword when younger artists tackle classic songs that were popular before they were born. Youthful enthusiasm only takes you so far, the proof is in the pudding. These covers by identical twins Adam and David Moss have a lived-in feel, maybe not what you were expecting, but engaging, nonetheless. The dozen tunes truly allow the pair to ply their vocal harmonies. Their voices draw you in, tug at your heart, and makes you realise that they share a deep passion for music and a heartfelt respect for musical heritage and a mission to share good, quality music. Recalling brother acts like the Louvins, Everlys and the likes of Simon & Garfunkel and the Milk Carton Kids through their effortless chemistry, their harmonies are in the tradition, but they are their own, not cutting-on-the-dotted-line of Everlys' magic. The songs are filled with undeniable melodies, but they're fleshed out with inventive musicianship and production that elevate each track. They delve deeper, and in the process show these well-known songs in a different light. Not that they necessarily take on new meanings, but rather an ambiance that comes from being open to your own experiences. Which, of course, is the essence of tradition. The surprises are welcome and even the expected inclusions do not disappoint, mining musical legacies like Tin Pan Alley, Appalachia, lesser-known 1970s singer-songwriter gems and even the Beatles for what remains great and what in the popular songbook ought to evolve or simply will not survive.
The twins were raised in Illinois, and though they sang and harmonised together as youngsters, they embarked on separate music careers following college. Both are multi-instrumentalists, eventually coming back together in New York City in 2016 when they decided to pursue the duo route. This is their third album on which Adam plays fiddle and Wurlitzer and David cello and guitars. They are joined by a skilled crew of musicians including Alison Brown (banjo), Jeff Picker (acoustic lead guitar, bass), Matty Meyer (drums), Ryan Scott (electric guitar, organ), Sarah Jarosz (mandolin, harmony vocals), Michael Rinne (bass) with additional harmony vocals courtesy of the Price Sisters (Rachael and Emily). Tom T. Hall's That's How I Got To Memphis, is just the first taste of a record that represents just how far The Brother Brothers have come since the release of their widely acclaimed 2017 debut, which helped to put them on the map as an act to watch. They offer a slow motion, soulful, all-natural ramble, lit from within by a spectral glow giving the song a tender edge. Jackson Browne's classic These Days is a song that transcends all eras—and hits on every emotional note it can. The inventive acoustic guitar is provided by Jeff Picker and weaves perfectly with the pair's exquisite vocal harmonies.
From the tender James Taylor ballad You Can Close Your Eyes (with Sarah Jarosz's ethereal harmonies) to Judee Sill's delicate There's A Ragged Road to the   
the upbeat and effusive Feeling Good Again, the Robert Earl Keen song, given a rollicking bluegrass treatment featuring banjo, mandolin and fiddle very much to the fore. Even the more familiar fare—including reboots of the Beatles' I Will and Hoagy Carmichael's 1 Get Along Without You Very Well (Except Sometimes)—take on a new and distinctive tone and treatment under their aegis.  A very pleasant and timeless record that I'm sure will give added impetus to an exciting career for the talented Brother Brothers.
www.thebrotherbrothersmusic.com
July 2022