First published in Country Music People, November 1979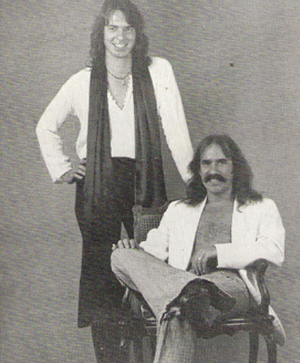 It was just over three years ago when the world first encountered the sound of David and Howard Bellamy.
Let Your Love Flow
was undoubtedly one of the classiest singles around at the time and became the summer hit of 1976. Its carefully stated driving beat, summery lyrics and general balmy atmosphere was perfect.
Since then, the two brothers, who come from Derby, a very small town in central Florida, have released four appealing albums and enjoyed some success with several singles on the country charts, until this summer when they made it to the top with the catchy
If I Said You Have A Beautiful Body Would You Hold It Against Me.
That song was written by David Bellamy, the clean-shaven brother, who has been responsible for writing most of the Bellamys' material. He plays the guitar, piano and organ. Howard, the brother with the Zappaesque moustache, is also a songwriter, though not as prolific as his brother, and is a multi-instrumentalist who plays guitar, Dobro, bass and mandolin.
Being Southern rural white boys, the first music they heard was of course country. Their father was a casual country/bluegrass player who entertained at local dances. He played fiddle, and was quite good, though actually he was a farmer and had never been near a place where he might have encountered professional entertainment.
For as long as the two brothers can remember they have been making music in some way or another. Their earliest memories go back to singing in church. Throughout their childhood they were influenced by what they heard at home. "Our parents had records by people like Hank Williams, Kitty Wells and Jimmie Rodgers," Howard explains. "They didn't like rock'n'roll, just kept the radio on the country stations."
When they started high school, they came into contact with a wider range of music. David, the eldest of the two, played in the Pasco Gospel Group based in Florida. When the group disbanded he spent the next few years travelling around the country playing for whatever he could.
Meanwhile, Howard was expanding his own musical roots, his style heavily influenced by soul music. When the two brothers were reunited they formed their own group, Jericho, and spent several years playing in small clubs around Georgia, Mississippi and South Carolina.
"There are a lot of clubs in the South and a band can earn a good living even without a record contract down there," David said. "We played Otis Redding, Sam & Dave, Percy Sledge, that kind of stuff. It's still the sort of r&b I like the best, not all this disco music."
"We used to make pretty good money but we were never into saving any of it," Howard interrupted. "We just lived from week to week like most of the bands there, never caring what happened next. We'd play
I Can't Turn You Loose
by Otis Redding, followed y
I Want To Hold
Your Hand
and then a country tune. It's almost what we do now, because we're into a lot of types of music."
In 1971 the brothers disbanded their group and went back to live on their father's farm in Florida. "We just wanted to sort things out, try a different approach, so we didn't play with a band for two or three years," said Howard. 'Up till that time we'd been playing top 40 stuff and we wanted to write songs together. We had the playing down right, after all those years on the road, but we needed to concentrate on songwriting."
Then David took up the story: "We also got into doing studio work to earn some money. There was a studio down in Tampa and we used to get whatever work we could there, singing back-up or playing. I even wrote some commercials for the local TV and radio stations. We'd do sessions with whoever was in the studio, we'd work with rock groups, gospel and maybe both in the same day."
By agreeing to write radio jingles for local stores, David got free time in the studio to start making demos of his own songs. He mailed them out to record companies and publishers, finally hitting gold with a tape that reached Phil Gernhard, Jim Stafford's producer. He offered one of the tunes,
Spiders And Snakes
, to Stafford, who liked the song and with the brothers did a re-write and released his version and scored a mammoth hit.
"That sold a couple of million records and Phil suggested that we should move out to LA," said David. "I didn't want to at first, but when we started making money from the sales of that record, I knew things would be pretty good in LA."
Spiders And Snakes
proved to be the beginning of the breakthrough for the brothers. Through the Gernhard connection they acquired a good management deal with Tony Scotti, who got them in the studio and produced one regional hit,
Nothin' Heavy
, in the autumn of 1975. Written by David, it was an affectionate look back at the mid-1960s and was a good beginning to their recording career.
But David was not entirely happy with the way
Spiders And Snakes
had turned out. "Nobody knows I wrote that song," he stated. "Stafford did lots of television on the basis of that one song, and he always took the credit for it! In fact the song was a little autobiographical. On the farm we had a shack near the house. There were holes in the floor and there were a lot of spiders and snakes in there. Stafford made it into more of a novelty song than it was originally." 
The spring of 1976 saw the release of the single that was to put the Bellamy Brothers on the map. Written by Larry Williams, a roadie for Neil Diamond,
Let Your Love Flow
fairly shot up the American charts and also enjoyed considerable success this side of the Atlantic. The song was recorded by several country artists, and in fact several of David Bellamy's songs have been picked up by country artists during the past two or three years.
The boy's first album, simply titled THE BELLAMY BROTHERS, was musically a very simple album; strong on melody with mostly acoustic or gentle electric backing and interesting, but never obtrusive playing from guitarist Richard Bennett and keyboardist Alan Lundgren. Their third single,
Satin Sheets
, was one of the highlights, and deservedly gave them another Stateside hit, but it's the songs of David Bellamy that have the most appeal for me.
Country fans will love the simplicity of
Livin' In The West
, with its gentle jogging rhythm, and another good offering is
I'm The Only Sane Man Left Alive
. Their music is a happy combination between technique and emotive involvement. Both David and Howard have light voices, but they harmonise well and the simple guitar and keyboard accompaniment is the ideal expression for some strong material.
They have since come up with even more compelling songs, favouring a sort of country/folk/rock approach to highly commendable offerings like
Slippin' Away
and
Let's Give Love A Go
from BEAUTIFUL FRIENDS (their third album),
Crossfire, Memorabilia
and
Miss Misunderstood
(the latter recorded by Elvis Presley) and more recently this year
Lovin' On
and
You Ain't Just Whistlin' Dixie
from their latest offering, THE TWO AND ONLY.
For those who favour the driving, folky styling of country music, it is the Bellamy Brothers who are at the forefront. Theirs is a distinctive, classy sound that makes summer a whole lot brighter than our drab English weather sometimes allows. They have made their mark on the country charts and though the purists amongst us might criticise their placing on the country charts, you won't find a more 'country' sound around than their recent big hit,
If I Said You Have A Beautiful Body Would You Hold It Against Me.