The Beach Boys - Good Vibrations
First Published in Country Music International – October 1996
This summer Lorrie Morgan, Collin Raye and Willie Nelson were among the Nashville artists who recorded versions of their favourite Beach Boys songs—with the band themselves on hand to provide those distinctive harmonies. Alan Cackett examines this year's unlikeliest pairing.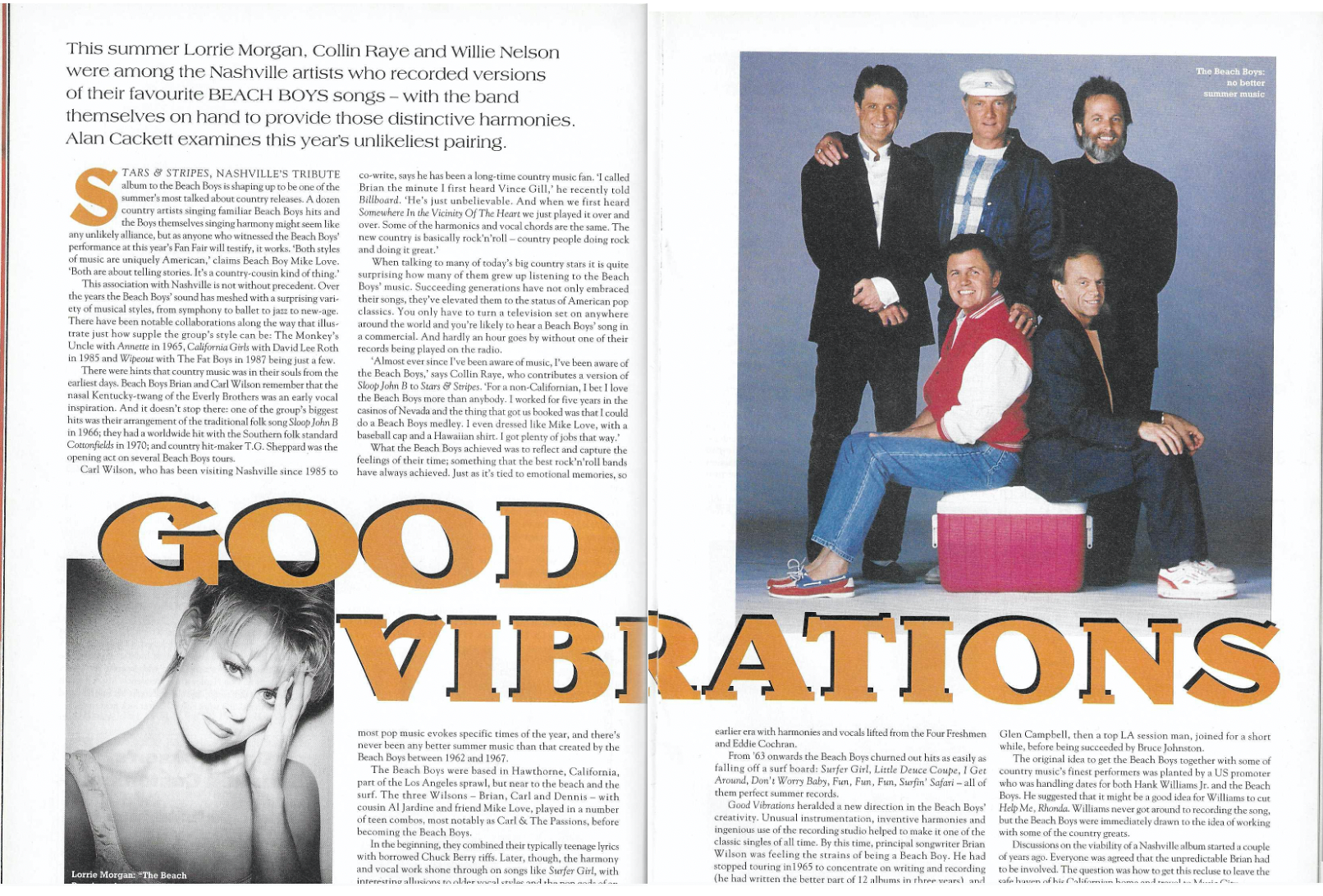 STARS & STRIPES, Nashville's tribute album to the Beach Boys is shaping up to be one of the summer's most talked about country releases. A dozen country artists singing familiar Beach Boy hits and the Boys themselves singing harmony might seem like any unlikely alliance, but as anyone who witnessed the Beach Boys' performance at this year's Fan Fair will testify, it works. "Both styles of music are uniquely American," claims Beach Boy Mike Love. "Both are about telling stories. It's a country-cousin kind of thing."
This association with Nashville is not without precedent. Over the years the Beach Boys' sound has meshed with a surprising variety of musical styles, from symphony to ballet to jazz to new-age. There have been notable collaborations along the way that illustrate just how supple the group's style can be: The Monkey's Uncle with Annette in 1965, California Girls with David Lee Roth in 1985 and Wipeout with The Fat Boys in 1987 being just a few.
There were hints that country music was in their souls from the earliest days. Beach Boys Brian and Carl Wilson remember that the nasal Kentucky-twang of the Everly Brothers was an early vocal inspiration. And it doesn't stop there: one of group's biggest hits was their arrangement of traditional folk song Sloop John B in 1966, they had a worldwide hit with the Southern folk standard Cottonfields in 1970; and country hit-maker T.G Sheppard was the opening act on several Beach Boys tours.
Carl Wilson, who has been visiting Nashville since 1985 to co-write, says he has been a long-time country music fan. "I called Brian, the minute I first heard Vince Gill," he recently told Billboard. "He's just unbelievable. And when we first heard Somewhere In the Vicinity Of The Heart we just played it over and over. Some of the harmonies and vocal chords are the same. The new country is basically rock'n'roll—country people doing rock and doing it great."
When talking to many of today's big country stars it is quite surprising how many of them grew up listening to the Beach Boys' music. Succeeding generations have not only embraced their songs, they've elevated them to the status of American pop classics. You only have to turn a television set on anywhere around the world and you're likely to hear a Beach Boy's song in a commercial. And hardly an hour goes by without one of their records being played on the radio.
"Almost ever since I've been aware of music, I've been aware of the Beach Boys," says Collin Raye, who contributes a version of Sloop John B to STARS AND STRIPES.
"For a non-Californian, I bet I love the Beach Boys more than anybody. I worked for five years in the casinos of Nevada and the things that got us booked was that I could do a Beach Boys medley. I even dressed like Mike Love, with a baseball cap and a Hawaiian shirt. I got plenty of jobs that way."
What the Beach Boys achieved was to reflect and capture the feelings of their time, something that the best rock'n'roll bands have always achieved. Just as it's tied to emotional memories, so most pop music evokes specific times of the year, and there's never been any better summer music than that created by the Beach Boys between 1962 and 1967.
The Beach Boys were based in Hawthorne, California, part of the Los Angeles sprawl, but near to the beach and the surf. The three Wilsons –Brian, Carl and Dennis—with cousin Al Jardine and friend Mike Love, played in a number of teen combos, most notably as Carl & The Passions, before becoming the Beach Boys.
In the beginning, they combined their typically teenage lyrics with borrowed Chuck Berry riffs. Later, though, the harmony and vocal work shone through on songs like Surfer Girl, with interesting allusions to older vocal styles and the pop gods of an earlier era with harmonies and vocals lifted from the Four Freshmen and Eddie Cochran.
From 1963 onwards the Beach Boys churned out hits as easily as falling off a surf board: Surfer Girl, Little Deuce Coupe, I Get Around, Don't Worry Baby, Fun, Fun, Fun, Surfin' Safari—all of them perfect summer records.
Good Vibrations heralded a new direction in the Beach Boys' creativity. Unusual instrumentation, inventive harmonies and ingenious use of the recording studios helped to make it one of the classic singles of all time. By this time, principal songwriter Brian Wilson was feeling the strains of being a Beach Boy. He had stopped touring in 1965 to concentrate on writing and recording (he had written the better part of 12 albums in three years), and Glen Campbell, then a top LA session man, joined for a short while, before being succeeded by Bruce Johnston.
The original idea to get the Beach Boys together with some of country music's finest performers was planted by a US promoter who was handling dates for both Hank Williams Jr. and the Beach Boys. He suggested that it might be a good idea for Williams to cut Help Me, Rhonda. Williams never got around to recording the sing, but the Beach Boys were immediately drawn to the idea of working with some of the country greats.
Discussions on the viability of a Nashville album started a couple of years ago. Everyone was agreed that the unpredictable Brian had to be involved. The question was how to get this recluse to leave the safe haven of his Californian home and travel to Music City.
Carl Wilson finally dangled the necessary carrot in front of his brother. "Brian said, 'I'll produce the record if you can get Willie Nelson to record Warmth Of The Sun,'" explains Carl. The song has a Texas connection: Wilson and Mike Love wrote it immediately after the assassination of President John F. Kennedy in Dallas. Nelson, who has the reputation of recording with almost everybody who has ever walked into a recording studio, agreed and the Beach Boys travelled down to Nelson's Pedernales Studio in Austin.
"I've known these guys for a long time," says Nelson. "Brian and Mike were fans and vice versa. So they all came down to Texas. I think Warmth Of The Sun is a beautiful song, and they put the finishing touches on it. Those guys can sing. I think this was a natural mix. Country music's getting to be like Texas boundary lines, it keeps bleeding into other places."
Apart from the sessions in Texas, most of the recordings took place in Nashville with crack Music City session players like Brent Rowan, Eddie Bayers, Michael Rhodes, Larry Franklin, Sonny Garrish and Steve Nathan. The first session was held last October and the final one this June, which meant many visits to Nashville for the Beach Boys. Sawyer Brown and the Beach Boys even opened the 1996 TNN/Music City News Awards Show with a rocking version of I Get Around.
"Naturally, when we started doing this project, I started listening to more country music," explains Carl Wilson. "Gina, my wife, and I have been listening to country music for several years, and I think what really started to get us was when Reba McEntire did You Lied and Vince Gill did When I Call Your Name. Reba has hit home in a very big way many times. She's done something that's timeless, that just transcends. And Vince has been my favourite vocalist for the last couple of years."
Lorrie Morgan was one of the first artists to be enlisted by co-producer  Joe Thomas, cutting a version of Don't Worry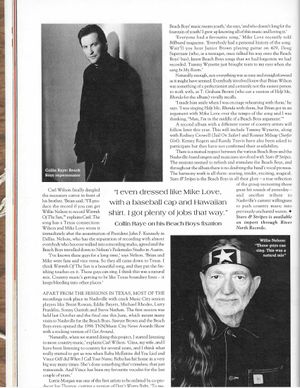 Baby. "To me, Beach Boys' music means youth," she says, "and who doesn't long for fountain of youth? I grew up knowing all of this music and loving it."
"Everyone had a favourite song," Mike recently told Billboard magazine. "Everybody had a personal history of the song. Wait til you hear Junior Brown playing guitar on 409, Doug Supernaw (who, as a teenager, once talked his way onto the Beach Boys' bus), knew Beach Boys songs that we had forgotten we had recorded. Tammy Wynette just brought back tears to my eyes when she sang In My Room."
Naturally enough, not everything was as easy and straightforward as it might have seemed. Everybody involved knew that Brian Wilson was something of a perfectionist and certainly not the easiest person to work with, as T. Graham Brown (who cut a version of Help Me, Rhonda for the album) vividly recalls
"I made him smile when I was on stage rehearsing with them," he says. "I was singing Help Me, Rhonda with them, but Brian got in an argument with Mike Lover over the tempo of the song and I was thinking, 'Man, I'm in the middle of a Beach Boy argument.'"
A second album with a different roster of country artists will follow later this year. This will include Tammy Wynette, along with Rodney Crowell (Sail On Sailor) and Ronnie Milsap (Surfer Girl). Kenny Rogers and Randy Travis have also been asked to participate but they have not confirmed their availability.
There is a mutual respect between the various Beach Boys and the Nashville-based singers and musicians involved with STARS & STRIPES. The sessions seemed to refresh and stimulate the Beach Boys, and throughout the album there is no doubting the band's vocal prowess. The harmony work is all there; soaring, tender, exciting, magical. STARS & STRIPES is the Beach Boys in all their glory—true reflection of the group recreating those great hit sounds of yesterday—and another tribute to Nashville's current willingness to push country music into previously uncharted waters.