First published in Country Music People, May 1975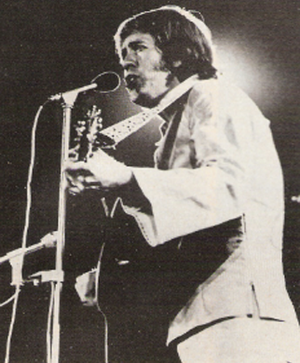 Terry Stafford is a young singer who entered into country music via the back door. Basically he is a pop singer. Having enjoyed notable success a little more than ten years ago with
Suspicion
, a typical pop ballad penned by Doc Pumus and Mort Shuman, who were responsible for countless rock'n'roll and pop hits throughout the 1950s and well into the 1960s. He picked up the song from an Elvis Presley album, added his own distinctive stamp mixed with a commercial arrangement which quickly shot it into the American top ten and also the lower rungs of Britain's charts.
Like most of the pop fugitives who have steadily built a new career in country music, Terry grew up with the rural music. The influence of rock'n'roll temporarily drew him away from the simplicity of country music and for several years he fronted a pop group. His first musical influences were Buddy Holly and Elvis Presley, and even today Presley's influence can be traced both in his stage act and his vocals.
The last few years have seen country music experimenting with melting together many forms and approaches, which has created new sounds, but also at times has caused a vague and confusing lack of direction in country circles. The influx of pop singers and writers into Nashville has created even more confusion, but has also helped to push many musicians to re-examine their careers, and often to return in a roundabout way to their roots. This is not necessarily a retreat as much as it is a re-affirmation of personality foundation and a re-cycling of styles so that the roots may be used as a home base for further musical exploration. In a way, the influence of pop music and singers on country music in general, has created a much more vibrant and interesting scene than in the past, and all the time the music can be traced back to its roots, then this influence should never be condemned.
Stafford's style has always been influenced by country music, and his recent recordings in Nashville are not far removed from those pop recordings he made ten years ago in California. Today the pedal steel guitar is still immediately associated with country music, far more so than any other musical style, and it's the inclusion of the steel that gives his current recordings a country slant.
You don't have to wear bib overalls, spit tobacco juice and go barefoot to like country music. It appeals to all ages and to people in all walks of life. Terry Stafford is one of those performers who is able to bring a form of country music to a much wider audience than the more traditionally-based singers can. He can interest a much younger audience. The increased youth appeal is that the beat is livelier (and not so corny) and it has simplicity and realism.
His resurgence as a singer, after several years in the musical wilderness, began with the formation of the Atlantic Records' country label. His first disc cut in Nashville was the pop song,
Say, Has Anybody Seen My Sweet Gipsy Rose
, which was transformed into a country hit solely because of the fine fiddle work of Buddy Spicher. The basic arrangement was identical to the New York recording by pop group, Dawn, young Stafford letting his richly textured voice undermine the lyrics in memorable fashion.
Terry Stafford has a good voice and a neat line in self-penned songs. His debut album for Atlantic, suitably titled after his first 'country' hit, included five originals. The music is precise, well-planned and a pleasure to listen to. Melodies emerge endlessly from his songs. The production by Earl Ball carefully embroiders pop designs on a basic country fabric. Stafford's voice is hardly country, but it's well suited to the melancholic tales of heartbreak, love and the joy of living. Among his own songs is tucked
Big In Vegas
, a hit for Buck Owens a few years ago. A slow and meaningful arrangement serves as a fitting frame for this colourful song-picture given an emotional treatment by Stafford, that is only marred by the terrible pop-styled chorus used at the ending.
Road House Country Singer
, another self-penned number, is the nearest he comes to capturing the basic ingredient of country songwriting. His other songs, especially
Amarillo By Morning
and
Country Canary,
are too close to the contrived pop writing that decorates the charts to mean much to country music fans.
The great quality of Terry Stafford, which is to be found in all country and country-slanted music, is that it's unpretentious and natural. It requires no effort or language to relate to it. It won't take much for Stafford to get to you; his persuasive powers are built right into his song stylisation. Polite is perhaps the best way to describe his singing. It's all very tasteful pop-styled country music.
In a way Stafford is perhaps misplaced in country music, but then again he would find it hard to fit into the current pop scene. A preoccupation with the pop music of 1950s, that safe-and-cosy decade of undiluted colas and hamburgers that didn't have the feel of re-cycled wood chips, pervades throughout his style. It's a simple, basic kind of music, and that same simplicity that marked the recordings of Buddy Holly, Rick Nelson, Tommy Roe and numerous other pop idols of the past, continues in the singing style of Terry Stafford.