Terry McMillan - The Nashville Cats
First Published in Country Music International, June 1997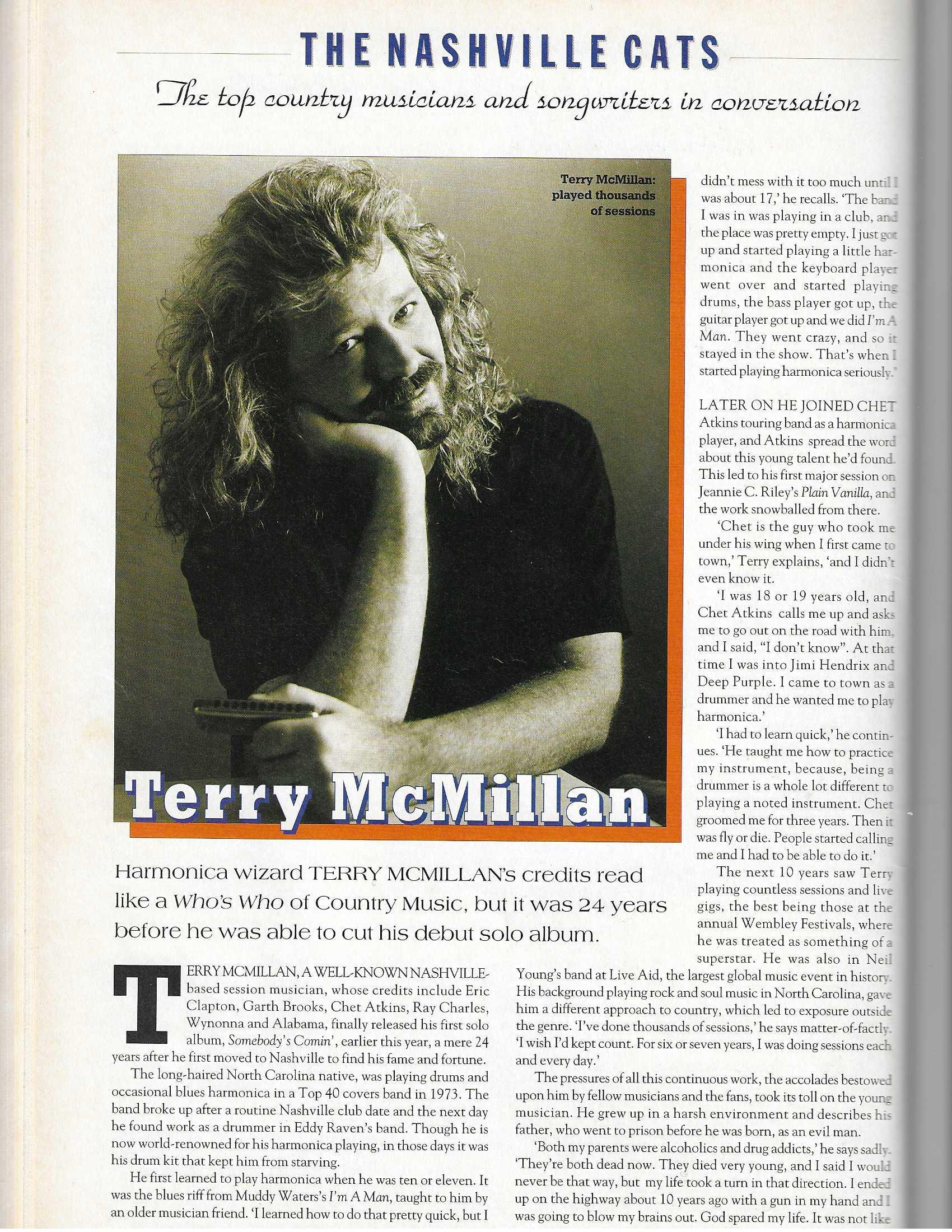 Terry McMillan, a well-known Nashville-based session musician, whose credits include Eric Clapton, Garth Brooks, Chet Atkins, Ray Charles, Wyonna and Alabama, finally released his first solo album, SOMEBODY'S COMIN', earlier this year, a mere 24 years after he first moved to Nashville to find his fame and fortune.
The long haired North Carolina native, was playing drums and occasional blues harmonica in a Top 40 covers band in 1973. The band broke up after a routine Nashville club date and the next day he found work as a drummer in Eddy Raven's band. Though he is now world-renowned for his harmonica playing, in those days it was his drum kit that kept him from starving.
He first learned to play harmonica when he was ten or eleven. It was the blues riff from Muddy Waters's I'm A Man, taught to him by an older musician friend. "I learned how to do that pretty quick, but I didn't mess with it too much until I was about 17," he recalls. "The band I was in was playing in the club, and the place was pretty empty. I just got up and started playing a little harmonica and the keyboard player went over and started playing drums, the bass player got up, the guitar player got up and we did I'm A Man. They went crazy, and so it stayed in the show. That's when I started playing harmonica seriously."
Later on he joined Chet Atkins touring band as a harmonica player, and Atkins spread the world about this young talent he'd found. This led to his first major session on Jeannie C. Riley's Plain Vanilla, and the work snowballed from there.
"Chet is the guy who took me under his wing when I first came to town," Terry explains, "and I didn't even know it."
"I was 18 or 19 years old, and Chet Atkins calls me up and asks me to go out on the road with him, and I said: 'I don't know.' At that time I was into Jimi Hendrix and Deep Purple. I came to town as a drummer and he wanted me to play harmonica."
"I had to learn quick," he continues. "He taught me how to practice my instrument, because, being a drummer is a whole lot different to playing a noted instrument. Chet groomed me for three years. Then it was fly or die. People started calling me and I had to be able to do it."
The next ten years saw Terry playing countless sessions and live gigs, the best being those at the annual Wembley Festivals, where he was treated as something of a superstar. He was also in Neil Young's band at Live Aid, the largest global music event in history. His background playing rock and soul music in North Carolina, gave him a different approach to country, which led to exposure outside the genre. "I've done thousands of sessions," he says matter-of-factly. "I wish I'd kept count. For six or seven years, I was doing sessions each and every day."
The pressure of all this continuous work, the accolades bestowed upon him by fellow musicians and the fans, took its toll on the young musician. He grew up in a harsh environment and describes his father, who went to prison before he was born, as an evil man.
"Both my parents were alcoholics and drug addicts," he says sadly. "They're both dead now. They died very young, and I said I would never be that way, but my life took a turn in that direction. I ended up on the highway about ten years ago with a gun in my hand and I was going to blow my brains out. God spared my life. It was not like I made a deal with God—you can't make a deal with God—but you can make a deal with yourself and be honest."
Terry's life had become awash with drugs and alcohol. He wrecked seven cars as he experienced more than his share of darkness. With the help of his wife, children and friends, he entered a substance rehabilitation centre where he successfully completed his treatment, and has been straight ever since.
Since those dark days Terry worked tirelessly to help those who might be tempted to topple into the same hell as he did. He talks to kids in school about drugs and alcohol, and later this year he plans to go to South Africa on a 'missionary trip.' "You don't have to say 'God' or anything like that. Just tell them what it's been like for you."
He readily admits that it has been his love of music that kept him from going over the brink. Throughout those drug-fuelled years he kept working and for a time was signed to RCA, but when Chet Atkins left the label in 1982 to join Columbia, Terry's recording career was put on hold with just a few singles having been released. "Joe Galante came along and took over at RCA," he explains bitterly. "He didn't know who I was. I guess he didn't really care. He said that I could say that I was signed to RCA, but he wasn't going to cut anything else on me, because he didn't know me. It was pretty cold-blooded and it hurt."
Regardless of that harsh brush-off, Terry continued working with sessions and touring. In addition to international tours with Amy Grant, Michael WA Smith and Larry Carlton, he was also selected by former Ambrosia leader David Pack to be part of Packman's Dream Team, an all-star cast assembled to perform at President Bill Clinton's inaugural ball, where he was showcased with his stirring performance of Amazing Grace.
One of his classic harmonica solos came on Garth Brook's Ain't Going Down (Til The Sun Comes Up). He not only played on the studio version, but also recreated the wailing lines at Brook's ground-breaking series of sold-out shows at the Texas Stadium near Dallas.
"That was probably one of the biggest things I've ever been a part of as far as production; fire came up and then he had the rain come down. I don't know how many millions of dollars it took to put the show on," he recalls excitedly.
More recently Terry has been in the studio with Alabama, working on their latest album. He was asked to recreate the harmonica solo that was originally played by Delbert McClinton on Hey Baby!, Bruce Channel's big pop smash of the early 1960s.
"That harmonica solo is one of the best known around the world," he says. "I was actually in the studio in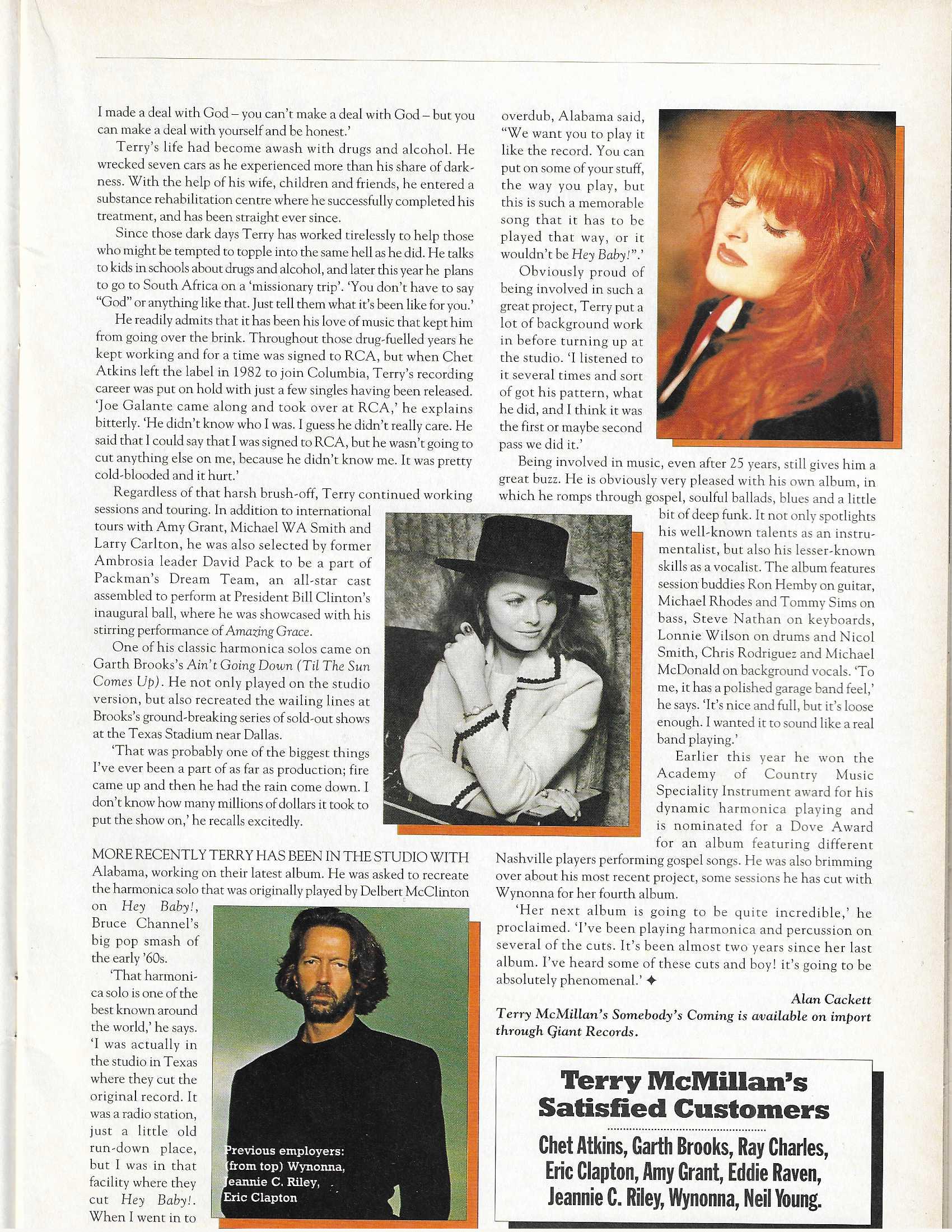 Texas where they cut the original record. It was a radio station, a little old run-down place, but I was in that facility where they cut Hey Baby!. When I went into overdub, Alabama said, 'We want you to play it like the record. You can put on some of your stuff, the way you play, but this is such a memorable song that it has to be played that way, or it wouldn't be Hey Baby!'"
Obviously proud of being involved in such a great project, Terry put a lot of background work in before turning up at the studio. "I listened to it several times and sort of got his pattern, what he did, and I think it was the first or maybe second pass we did it."
Being involved in music, even after 25 years, still gives him a great buzz. He is obviously very pleased with his own album, in which he romps through gospel, soulful ballads, blues and a little bit of deep funk. It not only spotlights his well-known talents as an instrumentalist, but also his lesser-known skills as a vocalist. The album features session buddies Ron Hemby on guitar, Michael Rhodes and Tommy Sims on bass, Steve Nathan on keyboards, Lonnie Wilson on drums and Nicol Smith, Chris Rodriguez and Michael McDonald on backing vocals. "To me, it has a polished garage band feel," he says. "It's nice and full, but it's loose enough. I wanted it to sound like a real band playing."
Earlier this year he won the Academy of Country Music Speciality Instrument award for his dynamic harmonica playing and is nominated for a Dove Award for an album featuring different Nashville players performing gospel songs. He was also brimming over about his most recent project, some sessions he has cut with Wynonna for her fourth album.
"Her next album is going to be quite incredible," he proclaimed. "I've been playing harmonica and percussion on several of the cuts. It's been almost two years since her last album. I've heard some of these cuts and boy! it's going to be absolutely phenomenal."