Terry Klein- Good Luck, Take Care
Self-released
****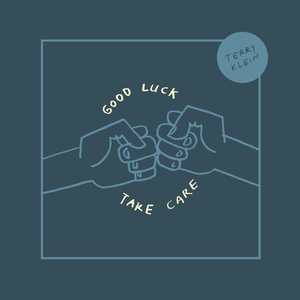 With his third album, Terry Klein has grown more magnificent than ever. Without losing an iota of the intimacy from his past releases, he has made what is possibly his most dynamic album to date. In the past he has recorded in Austin, Texas with Walt Wilkins in the producer's chair. This time out he travelled to Nashville and spent a hectic four days working with the inventive Thomm Jutz, who pulled together a small combo of trusted Music City musicians. In addition to Terry's acoustic guitar, Thomm's electric and acoustic guitar, there's Lynn Willams (drums), Tim Marks (bass), Scotty Sanders (pedal steel) and Tammy Rogers (mandolin, fiddle). Together they have clearly mastered the ability to combine tone and texture in a way that doesn't deter from any forward thrust. On the other hand, the gutsy instrumental sound that largely defines this effort also doesn't detract from its more delicate designs. There are layers of personal history to be heard in this project, from the singer-songwriter's formative early days growing up in Boston to his travels across the vast expanse of America from Texas to California and all stops in-between. He will absolutely charm you with the strange humour and cleverness of his lyrics.  gorgeously off-the-cuff strummers and unvarnished folk songs that start to detail his curious shape as a singer-songwriter.
The opening 60 To 75 is a bluesy tune that captures perfectly the effects of anxiety and unexplained panic attacks that can overcome us at any time. It's a sure-footed surprise from an artist who never stops seeking new ways to engage and connect with the listener in this raw, honest tune about fear and anxiety and retreating inside. The vibe alternates between that of campfire raconteur and street-corner busker on What You Lose Along The Way, a softly strung reminisce full of colourful memories rolled out to the simple accompaniment of a finely picked acoustic guitar and ethereal pedal steel. Salinas straddles the line between Americana, country and sweeping heartland rock … sure, there's plenty of steel guitar and twang in the song, but it's one of the more driving country songs I've heard in a while with such descriptive lyrics to keep you tuned in as you drive down the highway.
It's that decidedly thoughtful approach, as suggested by such songs as The Woman Lost In The Flood and Does The Fish Feel The Knife, that ultimately results in a taut yet tender sound. He is masterful at crafting rich characterisations that are emotionally connected to human frailty. The tempered yet tender Cheryl finds him focusing on the divide between love and distrust that infiltrates most committed relationships. This one ends up in murder, a prison cell and lots of regret. The melodic soundscapes that accompany his poetic, introspective lyrics of Salt, make judicious use of pedal steel guitar that almost weeps along to his compassionate vocal. The most impressive aspect of all is Terry's songwriting skills, and his ability to vary his sound from the buoyant, upbeat appeal of The Ballad of Dick Trickle to the jog through Such A Town, and the sheer beauty of the bewitching ballad, The Goldfinch.  
He brings to the proceedings a voice and guitar filled with vitality and raw honesty. There isn't a duff track on the album, the buoyancy coursing through the gracefully woven, folk-minded arrangements that mesh wonderfully together while also investing an ample amount of contemporary creativity signal that he's more interested in finding moments of empathy and hope in darkness.
February 2022