Terri Hollowell: Carving A British Career
First published in Country Music People in May 1980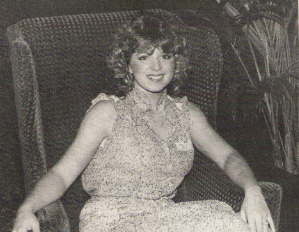 TERRI HOLLOWELL is fast building a following in Britain. Originally seen at last year's Wembley, she made two other 1979 trips… one touring with Don Williams and the other co-hosting a BBC-TV series with Ronnie Prophet. This month Ms. Hollowell heads her own series of dates. ALAN CACKETT fills in the background. 
In no other field of popular music at the moment are there such outstanding women singers as in country. Dolly Parton, Crystal Gayle, Tammy Wynette and Emmylou Harris are at the very top of the tree, but their position is ever under assault from the many talented newcomers coming to the fore, eager to make their way to international stardom.
Apart from Crystal Gayle, these ladies all made it to the top when they were into their thirties. In fact, apart from Crystal and Tanya Tucker, most of Nashville's leading ladies are, to put it mildly, getting on a little. Which gives talented youngsters like Terri Hollowell who is in her early twenties a great opportunity to make it to the top whist youth is on their side.
She came to Britain last Easter at her own expense, hoping to make an all-important appearance at Wembley. Nothing was planned beforehand, but fate was certainly with this beautiful young lady. Mickey Newbury was unable to make the trip because of his father's illness, and Terri was there, ready to step in and fill a few valuable minutes in a very prestigious show.
She did a whole lot more than that. She totally won over the audience, coming on strong towards the men in the audience, who were seen to lick their lips and shuffle about wondering how to get a little closer … yet keeping their thoughts to themselves. But this petite beauty was well-protected, her husband/manager Jeff Walker always at her side, guiding her impressive climb up the ladder to success.
He came to Britain with his wife to do some groundwork for Con Brio Records, an independent Nashville label set up by his father Bill Walker. Jeff is responsible for the business management of the company and was bust discussing publishing arrangements with Burlington Music, and working on future British releases for the various Con Brio artists.
The two of them worked solidly towards their goal and Terri spoke enthusiastically about her blossoming career. "I'm a little surprised at the way things are happening for me," she explained. "My latest single,
May I
, is climbing up the country charts back home, then tonight I'm going to appear at the Wembley Festival. I will be working with a band called Legend. I understand that they come from Scotland."
Talking further to Terri, I discovered that she never planned to be a singer. She grew up in Jeffersonville, Indiana, just across the river from Louisville, Kentucky. Athletics took a lot of her time in those days, with singing being restricted to her church choir activities. Whether it was because she was the prettiest, or had the best voice, no one's letting on, but she was chosen to take the solo lead on many of the musical pieces, which led to her first thoughts of becoming a singer.
"Soon after I left high school and started work a secretary, my friend asked me to accompany her to an audition to join a group. Before long I was singing in the evenings with the group, getting home in the early hours of the morning and then doing a full day's work in the office." she grinned at the thought. "I was very tired and my boss was not too happy at the way things were working out, so I took the plunge and turned to a full-time singing career."
Terri was just eighteen years old when she made this decision. She began working around the local clubs with a trio. Soon she was fronting her own band, performing at clubs in Minnesota, Indiana and Kentucky. This led to a job as the lead singer for a show-band in Boston, which allowed the young singer to develop both as a vocalist and entertainer.
"I felt that if I was going to make it in country music I needed to go to Nashville," She explained. "I made an audition tape and sent it to various producers in Nashville, and luckily Bill Walker, who is now my father-in-law, was impressed enough to invite me to Nashville to work."
She arrived in Nashville just four years ago and began working for Bill Walker as a demo singer for his publishing company. This was important groundwork for the young singer. Her greatest talents lies in interpreting a song, something that was nurtured at this time. Songs seem to come alive when she sings. Bill Walker was impressed by the way Terri was developing and in the spring of 1978 she was signed to recording contract with Con Brio Records.
Her first release, the jaunty
Happy Go Lucky Morning
, made the lower reaches of the country chart that summer and proved Bill Walker's faith in Terri Hollowell to be well-founded.
She began working the road extensively, working club dates and the occasional tour with some of the bigger names. Her next single,
Strawberry Fields Forever
, also made the country charts. She turned this Beatles' oldie into a slow-sung country love ballad.
A highly successful tour of Australia with Australian singer Reg Lindsay helped widen her following and more success followed in America. Her third single,
Just Stay With Me
, released towards the end of last year, made the charts and this prompted Terri to form her own touring band.
"I really enjoy being in front of an audience," She said, "making people happy and seeing them respond to the music. That is a thrill that I can't even begin to describe. I feel so at home on the stage. I think it will always be a part of me."
On stage she carries a song like an artist much older, full of confidence and bouncing vitality, eyes flashing and face beaming with a sense of fun and good times. Terri Hollowell is a mature young artist who is destined to make it to the top.
Her fourth single,
May I (See You Again),
which extends her vocally and exudes a breathless quality, made it into the country top thirty and was followed closely by
It's Too Soon To Say Goodbye
, another quality ballad performance.
In October she made her first nationwide tour of Britain in the company of Don Williams. This enabled her to win over many more new fans and led to her making a television series in the company of Ronnie Prophet, which the BBC plan to screen during May and June.
Terri's debut album, JUST YOU AND ME, released in the States last November, is set for a British release this month (May) on RK Records to coincide with her latest British tour. Included on the album are those successful singles
May I
and
It's Too Soon To Say Goodbye
plus the Beatles' oldie
Strawberry Fields Forever
, which has gained considerable airplay since its release over here on a single in March.
Well balanced in material and talent, this album should move young Terri another giant step forward in her career development in Britain. She has become a highly satisfying performer and she is now simply in that category of having a reasonable following but needing that one hit single under her own name to make the mass audience aware of her presence.