Tanya Tucker - Wild At Heart
First Published in Country Music International, May 1997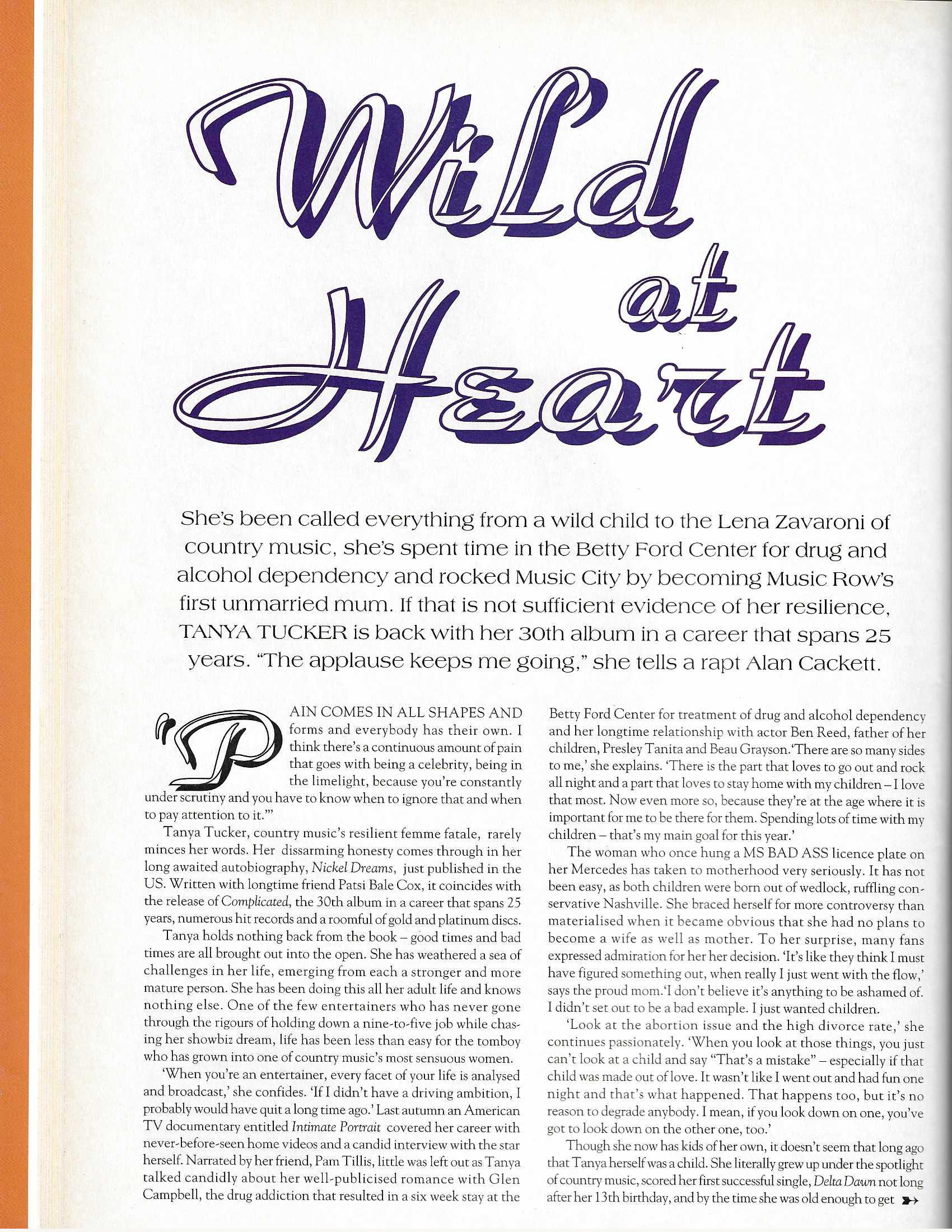 She's been called everything from a wild child to the Lena Zavaroni of country music, she's spent time in the Betty Ford Center for drugs and alcohol dependency and rocked Music City by becoming Music Row's first unmarried mum. If that is not sufficient evidence of her resilience, Tanya Tucker is back with her 30th album in a career that spans 25 years. "The applause keeps me going," she tells a rapt Alan Cackett.
"Pain comes in all shapes and forms and everybody has their own. I think there's a continuous amount of pain that goes with being a celebrity, being in the limelight, because you're constantly under scrutiny and you have to know when to ignore that and when to pay attention to it."
Tanya Tucker, country music's resilient femme fatale, rarely minces her words. Her disarming honesty comes through in her long-awaited autobiography, Nickel Dreams, just published in the US. Written with long-time friend Patsi Bale Cox, it coincides with the release of COMPLICATED, the 30th album in a career that spans 25 years, numerous hit records and a roomful of gold and platinum discs.
Tanya holds nothing back from the book—good times and bad times are all brought out into the open. She has weathered a sea of challenges in her life, emerging from each a stronger and more mature person. She has been doing this all her adult life and knows nothing else. One of the few entertainers who has never gone through the rigours of holding down a nine-to-five job while chasing her showbiz dreams, life has been less than easy for the tomboy who has grown into one of country music's most sensuous women.
"When you're an entertainer, every facet of your life is analysed and broadcast." she confides. "If I didn't have a driving ambition, I probably would have quit a long time ago." Last autumn an American TV documentary entitled Intimate Portrait covered her career with never-before-seen home videos and a candid interview with the star herself. Narrated by her friend, Pam Tillis, little was left out as Tanya talked candidly about her well-publicised romance with Glen Campbell, the drug addiction that resulted in a six-week stay at the Betty Ford Center for treatment of drug and alcohol dependency and her longtime relationship with actor Ben Reed, father of her children, Presley Tanita and Beau Grayson. "There's so many sides to me," she explains. "There is a part that loves to go out and rock all night and a part that loves to stay home with my children—I love that most. Now even more so, because they're at the age where it is important for me to be there for them. Spending lots of time with my children—that's my main goal for this year."
The woman who once hung a MS BAD ASS licence plate on her Mercedes has taken to motherhood very seriously. It has not been easy, as both children were born out of wedlock, ruffling conservative Nashville. She braced herself for more controversy than materialised when it became obvious that she had no plans to become a wife as well as a mother. To her surprise, many fans expressed admiration for her decision. "It's like they really think I must have figured outsomething out, when really I just went with the flow," says the proud mum. "I don't believe it's anything to be ashamed of. I didn't set out to be a bad example. I just wanted children."
"Look at the abortion issue and the high divorce rate," she continuous passionately. "When you look at those things, you just can't look at a child and say: 'That's a mistake'—especially if that child was made out of love. It wasn't like I went out and had fun one night and that's what happened. That happens too, but it's no reason to degrade anybody. I mean, if you look down on one, you've got to look down on the other one,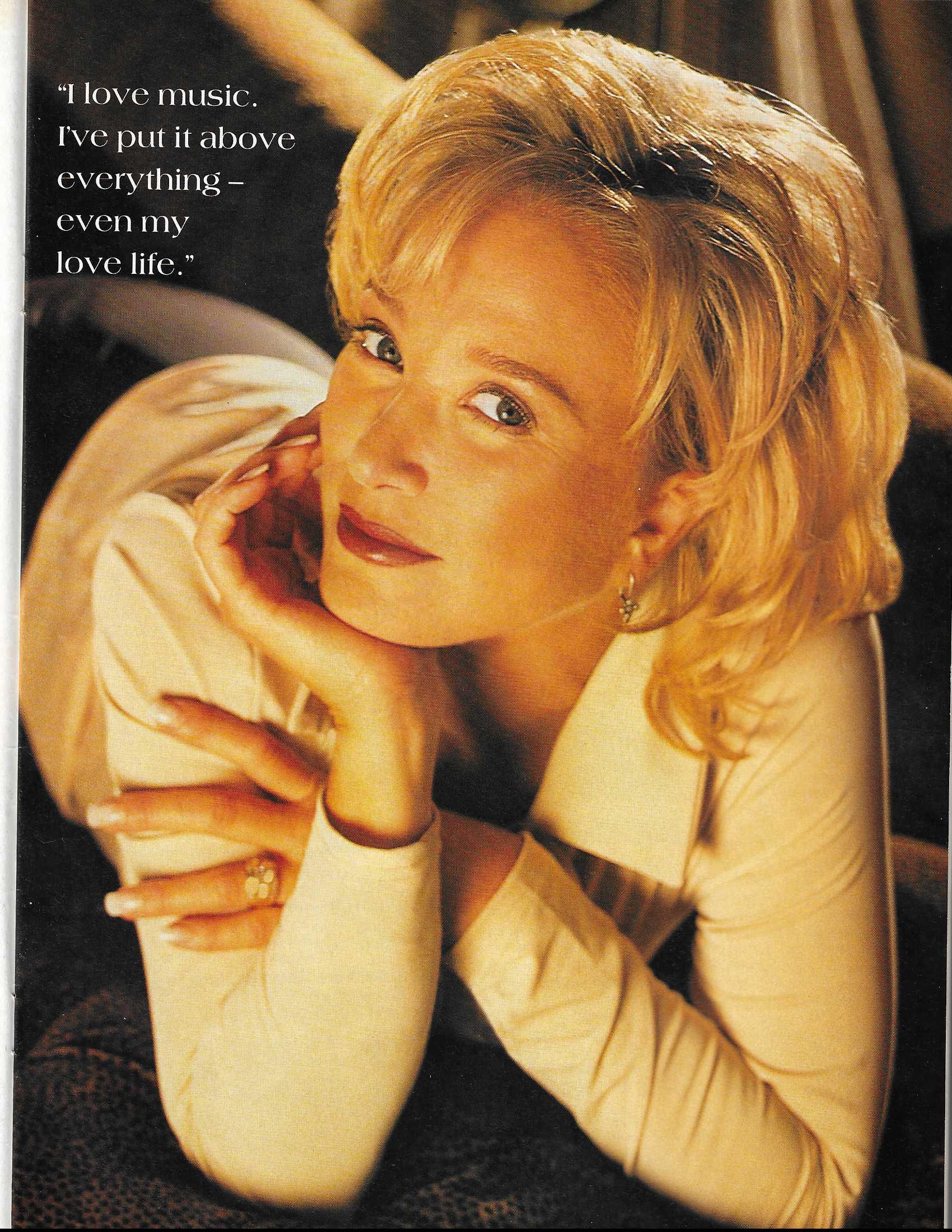 too."
Though she now has kids of her own, it doesn't seem that long ago that Tanya herself was a child. She literally grew up under the spotlight of country music, scored her first successful single, Delta Dawn not long after her 13th birthday, and by the time she was old enough to get a driver's license already had a string of number one hits.
But such an early start doesn't necessarily mean a smooth ride. Tanya's high-living, hard-partying antics made her a frequent headliner in the tabloid press. Although she readily admits she deserved much of her reputation as a wild child, she also says that her media image as a hellion often made it hard to be taken seriously as an entertainer. "I love music, I've put it above everything—even my love life," she laughs. "It's a constant challenge finding new songs, trying something a little different, figuring out how to perform a song that sounds the best you can make it."
At one time it would have been tempting to characterise or dismiss Tanya as the Lena Zavaroni of country music. She'd been singing semi-professionally since she was nine, and her sultry voice always oozed a knowing understanding of lyrics she was singing. But she never sang solely for the teens, and actually turned down the awful Happiest Girl In The Whole USA with its chorus of 'skippity-doo-da day.' Even at 13, when singing of love, Tanya sang about it in its adult form, about kissing her man goodbye in the morning to bring him home at night.
Tanya's parents, Beau and Juanita Tucker, were behind their daughter from the very beginning of her career, guiding and chaperoning her across the US as she took her music to an ever-increasing audience. Like Dolly Parton, Tanya realised that with a short sideways step a whole new rock audience could be reached, and she became one of the first singers to bring rock'n'roll bravado to country music.
In the late 1970s she broke away from her father and went with a new management team to Los Angeles where she cultivated a harder edge to her music. She became the party girl of Hollywood, and at age 21 became girlfriend of 45-year-old Glen Campbell. It was this tempestuous, cocaine-fuelled romance that prompted the tabloid press to label her 'wild child'.
But the fast-living, drug-induced lifestyle took its toll and the golden-girl of country suddenly found herself out in the cold. Drained emotionally, financially and physically, Tanya was fading into oblivion when her father stepped in and took her back home to Tennessee. In 1986 she was given a one album deal with Capitol Nashville and turned in a gold album, pulling off one of the most successful comebacks in showbiz history.
The past 11 years have seen her accumulate more than two dozen top ten country hits in the process of becoming one of the all-time best-selling female vocalists in country music. Constantly taking chances musically, she has weathered all the vagaries of fame and remains a female stylist with the ability to stamp her own brand on any of her carefully chosen songs.
Tanya's parents remain close to their superstar daughter who saluted their 50th wedding anniversary with her 1992 hit Two Sparrows In A Hurricane. She readily admits that she would be floundering without their continuing support and encouragement. "Having my dad as a manager has been a real blessing," she says. "There are a lot of people in this business who think he's old hat and that he's holding back my career. But that's because they all want to come in here and spend my money. They'll move me up the ladder all right, I'll be successful, but when I get back home I won't have any money. My dad isn't going to cheat me and what he might not know about the business I can live with."
Tanya tucker doesn't work from a master strategy or grand plan but allows her life to open one passage at a time, like the pages of a book. As for being savvy about the business, she modestly concedes "I've got business sense, but it's more on the creative side. I'm a dreamer."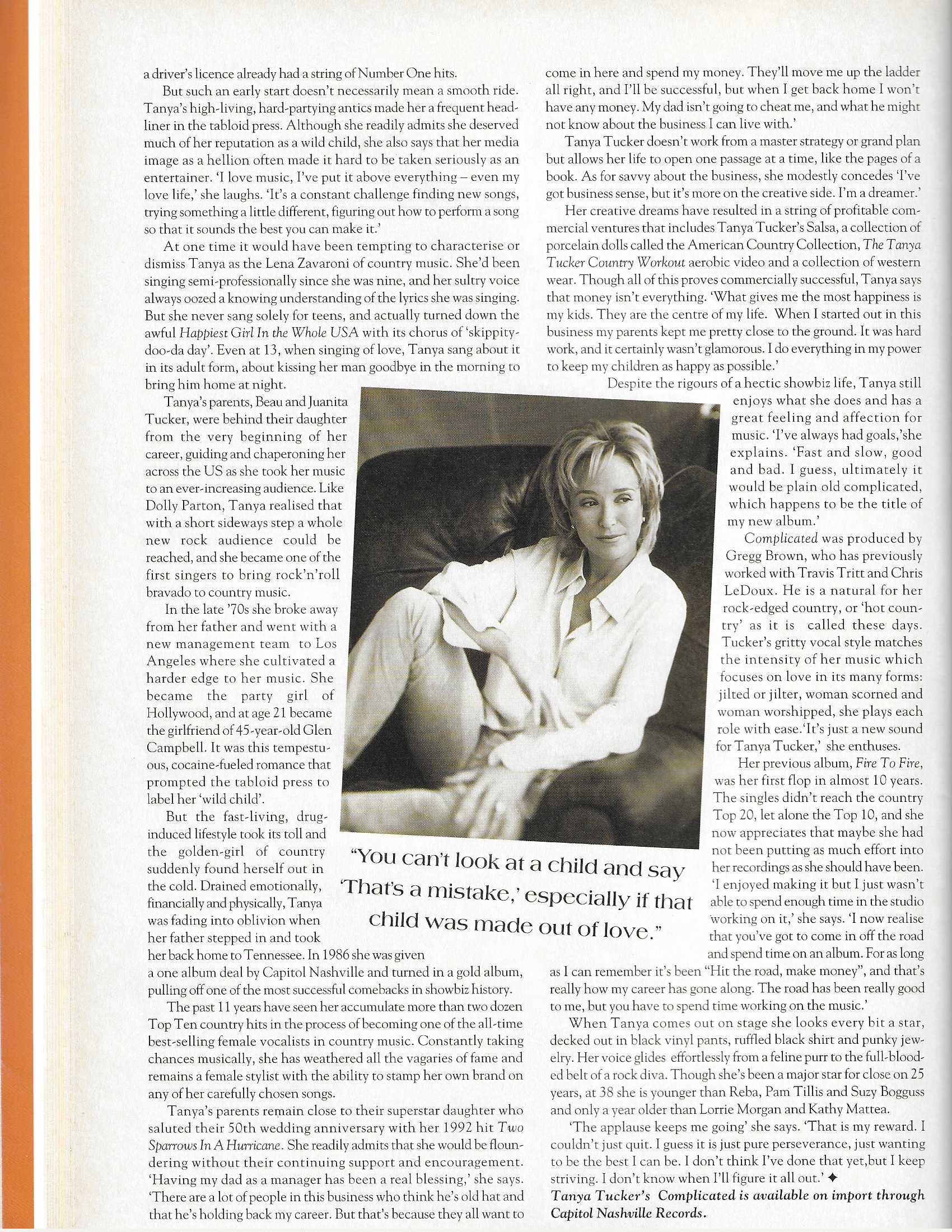 Her creative dreams have resulted in a string of profitable commercial ventures that include Tanya Tucker's Salsa, a collection of porcelain dolls called the American Country Collection, The Tanya Tucker Country Workout aerobic video and a collection of western wear. Though all of this proves commercially successful, Tanya says that money isn't everything. "What gives me the most happiness is my kids. They are the centre of my life. When I started out in this business my parents kept me pretty close to the ground. It was hard work, and it certainly wasn't glamorous. I do everything in my power to keep my children as happy as possible."
Despite the rigours of a hectic showbiz life, Tanya still enjoys what she does and has a great feeling and affection for music. "I've always had goals," she explains. "Fast and slow, good and bad. I guess, ultimately it would be plain old complicated, which happens to be the title of my new album."
COMPLICATED was produced by Gregg Brown, who has previously worked with Travis Tritt and Chris LeDoux. He is a natural for her rock-edged country, or 'hot country' as it is called these days. Tucker's gritty vocal style matches the intensity of her music which focuses on love in its many forms: jilted or jilter, women scorned and women worshipped, as she plays each role with ease. "It's just a new sound for Tanya Tucker," she enthuses.
Her previous album, FIRE TO FIRE, was her first flop in almost ten years. The singles didn't reach the country Top 20, let alone the Top 10, and she now appreciates that maybe she had not been putting as much effort into her recordings as she should have been. "I enjoyed making it but I just wasn't able to spend enough time in the studio working on it," she says. "I now realise that you've got to come in off the road and spend time on an album. For as long as I can remember it's been 'Hit the road, make money,' and that's really how my career has gone along. The road has been really good to me, but you have to spend time working on the music."
When Tanya comes out on stage she looks every bit a star, decked out in black vinyl pants, ruffled black shirt and punky jewellery. Her voice glides effortlessly from a feline purr to the full-blooded belt of a rock diva. Though she's been a major star for close on 25 years, at 38 she is younger than Reba, Pam Tillis and Suzy Bogguss and only a year older than Lorrie Morgan and Kathy Mattea.
"The applause keeps me going," she says. "That's is my reward. I couldn't just quit. I guess it is pure perseverance, just wanting to be the best I can be. I don't think I've done that yet, but I keep striving. I don't know when I'll figure it out."