Tanya Tucker - Blonde Ambition
First Published in Country Music International, June 1995
After more than 20 years on the road, the headline-grabbing scandals are over. But while her music and her family are now the main priorities, country music's one-time enfant terrible has few regrets. "I tend to be more open than most," she admits, "and sometimes it gets me into a little trouble"
"I think a lot of time I do thing that a lot of people would like to do themselves, but are afraid to," laughs Tanya Tucker. It's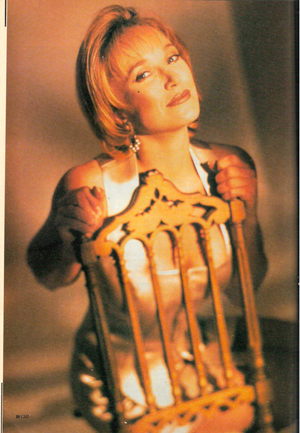 an honest admission from a singer whose life has been full of scandal and controversy since she first hit Nashville as a 13- year- old would-be country star in 1972. Drugs, single motherhood, hellraising, and a somewhat violent relationship with Glen Campbell made her a legend, while her music was often overlooked.
For so long now, it's been her rumbustious and flamboyant personality that has caused heads to turn, brows to raise and tongues to start wagging. "There's a certain part of me that's different as soon as I walk out of my bedroom door," she admits. "There's a part of me that's a little different to what you might see when I walk out on stage; a part of me that comes out when I get in front of an audience. Everybody has their own special way of doing it. I tend to be more open than most, and sometimes it gets me into a little trouble."
Tanya Tucker has always brought glamour and sophistication to the stage, occasionally flirting with the brazen, she connects instantly with the males in the audience, but has a quality with which female fans can relate. Like some of them, she's been through it all: motherhood, bad relationships, physical abuse. With her latest album, the impressive FIRE TO FIRE, just released on Liberty Records, Tanya Tucker celebrates more than 20 years in the business; a time that has seen her weathering numerous storms in her professional and personal life.
As a teenager Tanya was something of an anomaly in a period when ever-younger children were being dragged in for an ever-younger audience to identify with. Since her first hit, a dynamic rendition of Delta Dawn recorded when she was just 13, Tanya was promoted for the adult market.
Producer Billy Sherrill was constantly searching for hard-edged, mature songs for her to record, and there was certainly something distasteful about a child singing a song as overtly sexual as Would You Lay With Me (In A Field Of Stone). This David Allan Coe song that Tanya took to the top of the country charts in 1974 was considered risque for any female vocalist—especially one that was just 15 years old. Tanya herself defended the song choice at the time by saying: "I don't sing bad lyrics at all. Would You Lay With Me was written as a wedding vow. It's fantastic for somebody getting married, but perhaps too strong for somebody not devoted enough."
Tanya's teenage years were conducted in a constant glare of publicity, and she wasn't spared that other important aspect of adult life: greed. At the age of 16 she became caught up in bitter wrangling between record companies over her contract, as she left Billy Sherrill at Columbia and moved across to MCA for a new million-dollar record deal.
Tanya dabbled with rock music for her first gold album, TNT. Recorded in Los Angeles under the guidance of producer Jerry Goldstein in 1978, the cover featured a 20-year-old Tanya in a backless red jumpsuit. But this departure from country was the beginning of her rapid decline from the top.
Following a string of Top 10 hits Tanya suddenly found chart-placings hard to come by. In 1982 she moved to the New York-based Arista Records and completely lost direction as she went through a highly publicised and volatile 15-month relationship with singer Glen Campbell and a drugs and drink binge lasting five years.
It was her parents, Beau and Juanita Tucker, who finally stepped in. "If you have something then you support it," Tanya explains. "I wanted to be a singer, and my family helped me do it. My parents believed in me and were willing to make all kinds of sacrifices to see me succeed. It's true that my dad has played a big role at every stage, but it's more a role I put him in than anything else."
Tanya and her family had been dividing their time between Los Angeles and Nashville when Beau phoned Jerry Crutchfield about the lull in his daughter's recording career. Crutchfield had first worked with the singer on 1976's LOVIN' AND LEARNIN' album and several more on MCA in the late 1970s, and readily agreed to return as Tanya's producer.        
Crutchfield negotiated a record deal with Capitol/Liberty, and GIRLS LIKE ME, Tanya's first album for her new label, was recorded exactly 10 years ago. And so began Tanya's most successful period, with virtually every one of her singles hitting the Top 10, many making it to number one, while albums like TENNESSEE WOMAN, CAN'T RUN FROM YOURSELF and LOVE ME LIKE YOU USED TO DO all went gold or platinum.
This second lease of life was a team triumph as much as an individual one. Crutchfield's style is essentially laissez-faire; instead of battling ever increasing swells of strings and barrages of drums, Tanya has been allowed to sing solely from her heart, whilst Crutchfield has utilised the cream of Nashville studio musicians who known when to push and when to ease off.
Tanya's most precious gift is that she is a free spirit, an artist who can take a song and make it completely her own. Much of her success during the past 10 years has, however, also been helped by her videos, which have given the singer a
higher profile and brought her music to a much wider audience.
"The good thing about the videos is they've given me the opportunity to do some acting," she enthuses. "I'd like to do movies, but only if the right part came along. The music and my children keep me real busy but there's still lots of things that I've yet to accomplish. If I could live my life five times over, I would never run out of goals or desires. I'm trying to accomplish all of them."
The single mother of two children, Tanya won the 1991 CMA's Female Vocalist Of The Year award, the same night that her son, Beau Grayson, was born. She has never made a secret of the fact that the father of both children is actor Ben Reed, and that the couple have no plans for marriage. "I have a lot of respect for single mothers that are in the work place and work nine-to-five jobs," she insists. "I don't know how they do it. I'm only doing it because I have a wonderful support system. I have a lot of respect for people that don't have anybody else and do it all on their own. My heart goes out to them."
"Motherhood is something very special to me," she continues passionately. "and something I'm still torn between having a career and being a mother. I do everything I can in my power to keep my children happy. It's working out great and has definitely attributed to me working harder."
With a reputation as one of the hardest working performers in the business, Tanya still goes out on the road for at least 200 shows every year, has taken up racing cars, appearing last year at the Charlotte Motor Speedway in the NASCAR Winston Cup Race, and still spends much of her spare time working for charitable events.
As far as music is concerned, Tanya remains inquisitive about everything that is going on in the business around her, as well as remaining a genuine fan. "I have a tape of James Taylor that I keep playing in the car," she says enthusiastically. "But because country music is such a major part of my life, I listen to country radio a lot and switch back and forth between stations. I have a soft spot for Trisha Yearwood and I love Don Henley. He has a sound and style that's totally his very own."
Something of a perfectionist, Tanya is constantly striving to broaden her musical horizons. Several times during her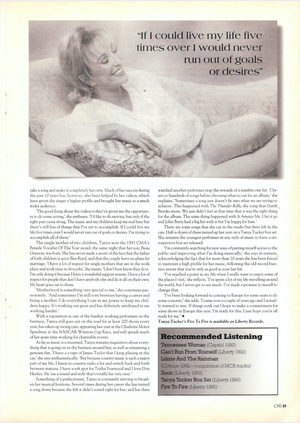 career she has turned a song down because she felt it didn't sound right for her, and she has watched another performer reap the rewards of a number one hit. "I listen to hundreds of songs before choosing what to cut for an album," she explains. "Sometimes a song just doesn't fit into what we are trying to achieve. This happened with The Thunder Rolls, the song that Garth Brooks wrote. We just didn't feel at that time that it was the right thing for the album. The same things happened with It Amazes Me. I let it go and John Berry had a big hit with it but I'm happy for him."
There are some songs that she cut in the studio but then left in the can. Half-a-dozen of these turned up last year on a Tanya Tucker box set. She remains the youngest performer in any style of music to have a retrospective box set released.
"I'm constantly searching for new ways of putting myself across to the public and improving what I'm doing musically," she says in earnest, acknowledging the fact that for more than 20 years she has been forced to maintain a high profile for her music, following the old record business axiom that you're only as good as your last hit.
"I've reached a point in my life when I really want to enjoy some of the places I visit," she reflects. "I've spent a lot of my life travelling around the world, but I never get to see much. I've made a promise to myself to change that."
"I've been looking forward to coming to Europe for some years to do some concerts," she adds. "I came over a couple of years ago and I actually wanted to stay. If things work out I hope to make a commitment for some shows in Europe this year. I'm ready for this, I just hope you're all ready for me."