First published in Country Music People, August 1977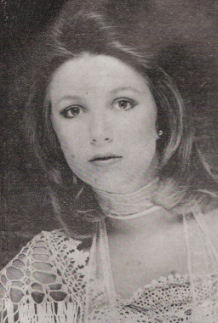 Tanya Tucker is one of those ladies in country music who, although young in years, has been around for what seems like a long time. In fact, it was just five years ago she first burst upon the scene; a schoolgirl who looked and sounded much older than any thirteen-year-old should.
Producer Billy Sherrill took one fine singer, one fine song and created one of the greatest records to come out of Nashville in 1972. The song,
Delta Dawn
, firmly established young Tanya as a major country star and also introduced her to the American pop market.
The combination of Tanya Tucker and Billy Sherrill was the most successful in country music. The struggle to match artist with producer with recording locale and consequently with sympathetic studio musicians, is as old as it is hard. Apart from a dozen or so magical exceptions, most matches have been, at best, fleetingly successful. It seemed for a time that with Tanya Tucker, Billy Sherrill had certainly discovered that magic formula.
He always appeared to take a strangely off-hand attitude towards the material he gave her, some off juxtapositions of voice and material often being recorded. A lot of the time the songs seemed too 'adult' for a young girl to be singing, yet when the combination worked best, as in
Blood Red And Goin'
Down
, it was chilling.
Together they put out some outstanding records like
What's Your Mama's Name, The Jamestown Ferry, The Man Who Turned My Mama On
and
Would You Lay With Me (In A Field Of Stone).
All outstanding singles, but Sherrill had one problem, how to produce an album. He always seemed to be searching for singles, so Tanya's albums for Columbia always turned out to be her singles padded out by updated country hits.
The whole effect though was built on simplicity. Tanya's main asset has always been her voice—a deep, throaty mezzo-soprano with a distinctive teardrop edge that got right to the heart of any song's lyrics. Sherrill always allowed her room to work so the listener could hear clearly one of the greatest, natural female voices to hit
Nashville. He utilised the cream of the Nashville super-pickers and throughout Tanya's recording with Sherrill you will hear little touches, like Charlie McCoy's haunting harmonica, used effectively whereas others would have used violins, steel and organ to fill out the musical passages.
Billy Sherrill trod a very fine line between being heavy-handed and too lightweight, but more often than not he got the result just right. He gave Tanya the confidence a young girl, new to a recording studio needed, and he picked out a lot of songs that suited her voice perfectly. They were mainly story-type songs dealing with life rather than the too obvious pitfalls of love, and when it worked rather well, as in
I Believe The South Is Gonna Rise Again
and
California Cottonfield
, Tanya stood out from the blonde-haired glitter girls that seem to dominate country music.
Like all successful partnerships, that of Sherrill and Tucker eventually had to end. The irony was that it should happen so soon. Tanya was only 16 when she left Columbia for MCA on a contract reputed to be worth more than a million dollars. The full reasons for her changing labels at such an early and crucial stage of her career may never be known, but I doubt if it was solely for the money.
Tanya Tucker, like any head-strong teenager, wanted her own way, and there was almost certainly problems in the studio. Billy Sherrill was a man who was the boss in the recording studio. He is the one that chooses the songs for his artists, and I doubt it Tanya had much say in the selection she recorded. He was also a country producer, not of the traditional type, but of the Nashville soap opera variety, and Tanya had this inkling to widen her scope to take in the pop market.
The direction she wanted her music to move was shown by the choice of producer for her first MCA album. Rather than use one of the established Nashville men, Hollywood pop producer Snuffy Garrett was called in. He had a good track record, having produced Bobby Vee, The Crickets, Johnny Burnette, Cher and Trini Lopez in the past. But when he came to Tanya Tucker, he fluffed it.
The production work was abysmally undistinguished with Garrett never getting to grips with how to cut 'country'. Tanya's problem has always been one of inconsistency of material, but whereas Sherrill could make the wrong song work for her, Garrett only botched it up more. He allowed the band to work separately from the singer building up a barrier between vocal and instrumental. This is very apparent on a remake of The Everlys'
When Will I Be Loved
, with heavy drum-work and a hurried arrangement that manages to conceal the fact that Phil Everly is in there singing harmony.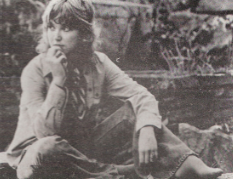 As so often happens in the studio, songs are pitched in by musicians, producers or arrangers and on this debut album it is engineer Lenny Roberts who provides the real prune. On
The Serenade That We Played,
the distinctiveness of Tanya is eroded on an unspectacular pop ballad as she vainly tries to out-shout the swelling strings. Capable, but dull, it could have been any one of a hundred singers.
There are few bright moments in the album, but the inclusion of
Travelling Salesman
, the kind of song that suits Tanya, helps improve matters and the infectious
San Antonio Stroll
, a melodic song with a chorus that sticks in your mind, is another high spot.
Both MCA and Tanya seem to learn from that initial mistake as her second effort for the label, LOVIN' AND LEARNIN' is possibly her best album to date. Perhaps the title sums it up. Anyway she is back in Nashville working with musicians who know the kind of support she needs and Jerry Crutchfield, a sympathetic producer, whose approach is as correct as Garrett's was wrong.
Tanya is less prone to excess than most country vocalists, although the first side of the album, particularly Dave Loggins'
You've Got Me To Hold On To
, sounds completely twee. But on the second side she hits paydirt with
Don't Believe My Heart Can Stand Another You
, a Billy Ray Reynolds song which features a tight studio band complementing her vocals. Preceding that are two more strong performances. A good version of The Eagles'
After The Thrill Is Gone
which builds well upon the momentum created by Sterling Whipple's
Makin' Love Don't Always Make Love Grow
, which opens the side.
It is a song tailor-made for Tanya, and instead of having to battle against an ever-increasing swell of strings and drums, she is allowed to sing solely from her heart. The effect's devastating!
Although she has fashioned her music closer to the pop and rock field, it has been done with taste, and full credit is due to producer Crutchfield and the musicians—Charlie Daniels, Pete Drake, Charlie McCoy, Jerry Carrigan, Jack Williams and Billy Sanford, who play as a tight and compact unit.
Her third outing for MCAm HERE'S SOME LOVE, finds the young singer moving gingerly closer to the rock field, and the cover picture depicting a more mature and alluring young lady than her previous albums, helps convincingly in that direction. Material-wise she treads a dangerous tight-rope as she tries to bridge both country and rock with a less-than-happy result. For country fans there is a good version of Linda Hargrove's
You Just Loved The Leavin' Out Of Me
alongside Tony Joe White's outstanding
The Gospel Singer
and the rather ordinary David Gates ballad,
I Use The Soap
.
Like any album that goes for compromise rather than a clear-cut direction, it is disappointing. One song, the hard-rock,
Short Cut
, was released as a single aimed at the American pop market. That was at the beginning of this year, but the country DJs gave it the thumbs down and MCA had to admit defeat when they flipped the record over to the more countryish
Ridin' Rainbows
.
It was becoming obvious that Tanya Tucker would have to decided whether to go country, pop or rock, but her latest album, RIDIN' RAINBOWS still gave no clear sign. The inclusion of The Amazing Rhythm Aces and Seals and Crofts was a shrewd move to interest the rock fans, but it was not fully satisfactory.
Dancing The Night Away
, a Russell Smith rhythm number worked rather well, but Dave Loggins'
Wait Till Daddy Finds Out
and Rafe Van Hoy's
White Rocket
are two rock tunes which are treated in a dispirited manner by the singer.
Tanya can sing beautifully with all sorts of range and control, and when the songs are exceptional, as with Billy Ray Reynolds'
Love Me Like You Never Will Again
and Bob McDill's
It Was Always You
, the effect is sufficiently individual and expressive to catch your attention.
As it is, her last two albums have shown an inconsistency that is quite alarming. With a career that is only just five years old Tanya Tucker certainly faces a problem. She can continue trying to forge a new direction into the rock and pop field, and almost certainly risk losing a large slice of her country following. Or, she can revert to what she is best at, singing country heart songs with a feeling and maturity that belies her eighteen years. Her past record proves where success lies, but in any performer the challenge of new pastures is always irresistible. And that challenge might just be the downfall of Tanya Tucker. Only time will tell. 
TANYA TUCKER: A COMPLETE ALBUM DISCOGRAPHY – Delta Dawn (Columbia KC 31742) (Import) What's Your Mama's Name (Columbia KC 32272) (Import) Would You Lay With Me (In A Field Of Stone) (Columbia KC 32744) (Import)Greatest Hits (Embassy EMB 31180) Tanya Tucker (MCA MCF 2713) Lovin' And Learnin' (MCA MCF 2741)Here's Some Love (MCA MCF 2772)Ridin' Rainbows (MCA MCF 2796)