First published in Country Music People, November 1979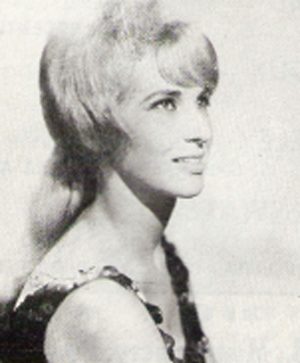 Tammy Wynette has dominated Nashville ever since she hit Music City back in 1966. Her first record,
Apartment No. 9
, was only a minor chart success, but since that time it seems that everything she's touched has turned to gold. She is not only a rather attractive lady, but has no less than two dozen number one country singles to her credit; albums that actually sell one million copies, as opposed to a million dollars worth. She also has the distinction of being the first female country singer to win a gold album. In fact, she is the biggest selling female artist in country music.
What is often overlooked is that many of those top selling singles have been written by herself. She is the leading lady of country music weepers. With her trembling phrases and pleading tones she projects an image of fragile insecurity. Most of her material deals with loneliness without the love of a man—as if a woman without a man were only half a person.
Her teary voice is a perfect vehicle for begging or admonishing but always with an undercurrent of helplessness. She chooses her songs because they reflect the inner loneliness of a woman. She misses her man; the despair of broken relationships; the joy of new ones. Her best known song,
Stand By Your Man
written with her producer Billy Sherrill sums up her position in the world perfectly.
Stand By Your Man
written and recorded almost a dozen years ago, at a time when women's lib was at its peak, there was Tammy reinforcing the old traditions of woman and family against all else. As a nation of un-liberated housewives squared up to the waste-disposal unit, or popped baby on the potty, one might in fact have seen them brush away a tear from their dewy eyes as the nasal strains of
Stand By Your Man
or
The Ways To Love A Man
came bleating out of that brand new, made-in-Japan radio.
Women identify with Tammy. They feel sorry for her when she whines away her tales of woe in a voice with a built-in purest platinum sob, and steel guitars bleed profusely. You do feel sorry for her after listening to the sad songs—and she can sing a sad song.
Maybe she's not quite the sweetheart of the rodeo, all that cowboy symbolism is now a little obsolete anyway. But Tammy seems to typify the aspirations of Middle America. She's a confirmation of traditional values, a reaction against the radical onslaught of Women's Liberation. She looks like a truck-driver's pin-up, a well-endowed blonde with images of femininity.
Her songs seldom challenge the Middle American ethic. Even when she's singing about running wild and having a good time, there's always an implication that somehow it's 'wrong.' Tammy's songs deal with familiar country obsessions; unrequited love, family life, loving your man.
One of her best songs is the dramatic
'Til I Can Make It On My Own
. She has that rare ability to charge a lyric with meaning to create some personal statement even from weepers, which would doubtless make most people wince. When I first heard the song, my heart was imbued with indescribable emotion. But Tammy is not always alone. For a few brief moments she finds joy in the arms of a man she loves, as in the first verse of
We Sure Can Love Each Other
, but it's a song that is coloured with sadness because there are moments when the couple are not that close.
At her best, Tammy's songs are pure slices of reality, rising high above the soap operas of many of her rivals. She sings of the heartaches and dreams, the highs and lows of married life. The frustration, the loneliness and the pain of
Love Doesn't Always Come (On The Night That It's Needed)
as she lays there in a big double bed, wondering and worrying the way so many wives have done countless times down through the years. Yet she is determined to keep her family together. If things start to come unglued on the home front, stick it out. Tammy wants to remind us how good it is for the woman to remain in chains and be created and moulded by her man, as she says in the simple but effective
The Woman I Am
.
These songs don't come from some dream world, it is life as Tammy has seen it. Married in her teens, divorced at twenty, married again, this time to George Jones, followed by one of the most public divorces of recent times, and now she is married yet again. Along the way she has had four children, been subjected to a brutal kidnapping and seen her private life forever under the public microscope. And yet she is prepared to sing and write about this private life, laying bare her soul for the whole world to see.
You only have to listen to some of her songs to picture the scenes that have unfolded in her life. Tammy tells it like it is and when she wrings every ounce of pathos from a song there will not be a dry eye in the house. The preoccupation always seem to be essentially the same with Tammy; cheatin' hearts, standing by your man, loneliness and marriage problems.
Another Lonely Song
, a hit single back in 1974 is a perfect title for the lady. The little tear in every word is much in evidence. It soared high on the country charts because once again it mirrored the way so many of her listeners felt.
She also sings of the joys of being a woman, of their strengths and pride. Most often the male characters of her 'stories' are weak and easily tempted into straying from the ones they love, while the women are the rocks—morally, if not emotionally, superior. But above all, her women are practical. The way she lays it on the line in
The Bottle
is heartrending. Obviously aimed at ex-hubby George Jones, this is a song that so many women can associate with—a man who relies on a drink to get through the problems of life—it's a social problem of today, and these are the kind of problems that Tammy Wynette sings and writes about. It's vintage Tammy, the voice of the silent majority, the moralist of Middle America.
Whatever you feel about the philosophy she promotes, there's no denying the power, nor the sincerity with which she says it. All the more tragic then, that an inspired singer who can accurately reflect the life and dreams of her audience, is now too often classed as middle-of-the-road. How can an artist who writes and sings such stunning material as
(The) Ways To Love A Man, Singing My Song
and
Til I Can Make It On My Own
be classed alongside such 'ordinary' easy-listening singers as Des O'Connor, Englebert and Max Bygraves. And yet this could be due at times to some of the material she records and also the way it is presented.
Is there a more deservedly successful producer/artist relationship than that between Billy Sherrill and Tammy Wynette? Yet at times, especially in recent years, her albums seem to be a bit over-produced. When Tammy Wynette sings I want to hear that catch in the voice up-front, I want to hear her weep. Sherrill has guided Tammy's career from the outset, moulding her recorded image and orchestrating elaborate accompaniments. These arrangements usually place Tammy against a pastel background: a cooing choir, soft acoustic guitars, discreet piano obligatos, reverberating violins, muted electric bass and an occasional touch of pedal steel guitar.
Although his main focus remains on the voice, Sherrill has refined a satiny wall-of-sound approach to country music that is distinctive, commercial and, in its own countrypolitan way, a radical departure from past Nashville norms. Crescendos of emotion and volume give many of Sherill's Wynette productions a melodramatic structure and intensity. He carefully modulates on most cuts building to bravura climaxes that let Tammy show off her vocal prowess.
As one of the lucky ones who was brought up on the classic Roy Orbison hits of the early 1960s, I readily lap up the emotion draining records of Tammy Wynette. Like Fred Foster did on such Orbison songs as
Cryin', Runnin' Scared
and
It's Over
, Sherrill infuses country ballads into musical soap operas, imaginatively recreating everyday emotional situations Tammy's voice cuts right across the boundaries—it's nothing technically special—just a perfect voice for the medium and the audience. Emotion instead of technique.
In the search for more crossover success for Tammy Wynette and the other artists he produces. Sherrill has allowed a bland approach to come into his productions. In recent years Tammy's albums have had an over-abundance of soft, slow love songs, all beautifully rendered … I might add.
She's a remarkably fine ballad singer. The problem is, her voice works best when piling on the emotion, yet you won't find superb choruses like those in
Stand By Your Man
in the bland MOR songs she's saddled herself with lately. But occasionally she will come up with a song that is strong enough to bring the memories flooding back. Her ability to write precisely-observed lyrics with a stunning economy of words finds its perfect example in
That's The Way It Could Have Been
. This has Tammy in a dreamy mood, you can almost imagine her waiting for the automatic washer to finish, the kids playing in the yard, and her innermost thoughts coming to the surface.
Lyrically she just seems to get better and better. A recent example is
We'll Talk About It Later
. This has Tammy cast as the 'other woman,' delicately facing up to the problems of the devoted wife, who probably doesn't realise that her husband is cheating. It's a new angle for Tammy, as if she feels the need to break away from her role as the average Middle American housewife.
Could it be that Tammy Wynette is trying to break out of the chains that have shackled her for more than a dozen years. That she is trying to upmarket herself to become established as a singer rather than the recognised head of the soap factory. She's got the voice for it, and her records make it clear that she is a consummate studio artist—versatile, committed, painstaking, personal in approach, but prepared to work under the direction of a producer such as Billy Sherrill, and very much at home with vocal-overdubbing and allied techniques.
Yet the pure emotion that is Tammy still drains through the over-production, weak material and lack of drama. The secret is that Tammy seems to mean every word. Certainly she feels every word. I find her an accomplished and deeply moving singer, able to bring a sense of purpose to even the most trite material and in the end, that is the mark of a true artist.