T Graham Brown - Whatever Happened To.......
First Published in Country Music International – October 1996
He made his name as a blue-eyed country soul singer in the late 1980s before performing a vanishing act in the early 1990s. So where is he now?
One of the real revelations of the new country movement in the late 1980s, T. Graham Brown brought a black, soulful edge to country music, resulting in a string of hits including three No 1s with Hell And High Water, Don't Go To Strangers and Darlene.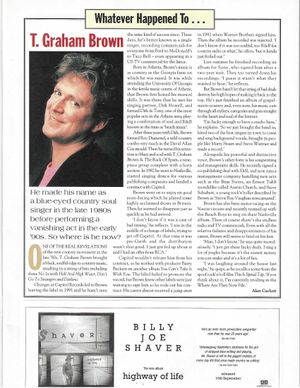 Changes at Capitol Records led to Brown leaving the label in 1991 and he hasn't seen the same kind of success since. These days, he's better known as a jingle singer, recording commercials for everyone from Ford to McDonald's to Taco Bell—even appearing in a US TV commercial for the latter.
Born in Atlanta, Brown's music is as country as the Georgia farm on which he was raised. It was while attending the University of Georgia in the fertile music centre of Athens, that Brown first honed his musical skills. It was there that he met his singing partner, Dirk Howell, and formed Dirk & Tony, one of the most popular acts in the Athens area, playing a combination of soul and r&b, known at the time as 'beach music.'
After three years with Dirk, Brown formed Reo Diamond, a wild country combo very much in the David Allan Coe mould. Then he turned his attention to blues and soul with T. Graham Brown & The Rack Of Spam, a nine-piece group complete with a horn section. In 1982 he went to Nashville, started singing demos for various publishing companies and landed a contract with Capitol.
Brown went on to enjoy six good years during which he played some highly acclaimed shows in Britain. Then he seemed to disappear just as quickly as he had arrived.
"I don't know if it was a case of bad timing," he reflects. "I was in the middle of a change of labels, trying to get off Capitol. At that time, it was pre-Garth and the distribution wasn't that good. I just got fed up about it and I had an offer from RCA."
Capitol wouldn't release him from his contract, so he worked with producer Barry Beckett on another album YOU CAN'T TAKE IT WITH YOU. The label failed to promote the record, but Brown knew other labels were just waiting to sign him, so he rode out his contract. His career almost received a jump-start in 1992 when Warner Brothers signed him. Then the album he recorded was rejected. "I don't know if it was too soulful, too r&b for country radio or what," he offers, "but it kinda just fizzled out."
Last summer he finished recording an album for Sony, who signed him after a two-year wait. They too turned down his recordings. "I guess it wasn't what they wanted to hear," he reflects.
But Brown hasn't let that string of bad deals destroy his high hopes of making it back to the top. He's just finished an album of gospel-meets-country and, even now, his music cuts through all stylistic categories and goes straight to the heart and soul of the listener.
"I'm lucky enough to have a studio here," he explains. "So we just brought the band in, hired two of best singers in town to come and sing background vocals, brought in people like Marty Stuart and Steve Wariner and made a record."
Alongside his powerful and distinctive voice, Brown's other forte is his song writing and management skills. He recently signed a co-publishing deal with EMI, and now runs a management company handling new acts such as the Bum Steers, an Ernest Tubb soundalike called Austin Church, and Steve Schubert, a young rock 'n' roller described by Brown as 'Stevie Ray Vaughan reincarnated.'
Brown has also been motor racing on the Nascar circuits and recently teamed up with the Beach Boys to sing on their Nashville album. Then of course there's the endless radio and TV commercials. Even with all of the relative failures and disappointments of his career, Brown still seems to land on his feet.
"Man, I don't know," he says quite incredulously. "I just get these lucky deals. I sing a lot of jingles because it's the easiest money you can make and it's a lot of fun."
"I was laughing around the house last night," he quips, as he recalls a scene from the spoof rock 'n' roll film This Is Spinal Tap. "If you think about it, I'm currently residing in the Where Are They Now File."