Sylvia - Whatever Happened To.......
First Published in Country Music International, May 1997
After eight years riding the storm of success, Sylvia Hutton turned her back on stardom to follow a career as a songwriter and tell THE REAL STORY.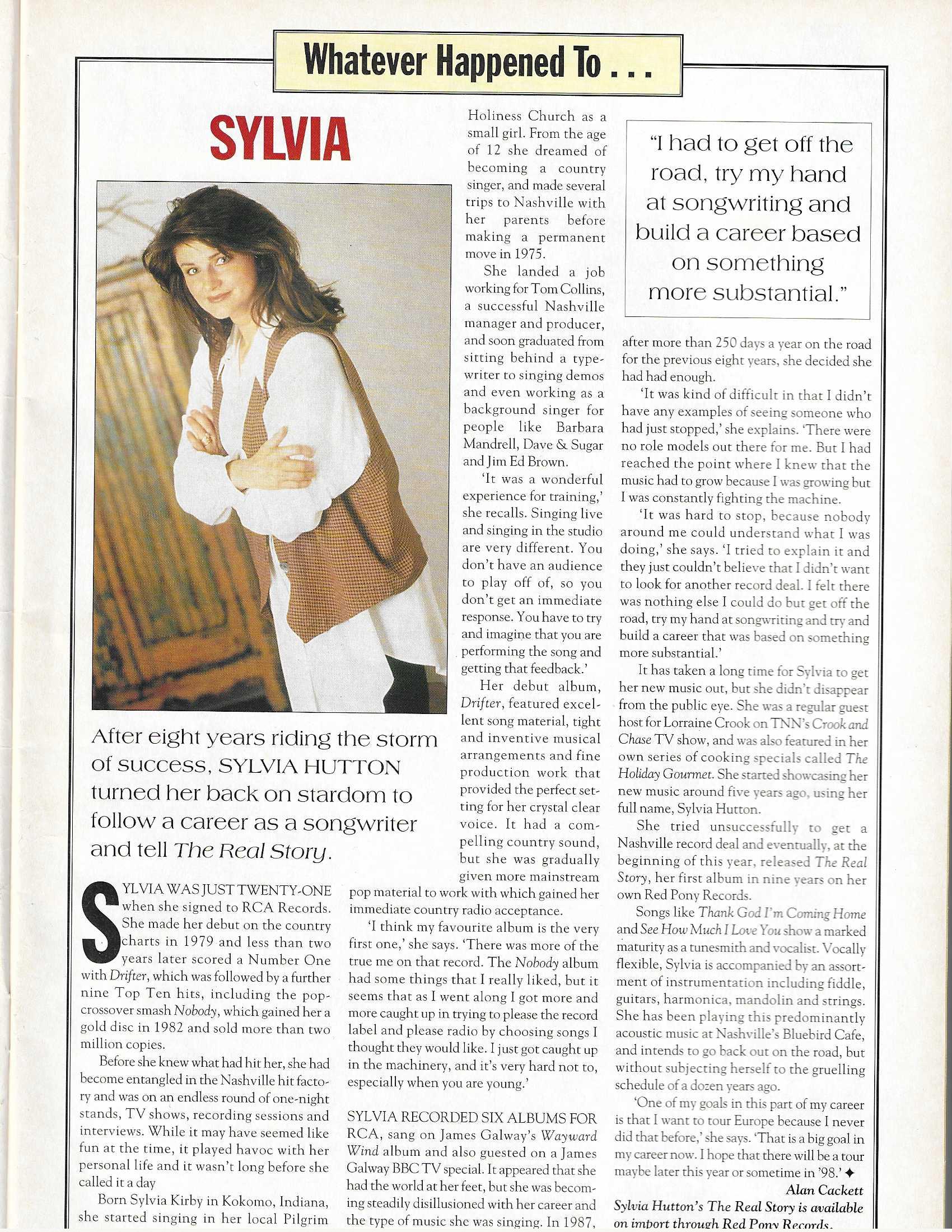 Sylvia was just twenty-one when she signed to RCA Records. She made her debut on the country charts in 1979 and less than two years later scored a number one with Drifter, which was followed by a further nine top ten hits, including the pop-crossover smash Nobody, which gained her a gold disc in 1982 and sold more than two million copies.
Before she knew what had hit her, she had become entangled in the Nashville hit factory and was on an endless round of one-night stands, TV shows, recording sessions and interviews. While it may have seemed like fun at the time, it played havoc with her personal life and it wasn't long before she called it a day.
Born Sylvia Kirby in Kokomo, Indiana, she started singing in her local Pilgrim Holiness Church as a small girl. From the age of 12 she dreamed of becoming a country singer, and made several trips to Nashville with her parents before making a permanent move in 1975.
She landed a job working for Tom Collins, a successful Nashville manager and producer, and soon graduated from sitting behind a typewriter to singing demos and even working as a background singer for people like Barbara Mandrell, Dave & Sugar and Jim Ed Brown.
"It was a wonderful experience for training," she recalls. "Singing live and singing in the studio are very different. You don't have an audience to play off of, so you don't get an immediate response. You have to try and imagine that you were performing the song and getting that feedback."
Her debut album, DRIFTER, featured excellent song material, tight and inventive musical arrangements and fine production work that provided the perfect setting for her crystal-clear voice. It had a compelling country sound, but she was gradually given more mainstream pop material to work with which gained her immediate country radio acceptance.
"I think my favourite album is the very first one," she says. "There was more of the true me on the record. The NOBODY album had some things that I really liked, but it seems that as I went along I got more and more caught up in trying to please the record label and please radio by choosing songs I thought they would like. I just got caught up in the machinery, and it's very hard not to, especially when you are young."
Sylvia recorded six albums for RCA, sang on James Galway's WAYWARD WIND album and also guested on a James Galway BBC TV special. It appeared that she had the world at her feet, but she was becoming steadily disillusioned with her career and the type of music she was singing. In 1987, after more than 250 days a year on the road for the previous eight years, she decided she had had enough.
"It was kind of difficult in that I didn't have any examples of seeing someone who had just stopped," she explains. "There were no role models out there for me. But I had reached the point where I knew that the music had to grow because I was growing but I was constantly fighting the machine."
"It was hard to stop, because nobody around me could understand what I was doing," she says. "I tried to explain it and they just couldn't believe that I didn't want to look for another record deal. I felt there was nothing else I could do but get off the road, try my hand at songwriting and try and build a career that was based on something more substantial."
It has taken a long time for Sylvia to get her new music out, but she didn't disappear from the public eye. She was a regular guest host for Lorraine Crook on TNN's Crook and Chase TV show, and was also featured in her own series of cooking specials called The Holiday Gourmet. She started showcasing her new music around five years ago, using her full name, Sylvia Hutton.
She tried unsuccessfully to get a Nashville record deal and eventually, at the beginning of this year, released THE REAL STORY, her first album in nine years on her own Red Pony Records.
Songs like Thank God I'm Coming Home and See How Much I Love You show a marked maturity as a tunesmith and vocalist. Vocally flexible, Sylvia is accompanied by an assortment of instrumentation including fiddle, guitars, harmonica, mandolin and strings. She has been playing this predominantly acoustic music at Nashville's Bluebird Cafe, and intends to go back out on the road, but without subjecting herself to the gruelling schedule of a dozen years ago.
"One of my goals in this part of my career is that I want to tour Europe because I never did that before," she says. "That is a big goal in my career now. I hope that there will be a tour maybe later this year or something in 1998."