Sweethearts Of The Rodeo - Design For Living
First Published Country Music International, March 1997
Their work ethic undiminished, the Sweethearts Of The Rodeo now juggle making excellent country albums with designing clothes and running their own store. Janis Gill talks songwriting, sisterhood and husband Vince with an attentive Alan Cackett.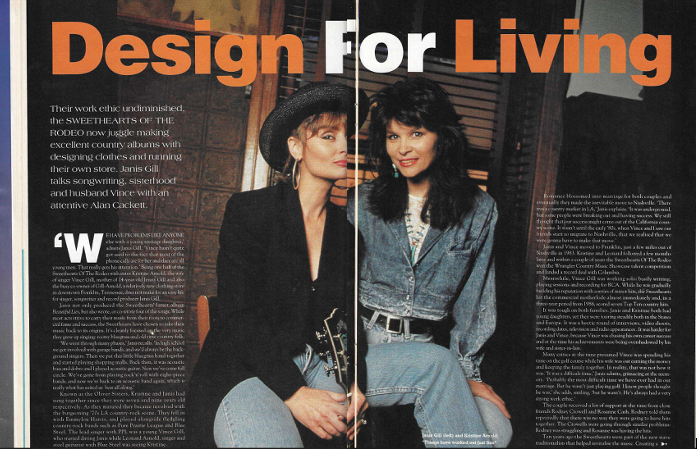 "We have problems like anyone else with a young teenage daughter," admits Janis Gill. "Vince hasn't quite got used to the fact that most of the phone calls are for her and they are all young men. That really gets his attention." Being one half of the
Sweethearts Of The Rodeo with sister Kristine Arnold, the wife of singer Vince Gill, mother of 14-year-old Jenny Gill and also the busy co-owner of Gill-Arnold, a relatively new clothing store in downtown Franklin, Tennessee, does not make an easy life for singer, songwriter and record producer Janis Gill.
Janis not only produced the Sweetheart's latest album, BEAUTIFUL LIES, but also wrote, or co-wrote four of the songs. While most acts strive to carry their music from their roots to commercial fame and success, the Sweethearts have chosen to take their music back to its origins. It's cleanly focused on the very music they grew up singing: rootsy bluegrass and old-time country-folk.
"We went through many phases," Janis recalls. "In high school we got involved with garage bands, and we'd always be the background singers. Then we put this little bluegrass band together and started playing at shopping malls. Back then, it was acoustic bass and dobro and I played acoustic guitar. Now we've come full circle. We've gone from playing rock'n'roll with eight-piece bands, and now we're back to an acoustic band again, which is really what has suited us best all along."
Known as the Oliver Sisters, Kristine and Janis had sung together since they were seven and nine years old respectively. As they matured they became involved with the burgeoning 1970s LA country-rock scene. They fell in with Emmylou Harris, and played alongside fledgling country-rock bands such as Pure Prairie League and Blue Steel. The lead singer with PPL was a young Vince Gill, who started dating Janis while Leonardo Arnold, singer and steel guitarist with Blue Steel was seeing Kristine.
Romance blossomed into marriage for both couples and eventually they made the inevitable move to Nashville. "There was a country market in LA," Janis explains. "It was underground, but some people were breaking out and having success. We still thought that our success might come out of the California country scene. It wasn't until the early 1980s, when Vince and I saw our friends start to migrate to Nashville, that we realised that we were gonna have to make that move."
Janis and Vince moved to Franklin, just a few miles out of Nashville in 1983. Kristine and Leonard followed a few months later and within a couple of years the Sweethearts Of The Rodeo won the Wrangler Country Music Showcase talent competition and landed a record deal with Columbia.
Meanwhile, Vince Gill was working solo: busily writing, playing sessions and recording for RCA    . While he was gradually building his reputation with a series of minor hits, the Sweethearts hit the commercial motherlode almost immediately and, in a three-year period from 1986, scored seven Top 10 country hits.
It was tough on both families. Janis and Kristine both had young daughters, yet they were touring steadily both in the States and Europe. It was a hectic round of interviews, video shoots, recording dates, television and radio appearances. It was harder for Janis and Vince, because Vince was chasing his own career success and at the time his achievements were being overshadowed by his wife and sister-in-law.
Many critics at the time presumed Vince was spending his time on the golf course while his wife was out earning the money and keeping the family together. In reality, that was not how it was, "It was a difficult time," Janis admits, grimacing at the memory. "Probably the most difficult time we have ever had in our marriage. But he wasn't just playing golf. I know people thought he was," she adds, smiling, "but he wasn't. He's always had a very strong work ethic."
The couple received a lot of support at the time from close friends Rodney Crowell and Rosanne Cash. Rodney told them repeatedly that there was no way they were going to have hits together. The Crowells were going through similar problems: Rodney was struggling and Rosanne was having the hits.
Ten years ago the Sweethearts were part of the new wave traditionalists that helped revitalise the music. Creating a two-part harmony sound that set them apart from any other act, they shared Emmylou's knack for embracing tradition without getting bogged down by it. But after the whirlwind success they had to decide what to do next.
"Kristine and I decided that we weren't going to try and fight to stay on top," Janis explains. "Not that we were ever on top, but to try to keep going up, up and up. We just kinda rode it back down again, and now we're just looking for that little spot down here where we're comfortable. So, because of our commitment to our children we just said: 'Okay, we're down here now, so let's just find our own niche where we can continue with our own music.'"
They surrounded themselves with some of the best players in bluegrass and acoustic music circles: acoustic guitarist Brad Davis and electric bassist Larry Marrs are both in Marty Stuart's band, while mandolinist Brent Truitt is a regular player in Nashville and assisted Jains in the production and mixing of the BEAUTIFUL LIES album.
The Sweethearts tour with this small acoustic band and perform duo dates that include both their newer repertoire and acoustic reworkings of their chart hits. With Sugar Hill Records they have a creative freedom unlike anything they've ever known before. Following the critical acceptance of RODEO WALTZ, their first album for the label four years ago, they started working on their second, but came up against scheduling problems.
"We had an album scheduled but there was just too much going on," explains Janis. "I had songs started, some with choruses and I just could not finish them. The label were great about it and said we could take as much time as we needed."
One of the songs that Janis was having problems with was The Inn At Innisfree, a beautiful, Irish-flavoured ballad that was inspired by the John Wayne movie The Quiet Man. The chorus had been written for months and Kristine had been singing it at every opportunity, but she still couldn't complete the song.
"That's probably the most special song on the album," she reveals. "Whenever I went home to visit my mom and dad we would always sit down and watch this movie and talk about Innisfree. My dad started giving me ideas for a song just from things he said. I didn't tell him until we had recorded it that I had credited him as a co-writer."
Janis has never been a prolific writer, but looking back through the Sweethearts' albums you'll discover many fine songs that she's written, either by herself or with the likes of Don Schlitz, Matraca Berg, Wendy Waldman, Gail Davies and Paul Kennerly.
One of the songs she is most proud of is There One Morning, which was included on the RODEO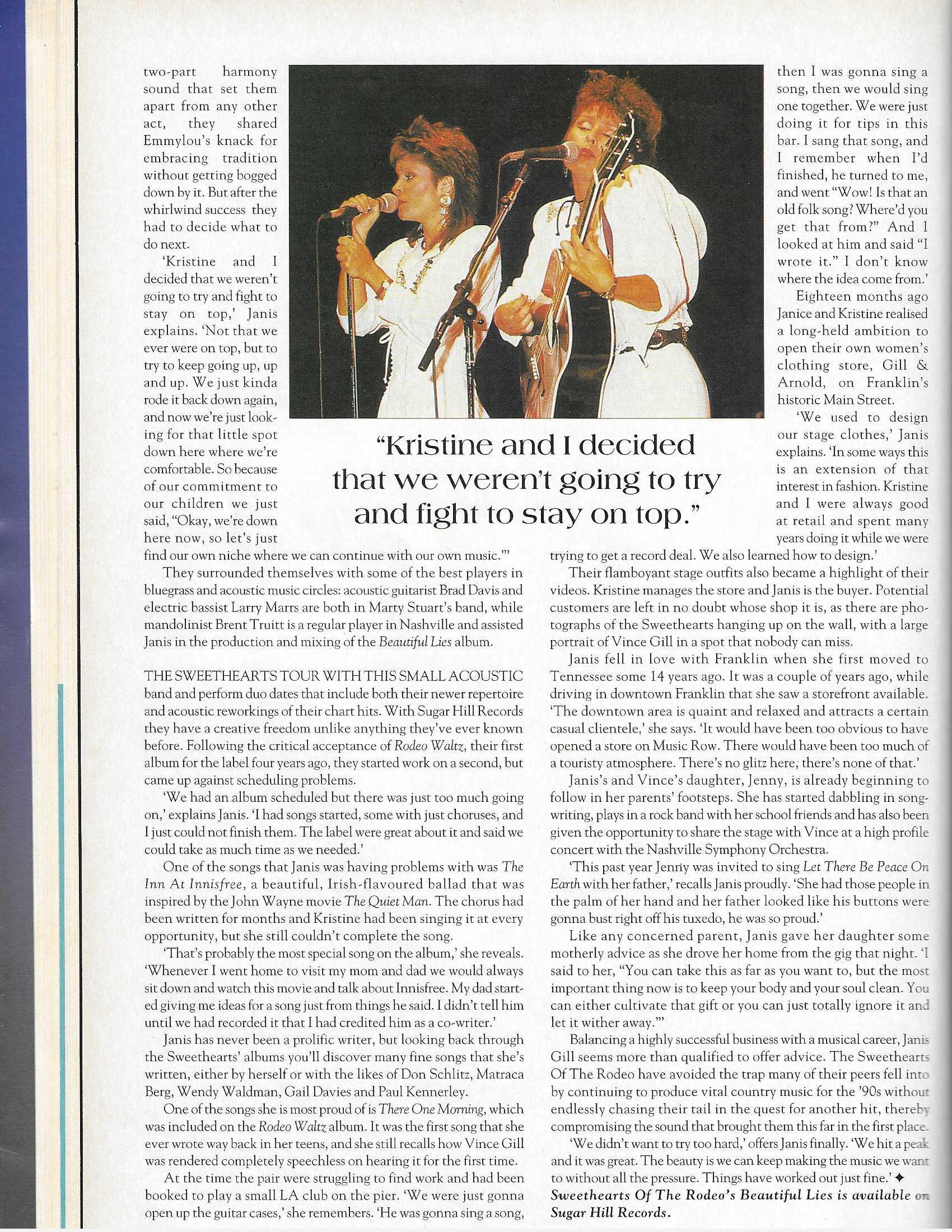 WALTZ album. It was the first song that she ever wrote way back in her teens, and she still recalls how Vince Gill was rendered completely speechless on hearing it for the first time.
At the time the pair were struggling to find work and had been booked to play a small LA club on the pier. "We were just gonna open up the guitar cases," she remembers. "He was gonna sing a song, then I was gonna a sing a song, then we would sing one together. We were just doing it for tips in this bar. I sang that song, and I remember, he turned to me and went 'Wow! Is that an old folk song? Where'd you get that from?' And I looked at him and said: 'I wrote it.' I don't know where the idea came from."
Eighteen months ago Janis and Kristine realised a long-held ambition to open their own women's clothing store, Gill & Arnold, on Franklin's historic Main Street.
"We used to design our stage clothes," Janis explains. "In some ways this is an extension of that interest in fashion. Kristine and I were always good at retail and spent many years doing it while we were trying to get a record deal. We also learned how to design."
Their flamboyant stage outfits also became a highlight of their videos. Kristine manages the store and Janis is the buyer. Potential customers are left in no doubt whose shop it is, as there are photographs of the Sweethearts hanging up on the wall, with a large portrait of Vince Gill in a spot that nobody can miss.
Janis fell in love with Franklin when she first moved to Tennessee some 14 years ago. It was a couple of years ago, while driving in downtown Franklin that she saw a storefront available. "The downtown area is quaint and relaxed and attracts a certain casual clientele," she says. "It would have been too obvious to have opened a store on Music Row. There would have been too much of a touristy atmosphere. There's no glitz here, there's none of that."
Janis' and Vince's daughter, Jenny, is also beginning to follow her parents' footsteps. She has started dabbling in songwriting, plays in a rock band with her friends and has also been given the opportunity to share the stage with Vince at a high profile concert with the Nashville Symphony Orchestra.
"This past year Jenny was invited to sing Let There Be Peace On Earth with her father," recalls Janis proudly. "She had those people in the palms of her hand and her father looked like his buttons were gonna bust right off his tuxedo, he was so proud."
Like any concerned parent, Janis gave her daughter some motherly advice as she drove her home from the gig that night. "I said to her: 'You can take this as far as you want to, but the most important thing now is to keep your body and your soul clean. You can either cultivate that gift or you can just totally ignore it and let it wither away.'"
Balancing a highly successful business with a musical career, Janis Gill seems more than qualified to offer advice. The Sweethearts Of The Rodeo have avoided the trap many of their peers fell into, by continuing to produce vital country music for the 1990s without endlessly chasing their tail in the quest for another hit, thereby compromising the sound that brought them this far in the first place.
"We didn't want to try too hard," offers Janis finally. "We hit a peak and it was great. The beauty is we can keep making music we want without all the pressure. Things have worked out just fine."