First Published in Country Music International May 1994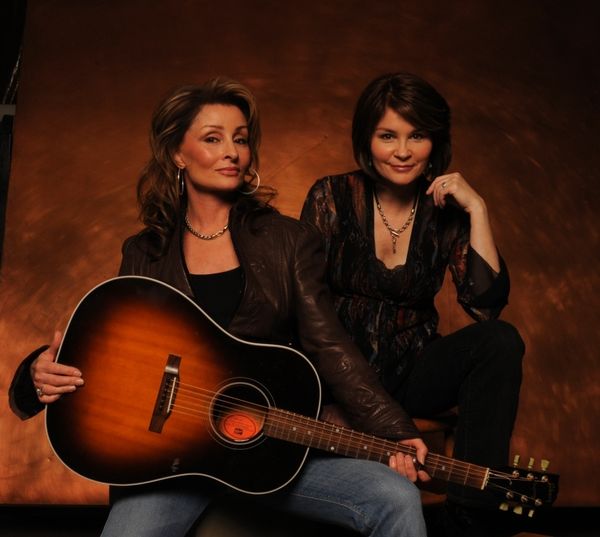 In or out of fashion, SWEETHEARTS OF THE RODEO remain one of country-rock's most enduring partnerships.

To sustain a career on a major label in Nashville becomes more difficult every year, as many well-established acts have discovered to their cost. One of the casualties of Nashville hit machine, where current radio plays can sometimes seem more important than creative musical ability, is Sweethearts Of The Rodeo.

The duo, comprising sisters Janis Gill (wife of Vince Gill) and Kristine Arnold, took country music by storm in the late 1980s, winning the 1985 Wrangler Country Music Showcase, and a year later landing a Columbia Records contract that saw them achieve a string of US Top 10 country hits.

Yet, just six years later, their style of country lost favour with radio programmers, and, although they had recorded four superb albums and gained rave reviews from both rock and country critics, by the end of 1992 Columbia had dropped the girls from their roster.

The duo was subsequently signed to the independent Sugar Hill Records, a company based in Durham, North Carolina. During the past seven years, the duo have proved, through their songwriting and performance, that they're one of the most talented acts on the current country scene. Since joining Sugar Hill, Janis and Kristine have dug back into their musical past and taken their music closer to traditional country, without losing sight of the excitement and vitality that has always been an important ingredient of The Sweetheart's distinctive sound.

Janis and Kristine started out their musical career as The Oliver Sisters in the early 1970s performing at shopping malls and honky-tonks in Southern California. Very much acoustic-based, their music leaned towards bluegrass and traditional music, though they would include material as diverse as Beatles' tunes, Bakersfield honky-tonk and Gram Parsons' songs in their repertoire.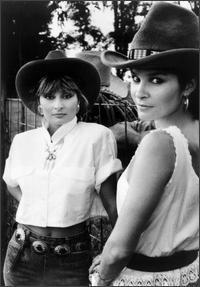 The duo adopted the name Sweehearts Of The Rodeo from the pioneering 1968 country-rock album by Gram Parsons and the Byrds, a record credited with bridging the gap between young rock audiences and country music. They dressed in hip, yet flamboyant western attire. Their music reverberated with two-part harmonies woven between acoustic guitars, staccato electric guitar and a driving rhythm section that appealed to the rock fans who were discovering that country music had a lot more to offer than they'd been led to believe.

Now Janis and Kristine are building up a new following of bluegrass and traditional country music fans, who are not fooled by tight radio playlists. Last September, the sisters appeared at the Fourth Annual International Bluegrass Music Association Awards Show in Owensbro, Kentucky, and impressed both the bluegrass diehards and the younger converts. This coincided with the released of their first Sugar Hill album, RODEO WALTZ, which not only gained critical acclaim within bluegrass circles, but also opened the doors for the sisters to work the burgeoning bluegrass and folk festival circuit.

It's not the kind of album you're likely to find on a major label, and it's unlikely to gain a platinum award for million-plus sales. But RODEO WALTZ will bring hours of pleasure to those who enjoy acoustically styled traditional country with a modern edge.
The girls' secret lies in the fact that they cover all angles. They have, after all, a fan's genuine excitement and a veteran's hard-earned experience. Wisely, they mix the old and the new, bringing together such favourites as the Louvin Brothers' standard Hoping That You're Hoping with Janis Gill originals like Bluegrass Boy and the folksy There One Morning. Sweehearts Of The Rodeo now offer the best of both worlds.