Suzy Bogguss - Suzy's Train Of Thought
First Published in Country Music International – July 1998
Balancing a roller coaster musical career, raising a young son and sustaining a happy marriage is no easy ride, but Suzy Bogguss takes it in her stride. Her latest album, made under the watchful eye of her third Capitol Records boss, Pat Quigley, mixes music and message in the tradition of her best work. "It's still a passion with me," she tells pensive Alan Cackett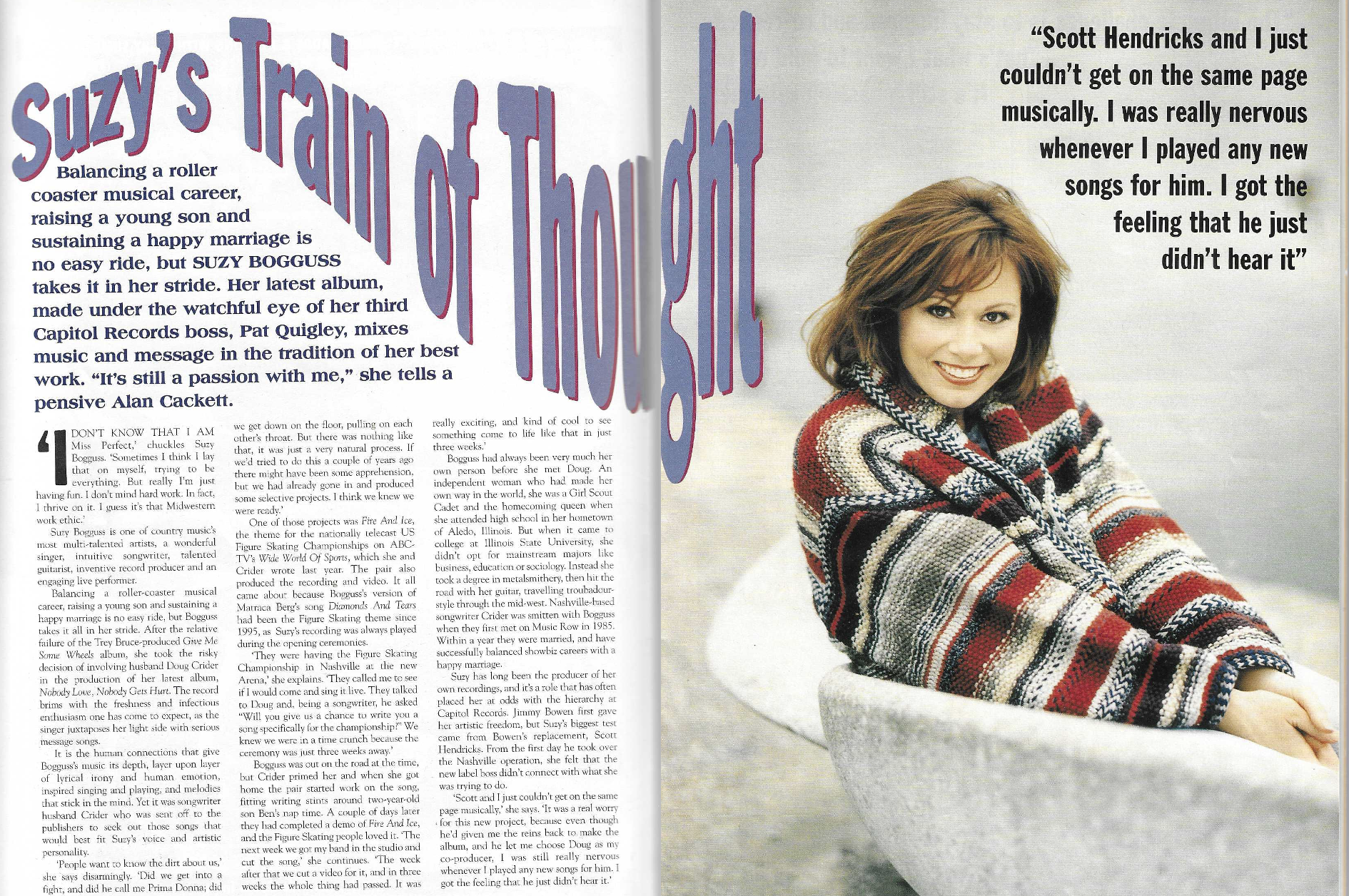 "I don't know that I am Miss Perfect," chuckles Suzy Bogguss. "Sometimes I think I lay that on myself, trying to be everything. But really I'm just having fun. I don't mind hard work. In fact, I thrive on it. I guess it's that Midwestern work ethic."
Suzy Bogguss is one of country music's most multi-talented artists, a wonderful singer, intuitive songwriter, talented guitarist, inventive record producer and an engaging live performer.
Balancing a roller coaster musical career, raising a young son and sustaining a happy marriage is no easy ride, but Bogguss takes it all in her stride. After the relative failure of the Trey Bruce-produced GIVE ME SOME WHEELS album, she took the risky decision of involving husband Doug Crider in the production of her latest album, NOBODY LOVE, NOBODY GOT HURT. The record brims with the freshness and infectious enthusiasm one has come to expect, as the singer juxtaposes her light side with serious message songs.
It is human connections that give Bogguss' music its depth, layer upon layer of lyrical irony and human emotion, inspired singing and playing, and melodies that stick in the mind. Yet it was songwriter husband Crider who was sent off to the publisher to seek out those songs that would fit Suzy's voice and artistic personality.
"People want to know the dirt about us," she says disarmingly. "Did we get into a fight, and did he call me Prima Donna, did we get down on the floor, pulling on each other's throat. But there was nothing like that, it was just a very natural process. If we'd tried to do this a couple of years ago there might have been some apprehension, but we had already gone in and produced some selective projects. I think we knew we were ready." 
One of those projects was Fire And Ice, the theme for the nationally telecast US Figure Skating Championships on ABC-TV's Wide World Of Sports, which she and Crider wrote last year. The pair also produced the recording and video. It all came about because Bogguss' version of Matraca Berg's song Diamonds And Tears had been the Figure Skating theme since 1995, as Suzy's recording was always played during the opening ceremonies.
"They were having the Figure Skating Championship in Nashville at the new Arena," she explains. "They called me to see if I would come and sing it live. They talked to Doug and, being a songwriter, he asked 'Will you give us a chance to write you a song specifically for the championship?" We knew we were in a time crunch because the ceremony was just three weeks away."
Bogguss was out on the road at the time, but Crider primed her and when she got home the pair started work on the song, fitting writing stints around two-year-old son Ben's nap time. A couple of days later they had completed a demo of Fire And Ice, and the Figure Skating people loved it. "The next week we got my band in the studio and cut the song," she continues. "The week after that we cut a video for it, and in three weeks the whole thing had passed. It was really exciting, and kind of cool to see something come to life like that in just three weeks."
Bogguss has always been very much her own person before she met Doug. An independent woman who had made her own way in the world, she was a Girl Scout Cadet and the homecoming queen when she attended high school in her hometown of Aledo, Illinois. But when it came to college at Illinois State University, she didn't opt for mainstream majors like business, education or sociology. Instead she took a degree in metalsmithery, then hit the road with her guitar, travelling troubadour-style through the mid-west. Nashville-based songwriter Crider was smitten with Bogguss when they first met on Music Row in 1985. Within a year they were married, and have successfully balanced showbiz careers with a happy marriage.
Suzy has long been the producer of her own recordings, and it's a role that has often placed her at odds with the hierarchy at Capitol Records. Jimmy Bowen first gave her artistic freedom, but Suzy's biggest test came from Bowen's replacement, Scott Hendricks. From the first day he took over the Nashville operation, she felt that the new label boss didn't connect with what she was trying to do.
"Scott and I couldn't get on the same page musically," she says. "It was a real worry for this new project, because even though he'd given me the reins back to make the album, and he let me choose Doug as my co-producer, I was still really nervous whenever I played any new songs for him. I got the feeling that he didn't hear it."
Suzy was now in a real quandry. Her previous album had bombed. For the first time in her career her husband was heavily involved in her music, but she was up against a label boss who didn't believe in her artistic integrity. Yet she was determined to push ahead. After all, hadn't Bowen put her through the same wringer a few years ago.
"It was a very shaky place to be," she admits. "In all the years I've been with Capitol it's been like a roller-coaster. When it came to Bowen, he and I did an album that we didn't see eye to eye on, so I was figuring that there was still hope. We did one that didn't do well, where I was trying to compromise. On the next album ACES, Bowen pretty much let me have my own way, and that ended up doing real well for me."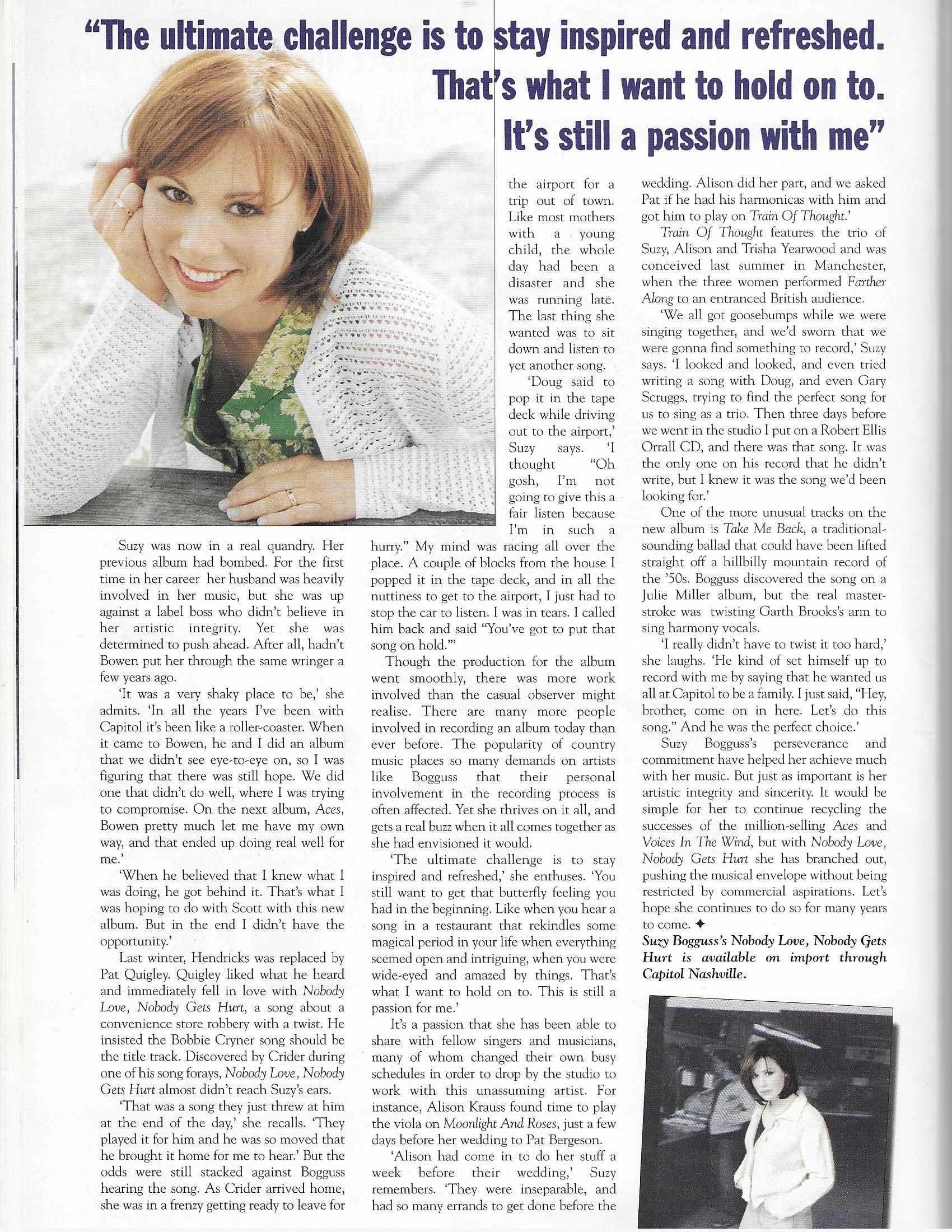 "When he believed that I knew what I was doing, he got behind it. That's what I was hoping to do with Scott with this new album. But in the end I didn't have the opportunity."
Last winter, Hendricks was replaced by Pat Quigley. Quigley liked what he heard and immediately fell in love with Nobody Love, Nobody Gets Hurt, a song about a convenience store robbery with a twist. He insisted the Bobbie Cryner song should be the title track. Discovered by Crider during one of his songs forays, Nobody Love, Nobody Gets Hurt almost didn't reach Suzy's ears.
"That was a song they just threw at him at the end of the day," she recalls. "They played it for him and he was so moved that he brought it home for me to hear." But the odds were still stacked against Bogguss hearing the song. As Crider arrived home, she was in a frenzy getting ready to leave for the airport for a trip out of town. Like most mothers with a young child, the whole day had been a disaster and she was running late. The last thing she wanted was to sit down and listen to yet another song.
"Doug said to pop it in the tape deck while driving out to the airport," Suzy says. "I thought: 'Oh gosh, I'm not going to give this a fair listen because I'm in such a hurry.' My mind was racing all over the place. A couple of blocks from the house I popped it in the tape deck, and in all the nuttiness to get to the airport, I just had to stop the car to listen. I was in tears. I called him back and said 'You've got to put that song on hold.'"
Though the production for the album went smoothly, there was more work involved than the casual observer might realise. There are many more people involved in recording an album today than ever before. The popularity of country music places so many demands on artists like Bogguss that their personal involvement in the recording process is often affected. Yet she thrives on it all, and gets a real buzz when it all comes together as she had envisioned it would.
"The ultimate challenge is to stay inspired and refreshed," she enthuses. "You still want to get that butterfly feeling you had in the beginning. Like when you hear a song in a restaurant that rekindles some magical period in your life when everything seemed open and intriguing, when you were wide-eyed and amazed by things. That's what I want to hold on to. This is still a passion for me."
It's a passion that she has been able to share with fellow singers and musicians, many of whom changed their own busy schedules in order to drop by the studio to work with this unassuming artist. For instance, Alison Krauss found time to play the viola on Moonlight And Roses, just a few days before her wedding to Pat Bergeson.
"Alison had come in to do her stuff a week before their wedding," Suzy remembers. "They were inseparable, and had so many errands to get done before the wedding. Alison did her part, and we asked Pat if he had his harmonica with him and got him to play on Train Of Thought.
Train Of Thought features the trio of Suzy, Alison and Trisha Yearwood and was conceived last summer in Manchester, when the three women performed Farther Along to an entranced British audience.
"We all got goosebumps while we were singing together, and we'd sworn that we were gonna find something to record," Suzy says. "I looked and looked, and even tried writing a song with Doug, and even Gary Scruggs, trying to find the perfect song for us to sing as a trio. Then three days before we went in the studio I put on a Robert Ellis Orrall CD, and there was that song. It was the only one on his record that he didn't write, but I knew it was the song we'd been looking for."
One of the more unusual tracks on the new album is Take Me Back, a traditional-sounding ballad that could have been lifted straight off a hillbilly mountain record of the 1950s. Bogguss discovered the song on a Julie Miller album, but her real masterstroke was twisting Garth Brooks' arm to sing harmony vocals.
"I really didn't have to twist it too hard," she laughs. "He kind of set himself up to record with me by saying that he wanted us all at Capitol to be a family. I just said: 'Hey, brother come on in here. Let's do this song.' And he was the perfect choice."
Suzy Bogguss' perseverance and commitment have helped her achieve much with her music. But just as important is her artistic integrity and sincerity. It would be simple for her to continue recycling the successes of the multi-selling ACES and VOICES IN THE WIND, but with NOBODY LOVES, NOBODY GETS HURT she has branched out, pushing the musical envelope without being restricted by commercial aspirations. Let's hope she continues to do so for many years to come.