Suzy Bogguss - Happy Trails
First Published in Country Music International, August 1995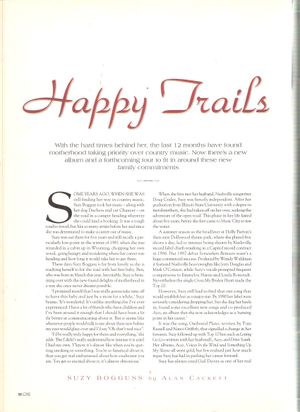 With the hard times behind her, the last 12 months have found motherhood taking priority over country music. Now there's a new album and a forthcoming tour to fit in around these new family commitments.
Some years ago, when she was still finding her way in country music, Suzy Bogguss took her music—along with her dog Duchess and cat Chaucer—on the road in a camper heading wherever she could land a booking. It was a tough road to travel, but like so many artists before her and since, she was determined to make a career out of music.
Suzy was out there for five years and still recalls a particularly low-point, in the winter of 1981, when she was stranded in a cabin up in Wyoming, chopping her own wood, going hungry and wondering where her career was heading and how long it would take her to get there.
These days Suzy Bogguss is far from lonely as she is readying herself to hit the road with her first baby, Ben, who was born in March this year.  Inevitably, Suzy is brimming over with the new-found delights of motherhood in a way she once never dreamt possible.
"I promised myself that I was really gonna take time off to have this baby and just be a mom for a while," Suzy beams. "It's wonderful. It's unlike anything else I've ever experienced. I have a lot of friends who have children and I've been around it enough that I should have been a little better at communicating about it. But it seems like whenever people would talk to me about their new babies my eyes would glaze over and I'd say: 'Oh, that's real nice"'.
"I'd be really truly happy for them and everything," she adds. "But I didn't really understand how intense it is until I had my own. Y'know it's almost like when you're quitting smoking or something. You're so fanatical about it, that you get real embarrassed about how exuberant you are. You get so excited about it, it's almost obnoxious."
When she first met her husband, Nashville songwriter Doug Crider, Suzy was fiercely independent. After her graduation from Illinois State University with a degree in metalsmithery, she had taken off on her own, seeking the adventure of the open road.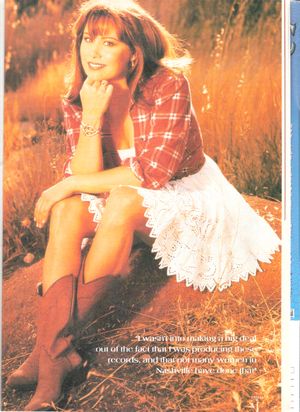 This phase in her life lasted about five years, before she first came to Music City to test the water.
A summer season as the headliner at Dolly Parton's then-new Dollywood theme park, where she played five shows a day, led to interest being shown by Nashville record label chiefs, resulting in a Capitol record contract in 1986. Her 1987 debut SOMEWHERE BETWEEN wasn't a huge commercial success. Produced by Wendy Waldman, it featured Nashville heavyweights like Jerry Douglas and Mark O'Connor, while Suzy's vocals prompted frequent comparisons to Emmylou Harris and Linda Ronstadt. Nevertheless, the single Cross My Broken Heart made the Top 20.
However, Suzy still had to find that one song that would establish her as a major star. By 1990 her label were seriously considering dropping her, but she dug her heels in, found some excellent new songs and co-produced ACES, an album that she now acknowledges as a 'turning point in her career.'
It was the song, Outbound Plane, written by Tom Russell and Nanci Griffith, that signalled a change in her fortunes. Suzy followed up with Top 10 hits such as Letting Go (co-written with her husband), Aces, and Drive South. Her albums, ACES, VOICES IN THE WIND and SOMETHING UP MY SLEEVE all went gold, but few realised just how much input Suzy has had in pushing her career forward. 
Suzy has always cited Gail Davies as one of her real heroes and she's followed in Gail's footsteps by producing her own recordings and taking more control of her music than many of her contemporaries in Nashville. Occasionally she still feels a little rankled that she doesn't always receive the credit for what she has achieved.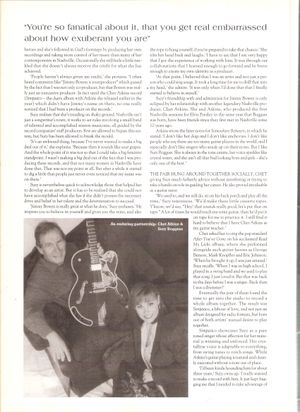 "People haven't always given me credit," she protests. "I often heard comments like: 'Jimmy Bowen is your producer' which passed by the fact that I was not only co-producer, but that Bowen was really just an executive producer. In fact, until the Chet Atkins record (SIMPATICO—the duets album with Atkins she released earlier in the year) which didn't have Jimmy's name on there, no one really noticed that I had been a producer on the records."
Suzy realises that she's treading on shaky ground. Nashville isn't just a songwriter's town, it works to set rules involving a small band of talented and accomplished session musicians, all guided by the record companies' staff producers. Few are allowed to bypass the system, but Suzy has been allowed to break the mould.
"It's an awkward thing, because I've never wanted to make a big deal out of it," she explains. "Because then it sounds like sour grapes. And the whole point of it was not so that I could take a big feminist standpoint. I wasn't making a big deal out of the fact that I was producing these records, and that not many women in Nashville have done that. That was not my point at all. But after a while it started to dig a little that people just never even noticed that my name was on there."
Suzy is nevertheless quick to acknowledge those that helped her to develop as an artist. But it has to be realised that she could not have accomplished what she has if she didn't possess the necessary drive and belief in her talent and the determination to succeed.
"Jimmy Bowen is really great at what he does," Suzy enthuses. "He inspires you to believe in yourself and gives you the reins, and also the rope to hang yourself, if you're prepared to take the chance." She tilts her head back and laughs. "I have to say that I am very happy that I got the experience of working with him. It was through our collaborations that I learned enough to go forward and be brave enough to create my own identity as a producer."
"At that point, I believed that I was an artist and not just a person who could sing songs. It took a long time for me to drill that into my head," she admits. "It was only when I'd done that, that I finally started to believe in myself."
Suzy's friendship with and admiration for Jimmy Bowen is only eclipsed by her relationship with another legendary Nashville producer, Chet Atkins. She and Atkins, who produced the first Nashville sessions for Elvis Presley in the same year that Bogguss was born, have been friends since they first met in Nashville some 10 years ago. 
Atkins wrote the liner notes for SOMEWHERE BETWEEN, in which he stated: 'I don't like hot dogs and I don't like anchovies. I don't like people who say there are too many guitar players in the world, and I especially don't like singers who sneak up on their notes. But I like Suzy Bogguss. She is always in the tone centre, her voice sparkles like crystal water, and she ain't all that bad looking boys and girls—
she's only one of the best.'
The pair hung around together socially, Chet giving Suzy much fatherly advice without interfering or trying to take a hands-on role in guiding her career. He also proved invaluable as a guitar tutor.
"We used to, and we still do, sit on his back porch and play all the time," Suzy reminisces. "We'd make these little cassette tapes. Y'know, we'd say, 'Hey! that sounds really good, let's put that on a tape.' A lot of times he would teach me some guitar, then he'd put it on tape for me to practice it. I still find it hard to believe that I have Chet Atkins as my guitar teacher."
Chet asked her to sing the pop standard After You've Gone on his acclaimed READ MY LICKS album, where she performed alongside such guitar heroes as George Benson, Mark Knopfler and Eric Johnson. "When he brought it up, I was amazed," Suzy recalls. "When I was in high school, I played in a swing band and we used to play that song. I just loved it, but that was back in the days before I was a singer.  Back then I was a drummer!"
Eventually the pair of them found the time to get into the studio to record a whole album together. The result was SIMPATICO, a labour of love, and not just an album designed for radio formats, but born out of both artists' mutual desire to play together.
SIMPATICO showcases Suzy as a pure toned singer whose affection for her material is winning and unforced. Her crystalline voice is adaptable to everything, from swing songs to torch songs. While Atkins' guitar playing is natural and cleanly executed without a note out of place.
"I'd been kinda hounding him for about three years," Suzy owns up. "I really wanted to make a record with him. It just kept bugging me that I needed to take advantage of everything we had. Chet and I get along so well, and maybe one of these days I won't have him here with me. Then I'm gonna kick myself that I hadn't made a record that other people could share."
"So I talked him into it. He was just great to work with. I produced the record and he was a really gracious artist to work with. I must say, he took his criticism much better than I do. He also came up with so many ideas."
She and Atkins continued their association with a revival of All My Loving, included on COME TOGETHER: AMERICA SALUTES THE BEATLES, the Beatles' tribute album, and earlier this year they undertook a handful of selected concert dates together.
Suzy and her husband Doug Crider have also collaborated on songwriting for a number of years, coming up with such gems as In The Day, Just Like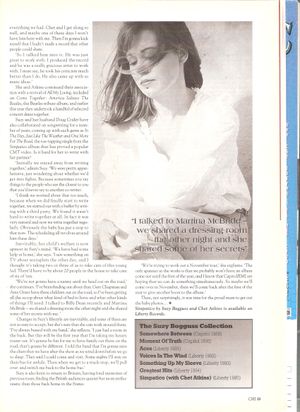 The Weather and One More For The Road, the toe-tapping single from the SIMPATICO album that has proved a popular CMT video. Is it hard for her to write with her partner?
"Initially we stayed away from writing together," admits Suzy. "We were pretty apprehensive, just wondering about whether we'd get into fights. Because sometimes you say things to the people that are closest to you that you'd never say to another co-writer."    
"I think we worried about that too much, because when we did finally start to write together, we started out with a buffer by writing with a third party. We found it wasn't hard to write together at all. In fact, it was very natural and now we write together regularly. Obviously, the baby has put a stop to that now. The scheduling all revolves around him these days."
Inevitably, her child's welfare is now upmost in Suzy's mind. "We have had some help at home," she says. "I saw something on TV about sextuplets the other day, and I thought it's taking two or three of us to take care of this young lad. There'd have to be about 20 people in the house to take care of six of 'em."
"We're not gonna have a nanny until we head out on the road," she continues.  "I've been finding out about that. Gary Chapman and Amy Grant have three children out on the road, so I've been getting all the scoop about what kind of bed to have and what other kinds of things I'll need. I talked to Billy Dean recently and Martina McBride—we shared a dressing room the other night and she shared some of her secrets with me."
Changes in Suzy's lifestyle are inevitable, and some of them are not so easy to accept, but she's sure that she can work around them. "I've always bussed with my band," she reflects. "I just had a room in the back. But this will be the first year that I'm taking my luxury tourer out. It's gonna be fun for me to have family out there on the road, that's gonna be different. I told the band that I'm gonna miss the chats that we have after the show as we wind down before we go to sleep. They said I could come and visit. Some nights I'll stay on their bus for awhile. Then when we get to a truck-stop, we'll pull over and switch me back to the home bus."
Suzy is also keen to return to Britain, having fond memories of previous tours, finding the British audiences quieter but more enthusiastic than those back home in the States.
"We're trying to work out a November tour," she explains. "The only spanner in the works is that we probably won't have an album come out until the first of the year, and I know that Capitol/EMI are hoping that we can do something simultaneously. So maybe we'll come over in November, then we'll come back after the first of the year to give another boost to the album."
Then, not surprisingly, it was time for the proud mum to get out the baby photos