Suitcase Sam - Goodnight Riverdale Park
Curve Music
***1/2
The enigmatic Suitcase Sam's rich and unconventional background gives narrative heft to his "sweat and beer stained" music. He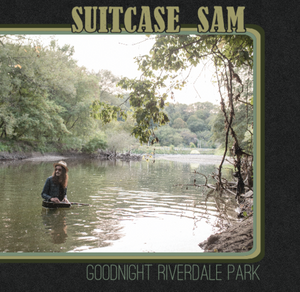 is the kind of artist that you will either love or you will hate. There is no in-between. As these ten songs reveal, he is a primal roots music throwback who colours his music with hues borrowed from blues, early jazz, vaudeville and classic honky-tonk country and writes with a stark brevity that punctuates every heartbeat of the characters who draw the attention of his pen: railroad workers, itinerant bums, booze-hounds, love-drunk couples, the longing and the satisfied, the faithful and the lost. He spins these yarns into rootin' tootin' travelogues moseying on down through spirited Delta blues, roadhouse honky-tonk and barrel-house jazz. His distinctive vocal style, somewhere between Bob Hite and Jamey Johnson, manages to be both warm and breezy. He adds acoustic and slide guitar, harmonica, barroom piano, fiddle and clarinet backing here and there, emerging as a contemporary troubadour with a vintage vibe, able to inform, amuse and entertain with equal facility.
Mystery surrounds his life. His press release leads us to believe that he is Canadian, but a little deeper research reveals that he was born and raised in California, the son of a railway man. His real name is Leon Stanislaus Czologosz and he developed his passion for the great American musical traditions from the fellow railroad engineers that his father worked with at the Central Pacific engine yard, where he would often hang out. He became something of a rambler himself in his mid-teens, and before moving north to Toronto in 2010, he played with the Hell-Bound Fiddle Band and soaked up the vintage sounds of ragtime string bands, cowboy poetry, Swiss yodeling, Memphis jug bands, Jimmie Rodgers blues and classic country. He released his first record, GET IT TO GO, that same year. One of the EP's songs, The Sweetest Hippopotamus, was adapted for a short film. In 2014  Sam released his second EP: WAITING ON A TRAIN; a small collection of songs inspired by 1930's country music, particularly the music of Jimmie Rodgers. GOODNIGHT RIVERDALE PARK is his first full-length album. It was released in Canada early last year and now gains a belated UK release.
A celebrated, cohesive catalogue of warm Americana reflecting his passion for the classic country music he heard on the radio, as well as the blues that seemingly crept out of the soil in Arkansas and Mississippi, with the occasional hint of some jazzy tones, this is a throwback to the kind of albums that the major labels produced back in the early 1970s, when diversity and eclecticism was readily embraced. His caustic reflections are delivered with dark humour: He makes everyday life funny, and he makes you smile with the weirder scenarios he brings to life. Friday Afternoon is a rueful anthem to never giving up in the face of despair that comes with a toe-tapping country arrangement of old-style pedal steel, barroom piano and a singalong chorus. My, Oh My is a slow-burning minor chord folk blues anchored by a gorgeous bass line, with piano, strident guitars, clarinet, female background singers and a mournful organ lurking away in the back, as a life is limned. The tongue-in-cheek Frankie And Me is a light-hearted look at a chance encounter. Sam's vocals are clear and at the centre of the proceedings, invested with a grinning Tom Waits-like delivery and an effusive chorus that is quite irresistible. While that song is fun, he brings the mood down with Morning Mail, a tender country lament enveloped in lashings of steel. Tattered Shoes meanwhile, summons a murky, mountain blues melody that one could imagine being sung with a hurtling bluegrass attack. Then there is The Grand Trunk Pacific Coast Railroad, a foot-stomping blues within a languid tempo and menacing, dusty and often times rickety musical foundation, wrought with emotional turmoil and human struggle. He transports us back to the golden age of 1920s jazz with The Maple Leaf Stomp, a vaudeville-styled instrumental and Honey I Know with its audacious blend of Dixieland instrumentation and doo-wop background vocals. 
April 2021