Sue James - Under The Spotlight
First Published in Country Music International, June 1997
In addition to releasing an extraordinary debut album, British singer Sue James is hard at work on the country music circuit with songwriting partner Lorna Flowers.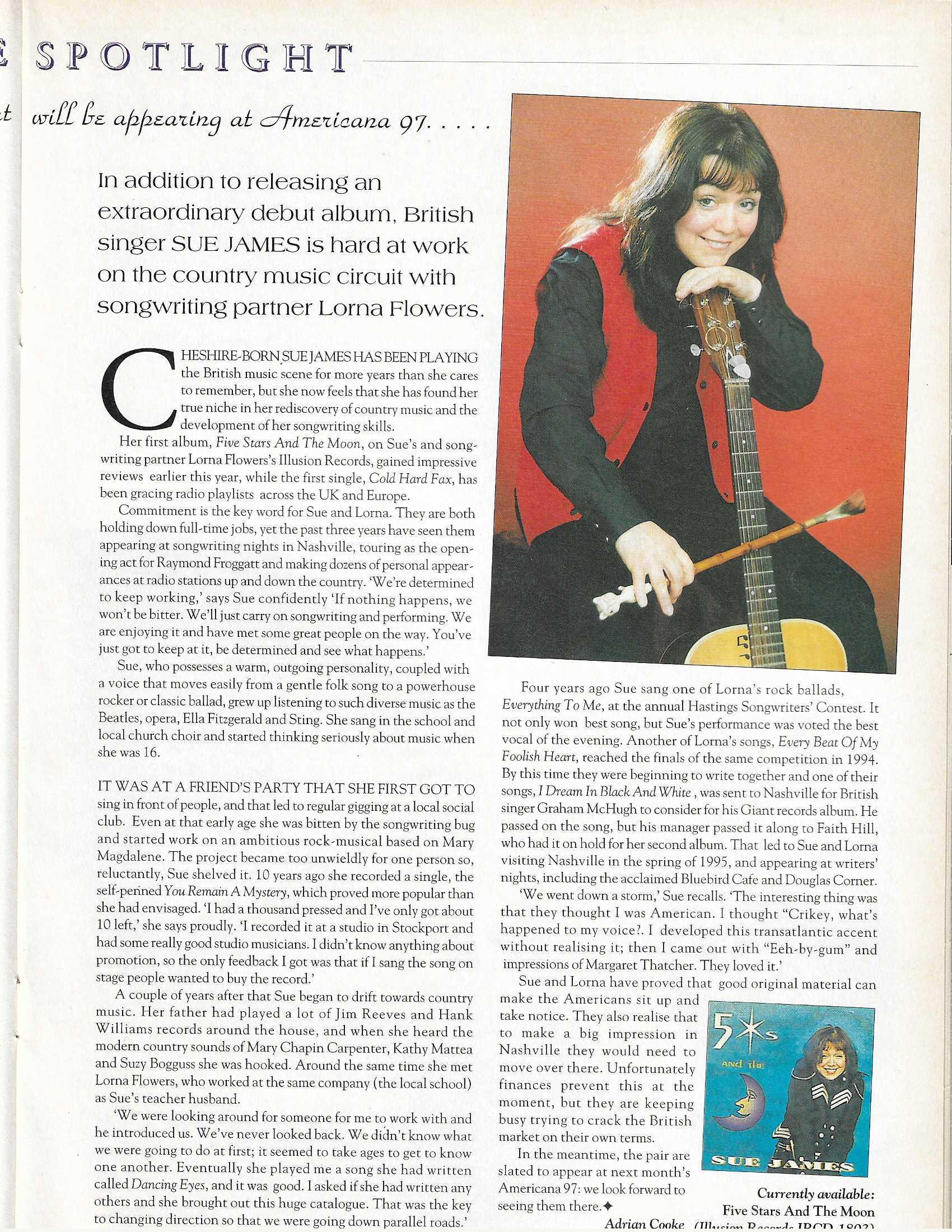 Cheshire-born Sue James has been playing the British music scene for more years than she cares to remember, but she now feels that she has found her true niche in her rediscovery of country music and the development of her songwriting skills.
Her first album, FIVE STARS AND THE MOON, on Sue's and songwriting partner Lorna Flowers' Illusion Records, gained impressive reviews earlier this year, while the first single, Cold Hard Fax, has been gracing radio playlists across the UK and Europe.
Commitment is the key word for Sue and Lorna. They are both holding down full-time jobs, yet the past three years have seen them appearing at songwriting nights in Nashville, touring as the opening act for Raymond Froggatt and making dozens of personal appearances at radio stations up and down the country. "We're determined to keep working," says Sue confidently. "If nothing happens, we won't be bitter. We'll just carry on songwriting and performing. We are enjoying it and have met some great people on the way. You've just got to keep at it, be determined and see what happens."
Sue, who possesses a warm, outgoing personality, coupled with a voice that moves easily from gentle folk song to a powerhouse rocker or classic ballad, grew up listening to such diverse music as the Beatles, opera, Ella Fitzgerald and Sting. She sang in the school and local church choir and started thinking seriously about music when she was 16.
It was at a friend's party that she first got to sing in front of people and led to regular gigging at a local social club. Even at that early age she was bitten by the songwriting bug and started work on an ambitious rock-musical based on Mary Magdalene. The project became too unwieldly for one person, so, reluctantly, Sue shelved it. 10 years ago she recorded a single, the self-penned You Remain A Mystery, which proved more popular than she had envisaged. "I had a thousand pressed and I've only got about ten left," she says proudly. "I recorded it at a studio in Stockport and had some really good studio musicians. I didn't know anything about promotion, so the only feedback I got was that if I sang the song on stage people wanted to buy the record." 
A couple of years after that Sue began to drift towards country music. Her father had played a lot of Jim Reeves and Hank Williams records around the house, and when she heard the modern country sound of Mary Chapin Carpenter, Kathy Mattea and Suzy Bogguss she was hooked. Around the same time she met Lorna Flowers who worked at the same company (the local school) as Sue's teacher husband.
"We were looking around for someone for me to work with and he introduced us. We've never looked back. We didn't know what we were going to do at first; it seemed to take ages to get to know one another. Eventually she played a song she had written called Dancing Eyes, and it was good. I asked if she had written any others and she brought out this huge catalogue. That was the key to changing direction so that we were going down parallel roads."
Four years ago Sue sang one of Lorna's rock ballads, Everything To Me, at the annual Hastings Songwriters' Contest. It not only won best song, but Sue's performance was voted the best vocal of the evening. Another of Lorna's songs, Every Beat Of My Foolish Heart, reached the finals of the same competition in 1994. By this time they were beginning to write together and one of their songs, I Dream In Black And White, was sent to Nashville for British singer Graham McHugh to consider for his Giant records album. He passed on the song, but his manager passed it along to Faith Hill, who had it on hold for her second album. That led to Sue and Lorna visiting Nashville in the spring of 1995, and appearing at writers' nights, including the acclaimed Bluebird Café and Douglas Corner.
"We went down a storm," Sue recalls. "The interesting thing was that they thought I was American. I thought: 'Crikey, what's happened to my voice?' I developed this transatlantic accent without realising it; then I came out with 'Eeh-by-gum' and impressions of Margaret Thatcher. They loved it."
Sue and Lorna have proved that good original material can make the Americans sit up and take notice. They also realise that to make a big impression in Nashville they would need to move over there. Unfortunately, finances prevent this at the moment, but they are keeping busy trying to crack the British market on their own terms.
In the meantime, the pair are slated to appear at next month's Americana 97: we look forward to seeing them there.