Stu Page - Highways And Heartaches
First Published in Country Music International, October 1995
After years of paying his dues and appealing to the dedicated minority on the British country music scene, Stu Page, a Yorkshire singer, songwriter and guitarist, is finally making a breakthrough. Alan Cackett reports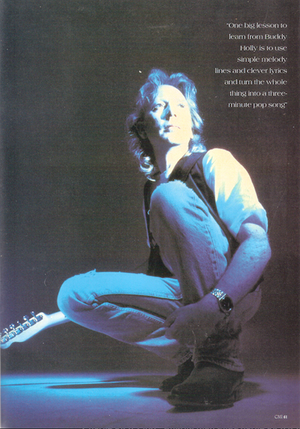 The past few months has seen his video of Pickin' At The Speed Of Light, on the CMT playlist. He has toured as lead guitarist with Brendan Croker, the Notting
Hillbilly, and continues to delight those British country music fans with his highly acclaimed Stu Page Band.
Stu Page picked up his first guitar at the age of 10, and his teenage years were spent playing in several local bands, his prowess on lead guitar leading to session work. He even had a stint touring the States with the Warren Wikeson Band, a well-established American bluegrass group out of Boston. On his return to Yorkshire, he teamed up with bass player Terry Clayton, also from Leeds, and the pair played as a duo around Britain and Europe before forming their first band
around a dozen years ago.
Stu has steadfastly built on the high esteem that his songs and music have commanded within British country music. He feels that he's coming closest to what he's been after all these years with his latest independently recorded album, CAN'T SING THE BLUES, a clean-edged British country sound that merits status apart from the American tradition. It's a self-financed and self-produced set, and Page has had to overcome more than his share of set-backs and problems to get the finished album out.
"I think it's better than anything we've done before, or at least I hope it is. I think it differs in the respect that it's not been produced by anybody else. We've produced it. In the past, I think I've comprised, due to the fact that I've been doing it for somebody else. They've been financing it, so therefore I've had to comprise artistically."
Page possesses a deep, rich voice and pulls the band together with his own solid musical integrity. Throughout the years his bands have always been gritty and hard-edged, his musical vision uncompromising, and this current line-up is no different. For the first time, however, Page has total control.
"It's difficult to say without sounding like a complete tosser," he laughs, "but I don't think there's been anybody who's produced any product in the studios in this country that I'm not capable of doing myself. In fact, in the past, I've felt that if I'd had a free rein on it, I could've done better. I'm not saying that this album is perfect, by any means. It's not. I don't think that you can ever feel like that. Let me
put it this way, it's the nearest thing that we've had, and I'm pleased with it."
Page, whose slight frame belies his potent and dynamic all-round talent, considers his music to be country with a touch of rock and blues. His favourite performers include Merle Haggard, B.B. King and the Judds, and, surprisingly he counts the late Buddy Holly as one of his musical heroes. "One big lesson to learn from Buddy Holly is to use simple but effective melody lines and simple but clever lyrics, and turn the whole thing into a three-minute pop song."
Page also makes no secret of the high regard that he has for the music of Merle Haggard. It was early 1970s-era Haggard and the alternative Californian country-rock as served up by the Byrds and the Burritos that really got Stu hooked on country—not smooth pop-country, but its more cutting-edge sounds.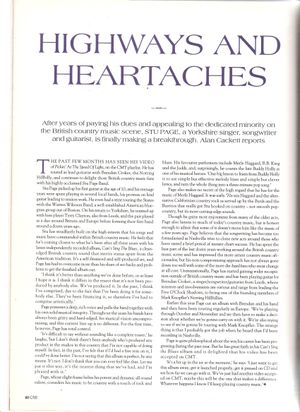 Though he gains most enjoyment from many of the older acts, Page also listens to much of today's country music, but is honest enough to admit that some of it doesn't move him like the music of a few years ago. Page believes that the songwriting has become too formularised as Nashville tries to clone new acts around those who have tasted a brief period of instant chart success. He has spent the best part of the last dozen years working around the British country
music scene and has impressed the more astute country music aficionados, but his non-compromising approach has not always gone down too well with some of the more die-hard fans who resist change at all cost. Unintentionally, Page has started gaining wider recognition outside of British country music and has been playing guitar for Brendan Croker, a singer-songwriter-guitarist from Leeds, whose interests and involvements are various and range from leading the Five O'Clock Shadows, to being one of the founding members of Mark Knopfler's Notting Hillbillies.
Earlier this year Page cut an album with Brendan and his band and they have been touring regularly in Europe. "We're playing through October and November and we then have to make a decision about whether we're gonna carry on with it. We're also trying to see if we're gonna be touring with Mark Knopfler. The strange thing is that I probably got the job when he heard that I'd been recording in Nashville."
Page is quite philosophical about the way his career has been progressing during the past year. But he has great faith in his CAN'T SING THE BLUES album and is delighted that his video has been accepted on CMT.
"It's a bit up in the air at the moment," he says. "I just want to get this album away, get it launched properly, get it pressed on CD and see how far we can go with it. We've just had another video accepted on CMT, maybe this will be the one that makes a difference. Whatever happens I know I'll keep playing country music."