Stewart Harris - The Nashville Cats
First Published in Country Music International, November 1997
Softly spoken southern boy Stewart Harris arrived in Nashville in the late 1970s by the way of New York and Washington DC and went on to become one of Music City's principal scribes.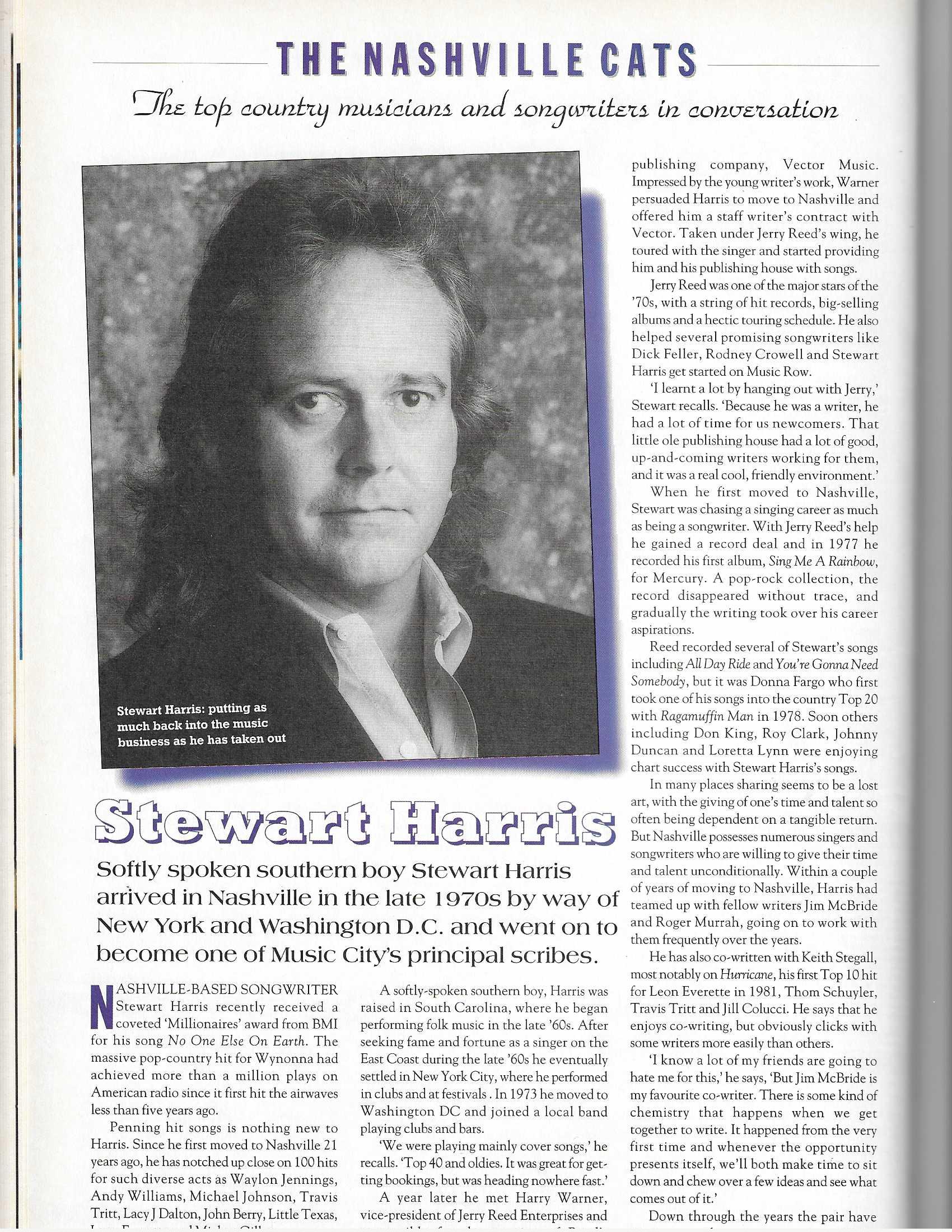 Nashville-based songwriter Stewart Harris recently received a coveted 'Millionaires' award from BMI for his song No One On Earth. The massive pop-country hit for Wynonna had achieved more than a million plays on American radio since it first hit the airwaves less than five years ago.
Penning hit songs is nothing new to Harris. Since he first moved to Nashville 21 years ago, he has notched up close to 100 hits for such diverse acts as Waylon Jennings, Andy Williams, Michael Johnson, Travis Tritt, Lacy J Dalton, John Berry, Little Texas, Leon Everette and Mickey Gilley.
A softly-spoken southern boy, Harris was raised in South Carolina, where he began performing folk music in the late 1960s. After seeking fame and fortune as a singer on the East Coast during the late 1960s he eventually settled in New York City, where he performed in clubs and at festivals. In 1973 he moved to Washington DC and joined a local band playing clubs and bars.
"We were playing mainly cover songs," he recalls. "Top 40 and oldies. It was great for getting bookings, but was heading nowhere fast."
A year later he met Harry Warner, vice-president of Jerry Reed Enterprises and responsible for the running of Reed's publishing company, Vector Music. Impressed by the young writer's work, Warner persuaded Harris to move to Nashville and offered him a staff writer's contract with Vector. Taken under Jerry Reed's wing, he toured with the singer and started providing him and his publishing house with songs.
Jerry Reed was one of the major stars of the 1970s, with a string of hit records, big-selling albums and a hectic touring schedule. He also helped several promising songwriters like Dick Feller, Rodney Crowell and Stewart Harris get started on Music Row.
"I learnt a lot by hanging out with Jerry," Stewart recalls. "Because he was a writer, he had a lot of time for us newcomers. That little ole publishing house had a lot of good, up-and-coming writers working for them, and it was a real cool, friendly environment."
When he first moved to Nashville, Stewart was chasing a singing career as much as being a songwriter. With Jerry Reed's help he gained a record deal and in 1977 he recorded his first album, SING ME A RAINBOW, for Mercury. A pop-rock collection, the record disappeared without trace, and gradually the writing took over his career aspirations.
Reed recorded several of Stewart's songs including All Day Ride and You're Gonna Need Somebody, but it was Donna Fargo who first took one of his songs into the country Top 20 with Ragamuffin Man in 1978. Soon others including Don King, Roy Clark, Johnny Duncan and Loretta Lynn were enjoying chart success with Stewart Harris' songs.
In many places sharing seems to be a lost art, with giving of one's time and talent so often being dependent on a tangible return. But Nashville possesses numerous singers and songwriters who are willing to give their time and talent unconditionally. Within a couple of years of moving to Nashville, Harris had teamed up with fellow writers Jim McBride and Roger Murrah, going on to work with them frequently over the years.
He has also co-written with Keith Stegall, most notably on Hurricane, his first top 10 hit with Leon Everette in 1981, Thom Schuyler, Travis Tritt and Jill Colucci. He says that he enjoys co-writing, but obviously clicks with some writers more easily than others.
"I know a lot of my friends are going to hate me for this," he says. "But Jim McBride is my favourite co-writer. There is some kind of chemistry that happens when we get together to write. It happened from the very first time and whenever the opportunity presents itself, we'll both make time to sit down and chew over a few ideas and see what comes out of it."
Down through the years the pair have come up with some impressive writing success, the best being Rose In Paradise. The calibre of the song combined with Waylon Jennings' incredible delivery resulted in a chart-topping country single. More recently Harris has worked with Travis Tritt, co-authorising three songs on Tritt's million-selling debut album, COUNTRY CLUB, including the number one singles I'm Gonna Be Somebody and Drift Off To Dream.
His association with Tritt has continued through songs like Can I Trust You With My Heart, nominated as the Academy Of Country Music's 1993 Song of the Year, When I Touch You and Southern Justice, the latter included on the soundtrack to the movie My Cousin Vinny.
"I'm Gonna Be Somebody means a lot to me," admits Stewart. "To a certain degree it's about myself, yet it also sums up what Travis is all about too. The Boy Down The Road that Larry Stewart cut is one of my favourite songs. Trisha Yearwood actually did the demo for that. She didn't have her record deal then."
As well as writing country hits, Stewart has written several television themes including A Day In The Life Of Country Music, and with Jill Colucci is also the co-writer of the theme for ABC's America's Funniest Home Videos, which won the 1991 ASCAP Film and Television Award, and is still one of America's top TV shows.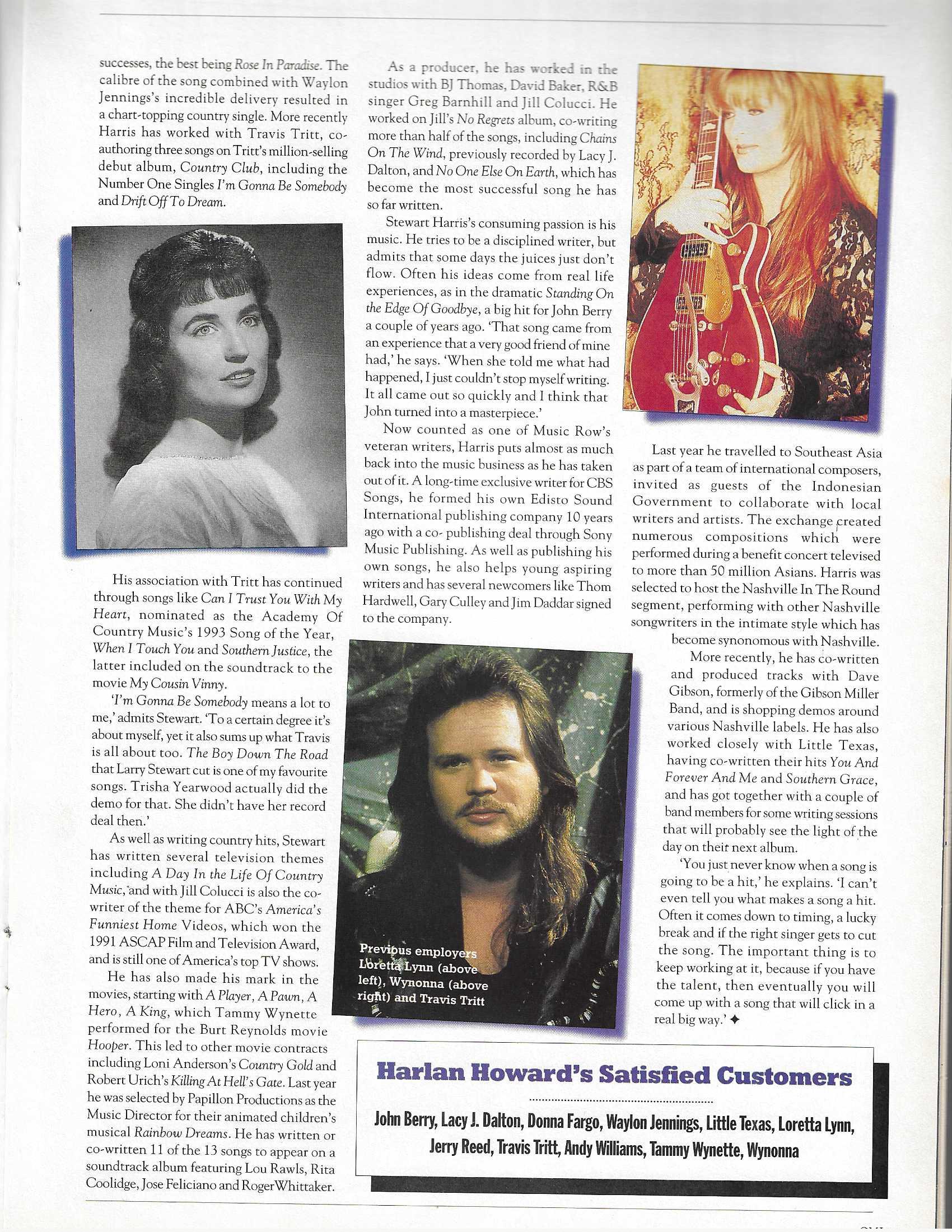 He has also made his mark in the movies, starting with A Player, A Pawn, A Hero, A King, which Tammy Wynette performed for the Burt Reynolds movie Hooper. This led to other movie contracts including Loni Anderson's Country Gold and Robert Urich's Killing At Hell's Gate. Last year he was selected by Papillon Productions as the Music Director for their animated children's musical Rainbow Dreams. He has written or co-written 11 of the 13 songs to appear on a soundtrack album featuring Lou Rawls, Rita Coolidge, Jose Feliciano and Roger Whittaker. 
As a producer, he has worked in the studios with BJ Thomas, David Baker, r&B singer Greg Barnhill and Jill Colucci. He worked on Jill's NO REGRETS album, co-writing more than half of the songs, including Chains On The Wind, previously recorded by Lacy J Dalton, and No One Else On Earth, which has become the most successful song he has written.
Stewart Harris's consuming passion is his music. He tries to be a disciplined writer, but admits that some days the juices just don't flow. Often his ideas come from real life experiences, as in the dramatic Standing On The Edge Of Goodbye, a big hit for John Berry a couple of years ago. "That song came from an experience that a very good friend of mine had," he says. "When she told me what had happened, I just couldn't stop myself writing. It all came out so quickly and I think that John turned it into a masterpiece."
Now counted as one of Music Row's veteran writers, Harris puts almost as much back into the music business as he has taken out of it. A long-time exclusive writer for CBS Songs, he formed his own Edisto Sound International publishing company ten years ago with a co-publishing deal through Sony Music Publishing. As well as publishing his own songs, he also helps with young aspiring writers and has several newcomers like Thom Hardwell, Gary Culley and Jim Daddar signed to the company.
Last year he travelled to Southern Asia as part of a team of international composers, invited as guests of the Indonesian Government to collaborate with local writers and artists. The exchange created numerous compositions which were performed during a benefit concert televised to more than 50 million Asians. Harris was selected to host the Nashville In The Round segment, performing with other Nashville songwriters in the intimate style which become synonymous with Nashville.
More recently, he has co-written and produced tracks with Dave Gibson, formerly of the Gibson Miller Band, and is shopping demos around various Nashville labels. He has also worked closely with Little Texas, having co-written their hits You And Forever And Me and Southern Grace, and has got together with a couple of band members for some writing sessions that will probably see the light of the day on their next album.
"You just never know when a song is going to be a hit," he explains. "I can't even tell you what makes a song a hit. Often it comes down to timing, a lucky break and if the right singer gets to cut the song. The important thing is to keep working at it, because if you have the talent, then eventually you will come up with a song that will click in a real big way."