First Published in Country Music International. May 1995
A singer-songwriter's lot isn't always a happy one. "He's out there every night like a prize-fighter, putting himself on the line," claims one of the craft's finest exponents
I wore out my first copy of Steve Young's 1969 debut album, ROCK, SALT & NAILS, long ago. A dedicated singing troubadour who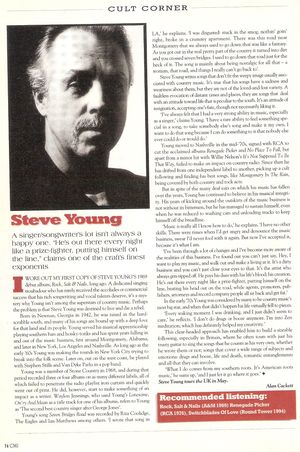 has rarely received the accolades or commercial success that his rich songwriting and vocal talents deserve, it's a mystery why Young isn't among the superstars of country music. Perhaps the problem is that Steve Young was destined to live and die a rebel.
Born in Newnan, Georgia in 1942, he was raised in the hard-scrabble south, and many of his songs are bound up with a deep love for that land and its people. Young served his musical apprenticeship playing southern bars and honky-tonks and has spent years falling in and out of the music business, first around Montgomery, Alabama, and later in New York, Los Angeles and Nashville. As long ago as the early 1960s Young was making the rounds in New York City trying to break into the folk scene. Later on, out on the west coast, he played with Stephen Stills and Van Dyke Parks in a pop band.
Young was a member of Stone Country in 1968, and during that period recorded three or four albums on as many different labels, all of which failed to penetrate the radio playlist iron curtain and quickly went out of print. He did, however, start to make something of an impact as a writer. Waylon Jennings, who used Young's Lonesome, On'ry And Mean as a title track for one of his albums, refers to Young as 'The second best country singer after George Jones'.
Young's song Seven Bridges Road was recorded by Rita Coolidge, The Eagles and Ian Matthews among others. "I wrote that song in LA," he explains. "I was disgusted: stuck in the smog, nothin' goin' right, broke in a crummy apartment. There was this road near Montgomery that we always used to go down that was like a fantasy. As you got out in the real pretty part of the country it turned into dirt and you crossed seven bridges. I used to go down that road just for the heck of it. The song is mainly about being nostalgic for all that—a woman, that road, and things I really can't go back to."
Steve Young writes songs that don't fit the weepy image usually associated with country music. It's true that his songs have a sadness and weariness about them, but they are not of the loved-and-lost variety. A faultless evocation of distant times and places, they are songs that deal with an attitude toward life that is peculiar to the south. It's an attitude of resignation, accepting one's fate, though not necessarily liking it.
"I've always felt that I had a very strong ability in music, especially as a singer," claims Young. "I have a rare ability to feel something special in a song, to take somebody else's song and make it my own. I want to do that song because I can do something to it that nobody else ever could do or would do."
Young moved to Nashville in the mid-1970s, signed with RCA to cut the acclaimed albums RENEGADE PICKER and NO PLACE TO FALL, but apart from a minor hit with Willie Nelson's It's Not Supposed To Be That Way, failed to make an impact on country radio. Since then he has drifted from one independent label to another, picking up a cult following and finding his best songs, like Montgomery In The Rain, being covered by both country and rock acts.
But in spite of the many deaf ears on which his music has fallen over the years, Young has continued to believe in his musical integrity. His years of kicking around the outskirts of the music business is not without bitterness, but he has managed to sustain himself, even when he was reduced to washing cars and unloading trucks to keep himself off the breadline.
"Music is really all I know how to do," he explains. "I have no other skills. There were times when I'd get angry and denounce the music business, swear I'd never fool with it again. But now I've accepted it, because it's what I am."
"I've been through a lot of changes and I've become more aware of the realities of this business. I've found out you can't just say, hey, I want to play my music, and walk out and make a living at it. It's a dirty business and you can't just close your eyes to that. It's the artist who always gets ripped off. He pays his dues with this life's blood; his creation. He's out there every night like a prize-fighter, putting himself on the line, beating his head out on the road, while agents, promoters, publishers, attorneys and record company people all sit back and get fat."
In the early 1970s Young was considered by many to be country music's next big star, and when that didn't happen his life virtually fell to pieces.
"Every waking moment I was drinking, and I just didn't seem to care," he reflects. "I don't do drugs or booze anymore. I'm into Zen meditation, which has definitely helped my creativity."
This clear-headed approach has enabled him to build a sizeable following, especially in Britain, where he often tours with just his trusty guitar to sing the songs that he counts as his very own, whether he wrote them or not; songs that cover a wide range of subjects and emotions: drugs and booze, life and death, romantic entanglements and all that they can involve.
"What I do comes from my southern roots. It's American roots music," he sums up, "and I just let it go where it goes."