Steve Wariner - Fire Starter
First Published in Country Music International – June 1998
After 20 years in Nashville and a string of country chart hits, Steve Wariner dropped out of sight mysteriously in 1993. After several years of silence, he's back with a brand new album, BURNNIN' DOWN THE ROADHOUSE. "I just take things as they come," he tells Alan Cackett.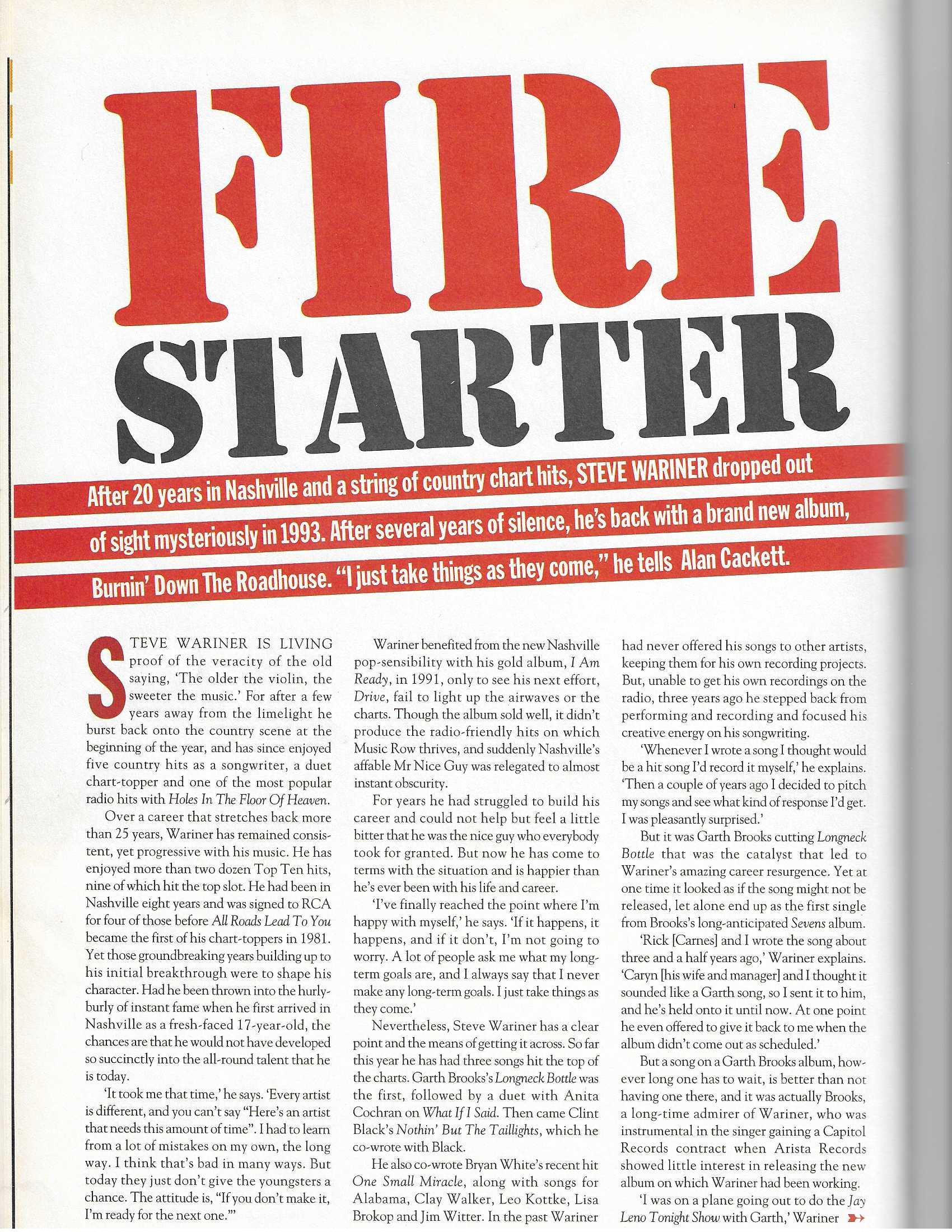 Steve Wariner is living proof of the veracity of the old saying: The older the violin, the sweeter the music.' For after a few years away from the limelight he burst back onto the country scene at the beginning of the year, and has since enjoyed five country hits as a songwriter, a duet chart-topper and one of the most popular radio hits with Holes In The Floor Of Heaven.
Over a career that stretches back more than 25 years, Wariner has remained consistent, yet progressive with his music. He has enjoyed more than two dozen Top Ten hits, nine of which hit the top slot. He had been in Nashville eight years and was signed to RCA for four of those before All Roads Lead To You became the first of his chart-toppers in 1981. Yet those groundbreaking years building up to his initial breakthrough were to shape his character. Had he been thrown into the hurly-burly of instant fame when he first arrived in Nashville as a fresh-faced 17-year-old, the chances are that he would not have developed so succinctly into the all-round talent that he is today.
"It took me that time," he says. "Every artist is different, and you can't say: 'Here's an artist that needs this amount of time.' I had to learn from a lot of mistakes on my own, the long way. I think that's bad in many ways. But today they just don't give the youngsters a chance. The attitude is: 'If I don't make it, I'm ready for the next one.'"
Wariner benefited from the new Nashville pop-sensibility with his gold album, I AM READY, in 1991, only to see his next effort, DRIVE, fail to light up the airwaves or the charts. Though the album sold well, it didn't produce the radio-friendly hits on which Music Row thrives, and suddenly Nashville's affable Mr Nice Guy was relegated to almost instant obscurity.
For years he had struggled to build his career and could not help but feel a little bitter that he was the nice guy who everybody took for granted. But now he has come to terms with the situation and is happier than he's ever been with his life and career.
"I've finally reached the point where I'm happy with myself," he says. "If it happens, it happens, if it don't, I'm not going to worry. A lot of people ask me what my long-term goals are, and I always say that I never make any long-term goals. I just take things as they come."
Nevertheless, Steve Wariner has a clear point and the means of getting it across. So far this year he has had three songs hit the top of the charts. Garth Brooks' Longneck Bottle was the first, followed by a duet with Anita Cochran on What If I Said. Then came Clint Black's Nothin' But The Taillights, which he co-wrote with Black.
He also co-wrote Bryan White's recent hit One Small Miracle, along with songs for Alabama, Clay Walker, Leo Kottke, Lisa Brokop and Jim Witter. In the past Wariner had never offered his songs to other artists, keeping them for his own recording projects. But, unable to get his own recordings on the radio, three years ago he stepped back from performing and recording and focused his creative energy on his songwriting.
"Whenever I wrote a song I thought would be a hit song I'd record it myself," he explains. "Then a couple of years ago I decided to pitch my songs and see what kind of response I'd get. I was pleasantly surprised."
But it was Garth Brooks cutting Longneck Bottle that was the catalyst that led to Wariner's amazing career resurgence. Yet at one time it looked as if the song might not be released, let alone end up as the first single from Brooks' long-anticipated SEVENS album.
"Rick (Carnes) and I wrote the song about three and a half years ago," Wariner explains. "Caryn (his wife and manager) and I thought it sounded like a Garth song, so I sent it to him, and he's held onto it until now. At one point he even offered to give it back to me when the album didn't come out as scheduled."
But a song on a Garth Brooks album, however long one has to wait, is better than not having one there, and it was actually Brooks, a long-time admirer of Wariner, who was instrumental in the singer gaining a Capitol Records contract when Arista Records showed little interest in releasing the new album on which Wariner had been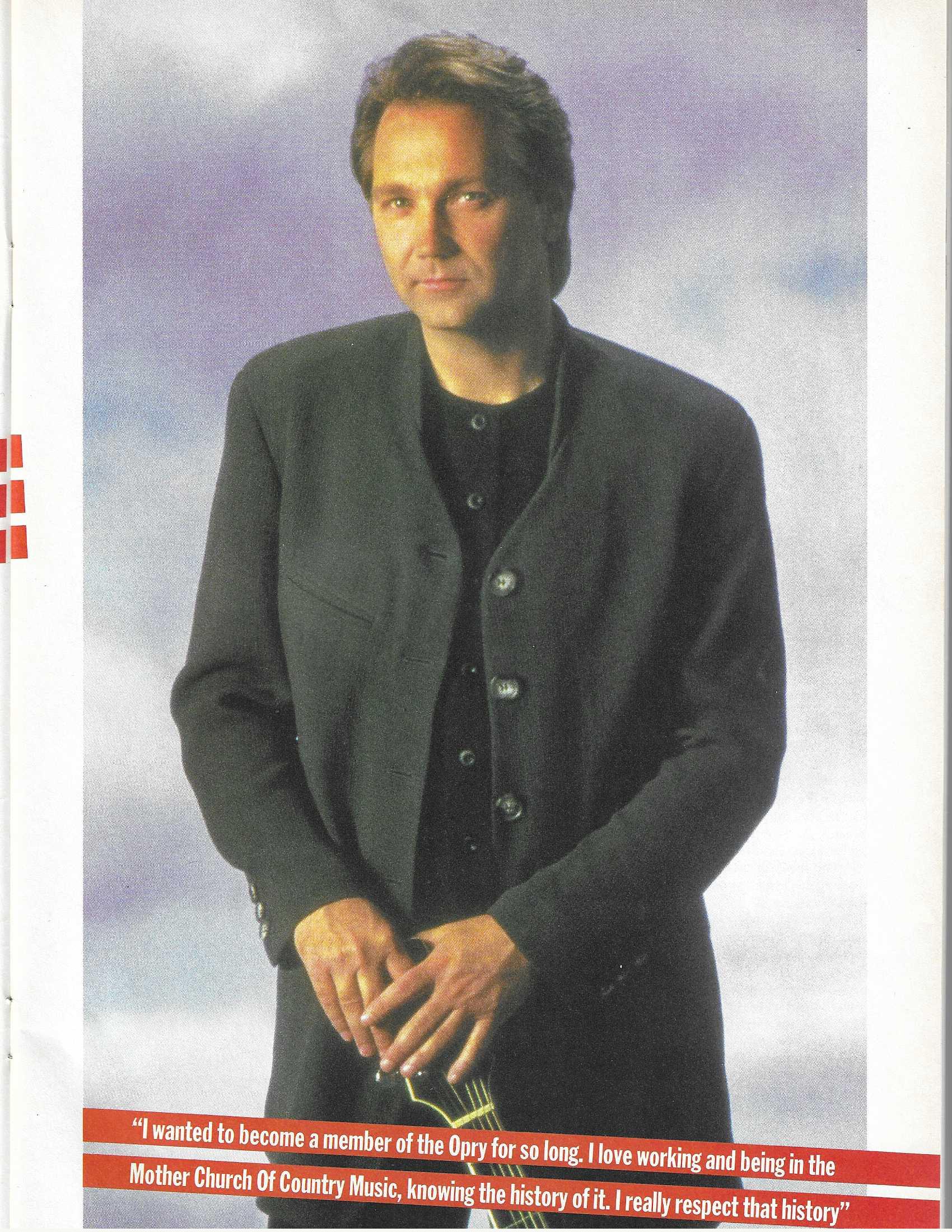 working.
"I was on a plane going out to do the Jay Leno Tonight Show with Garth," Wariner explains. "I had headphones on and he asked me what I was listening to. I said some new stuff that I've written, and he wanted to hear it. So I played it and he heard Holes In The Floor Of Heaven. When it finished he smiled at me and said: 'You know what? That song should be out right now.'"
Wariner explained that Arista had no plans to release anything by him. Surprisingly, he only had a handshake deal with Arista head Tim DuBois and was more-or-less free to leave the label whenever he wanted to. "Garth said: 'I bet Capitol would love to put that out right now.' That really got the wheels turning."
Wariner asked to be released from his Arista contract. DuBois readily agreed without any animosity and wished him the best of luck. Finding himself courted by numerous labels, including Asylum, Wariner decided to sign with Capitol, and not just because of the Garth connection. "I went with Capitol because they were really excited," he says. "They recognised the possibilities. When they heard my song they thought it was a hit. I really owe a lot to Garth, because he was the one who let them hear my music."
Steve Wariner is not blessed with a powerful or distinctive voice in the tradition of a George Jones or a Conway Twitty. He's never going to blow anybody away with a ballad like Vern Gosdin, or break their hearts with high, clear tenor notes like Vince Gill. But he exploits the talents he does possess to much greater advantage than many of his contemporaries. This comes through nowhere more strongly than on Holes In The Floor Of Heaven, a song delicately poised between traditional country sentimentality and universal emotion.
The song explores the unbreakable emotional connection between those who have passed away and those who remain. "I've had a lot of songs out in my time, but never one that's had this kind of reaction," Wariner explains. "So many people can relate to the death of a close one. Everyone's gone through that, and they can deal with the loss of somebody they loved in a positive way. It's not a negative song at all."
Wistful and lovely, it's also proof positive that this gifted interpreter is also a very talented songwriter. Wariner delivers Holes In The Floor Of Heaven in a straightforward manner that brings the story to life while the skillful production lets his impressive vocals shine. Like the rest of his BURNIN' THE ROADHOUSE DOWN album, it goes against the Music Row formula, being a self-produced project that was mainly recorded in his home studio. 
"When I went with Capitol I already had the album started," he says. "I'd gone in and tracked it in a couple of big studios downtown. That was before I'd even signed my contract. I really believed in Holes In The Floor Of Heaven. I thought it was a hit, and I wasn't going to sit around waiting. I was that confident, and wherever I went I was going to have to record it, one way or another. Once I'd recorded the initial tracks, I came back to my little studio in the house, and did the overdubs, sweetening, guitar picking and mixed it."
During his years of songwriting, Wariner set aside a few keepers, waiting for the day he could record them himself. On BURNIN' THE ROADHOUSE DOWN he displays a penchant for solid songs and an immersively likable voice. The title song, co-written with Rick Carnes, and featuring Garth Brooks on guest vocals, is a rowdy salute to those wild Saturday nights in the local honky-tonk with a hot band. Road Trippin' transfers that goodtime feeling to the lure of the open road, and Big Tops, which he co-wrote with Marcus Hummon, details a sadder time, using the analogy of a circus big top coming down to tell the story of a couple's love vanishing.
There is a relaxed feeling about the album and it seems that time has only improved Wariner's delivery. It could be down to the freedom and lack of stress that comes from the hustle and bustle of the music business. Working at home certainly seems to agree with Wariner.
"I can get up, have my breakfast and read the paper, then if I feel like playing the guitar that day, I play guitar," he says. "Of course, I was under the gun once I'd signed with Capitol. I had to get it finished, but it's nice to be able to sing or play whenever you want to."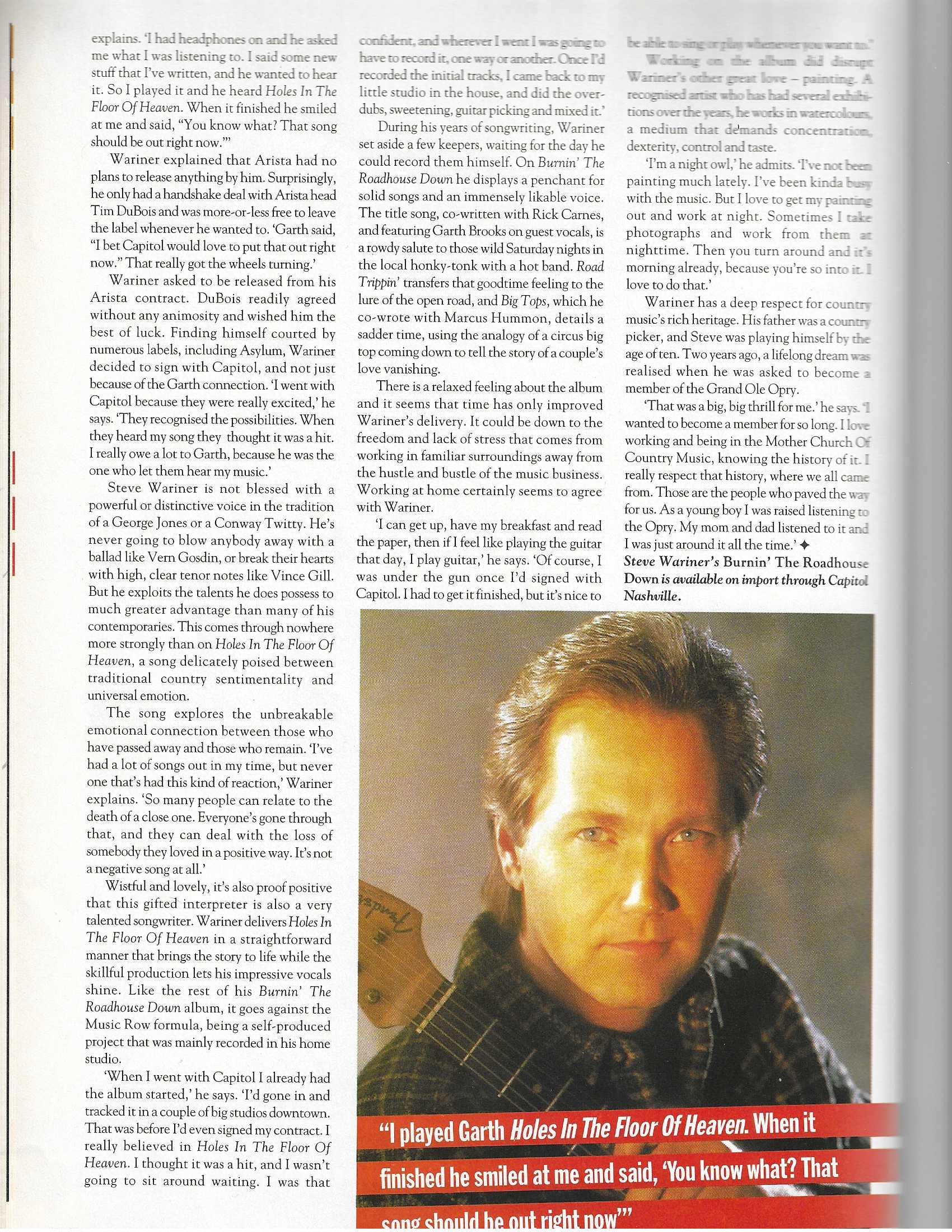 Working on the album did disrupt Wariner's other great love—painting. A recognised artist who has had several exhibitions over the years, he works in watercolours, a medium that demands concentration, dexterity, control and taste.
"I'm a night owl," he admits. "I've not been painting much lately. I've been kinda busy with the music. But I love to get painting out and work at night. Sometimes I take photographs and work from them at nighttime. Then you turn around and it's  morning already, because you're so into it. I love to do that."
Wariner has a deep respect for country music's rich heritage. His father was a country picker, and Steve was playing himself by the age of ten. Two years ago, a lifelong dream was realised when he was asked to become a member of the Grand Ole Opry.
"That was a big, big thrill for me," he says. "I wanted to become a member for so long. I love working and being in the Mother Church Of Country Music, knowing the history of it. I really respect that history, where we all came from. Those are the people who paved the way for all of us. As a young boy I was raised listening to the Opry. My mom and dad listened to it and I was just around it all the time."