Steve J Curtis - Desert Bird
ESSJAYCEE004
****1/2
This is a real good collection of country-rockers, rootsy rock and soulful ballads.  Each of the album's songs conveys the sense of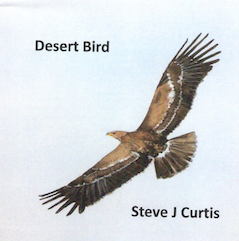 being fully in its right place, with Steve's skilled songwriting and expert multi-instrumentalism creating music that is big, bold and expansive. This is a top-quality recording, produced by Steve in his own Creation Station Studio, situated in his Suffolk home. The 13 tracks were written, arranged and performed by Steve, who not only provides all the distinctive lead vocals, but also played all instruments. It stands out next to anything coming from the major studios in Nashville, London or wherever in the world. It also does a couple of other things. First, these varied songs highlight the deceptive flexibility in his voice. His croon is perfect for tackling fare that evokes the classic 1990s country of folks like Lee Roy Parnell or Marty Stuart, but it also possesses a certain timelessness to it, that makes it ideally suited for forays into a wide spectrum of sounds. The second thing these tracks do, concerns music in general, because they highlight the way country and jangly pop-rock have seeped into seemingly dissimilar genres of music and have inspired the continued evolution of music.
Steve has been a stalwart on the British music scene for close on 40 years, starting out in a family country band and gaining a well-earned reputation as a skilled guitarist and versatile vocalist. Alongside his regular gigging, he also composes and produces music for advertising and various publishing libraries. The sound the husky-voiced singer generates in his music is a cross breed of country and rock, soulfully down-home, current and nostalgic. It's difficult to pick out highlights when the tunes on offer are of such high quality and appear in such abundance. For the most part, however, the songs find a compromise between the pacing Heartbreak City and the smooth acoustic balladry of All I Ever Wanted. Heavy Rain and Better Get Gone are underscored by Steve's busy, yet inventive guitar work, turning each into a kind of romantic romp that still manages to articulate the emotion. His playing is polished and precise—witness the fluidity of his delivery on the album's pair of astute instrumentals, Red Kite and Spaced Out—but he also imbues each effort with enough resonant refrains to allow the songs to stand on their own. 
That said, the best examples of Steve's dynamic and dexterity are found on songs such as Home Bound Traffic, a real-life yarn about the onset of retirement that would suit someone like Alan Jackson or George Strait and Note To A Wannabe Hobo, both of which turn out to be sterling examples of a sound that's as exuberant as it is engaging. To his credit, Steve varies the sentiment, countering the exhilarating strains of the up-tempo opener, In My Arms Tonight, with the troubled tones of Desert Bird and matter-of-fact expression of From Now On, the latter being a bitter retort to a departing former lover. A genuine songwriter of the classic variety, he also turns in a couple of story songs. Gin Palace Alice is all about a lady ridiculed by fellow pub regulars for her far-fetched yarns of yesteryear and her on-going early signs of dementia, who favours gin to get through the final days of her life. Cold November Day, is a more reflective piece, taken at a much slower tempo. It's a message of love across the bounds of death, with the singer being the departed sailor of a fatal shipwreck, consoling himself with a certainty of seeing his lover, who is waiting hopefully at the shoreline, on the other side. Overall, this album is full of direct, stylistically varied music ...warm and engaging ... cohesive, yet full of twists and turns, that keeps you hooked on every word and note you hear.
https://www.facebook.com/SteveJCurtisMusic/
May 2021