First published in Country Music People, November 1977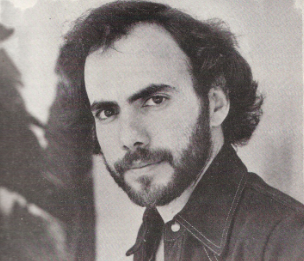 Steve Goodman is a musician who—quite honestly—is virtually unknown by the majority of country fans. This is not to say that he has gone unnoticed in country music. One of his tunes,
The City Of New Orleans
ensures him a place in the annals of country music forever.
It's a train song in the mould of the Jimmie Rodgers classics' of the 1930s. With a remarkable economy of words he paints a graphic picture of a train ride, the last one on an important American line from Chicago to New Orleans. The song has been well covered in the country field by artists like Hank Snow, Arlo Guthrie and Jerry Reed, and should be familiar to most readers.
Goodman is not a prolific songwriter. He's possibly only penned around forty songs. More often than not they tell a story, hold a mirror up to facets of American life in a tongue-in-cheek and simple, slightly mocking manner. His tunes are simple and memorable, his lyrics extremely well made. The songs stand up as pieces of skilfully created modern Americana.
He was born on July 25, 1948 on Chicago's North Side. He cites the radio as his main musical influences. A musicologist of the streets, Godman is always on the look out for interesting material, no matter where it comes from. You will find traces of blues, folk, country, jazz and swing in his work.
Image can be an unpleasant liability dangling round you neck. Goodman has had his work cut out to get away from just being known as the man who wrote
City Of New Orleans
. He refuses to be pigeon-holed, being a singer, writer and entertainer who keeps variety uppermost in his music. This probably explains his lack of success on record.
Anyone lucky enough to catch any of his appearances at Cambridge or other Folk Festivals in recent years can verify that as a performer and entertainer, he has few peers. And yet for all Steve Goodman's beautiful songs, he has failed to transform good live appearances into album sales.
He became a full-time professional musician in 1969 and has succeeded in making a worthwhile living from his eclectic performances as opposed to heavy selling albums. His first recorded effort, STEVE GOODMAN was made in Nashville in 1971 and released by Buddah. It branded Steve as a country singer, which is something he is not.
His music is heavily country biased even to the extent where his accent swings more towards the South than Chicago and the Mid-West. That debut album, because it was recorded in Nashville, was very much in the spirit of country music. Even one of his songs, the humorous
You Never Even Call Me By My Name
takes in just about every cliché used in the country music songwriter's book.
Primarily, though, his albums contain a pot-pourri of musical styles. A folk connoisseur, Steve approaches music, both contemporary and traditional, with understanding. Besides reviving standards like Hank Williams'
Mind Your Own Business, The Glory Of Love
and
Mama Don't
Allow
, he has also introduced several contemporary classics to the world.
The trio of songs penned by the obscure Mike Smith that litter his repertoire are certainly worth investigating. The sentimental
The Dutchman
, which George Hamilton IV picked up on, is one of my favourite stories. The tale is different, but totally believable and Steve's version is instantly memorable due to his sensitive vocal work and some haunting, evocative accordion.
Spoon River
, which Goodman featured on his first Asylum album in 1975, is a tender, heartfelt ballad concerning the American Civil War. Steve Goodman obviously believes in the talents of Mike Smith as a writer and I'm still amazed that he remains unknown. His Roving Cowboy—The Ballad Of Dan Moody is one of the finest gunfighter ballads I've heard. It's an ironic tale of death amongst outlaws in the same class as Marty Robbins'
El Paso
and
Big Iron
. Surprisingly it suits Steve Goodman perfectly.
He even has the ability to tackle the traditional English folk song subject in his own creation,
Death Of A Salesman.
It's another funny tale, but with a cautionary angle as the poor salesman gets involved with a villanous gas station attendant and his beautiful but hammer-bashing daughter.
The musical fare throughout Steve Goodman's repertoire is basically folk-orientated with blues and country influences thrown in. One of the better song stylists and lyricists of the 1970s, Steve is a fine guitarist who incorporate elements of blues, jazz and country into a style that covers a spectrum from swing to country ballads. Most important however, Goodman's albums are full of fun music, something that's all too rare in music today.