Stephanie Davis - Under The Spotlight
First Published in Country Music International, April 1997
After living rough in the Alaska oil fields with a hundred men and writing a raft of hits for Garth Brooks, Stephanie Davis has returned to her wild west roots with a pair of laid-back albums.
Stephanie Davis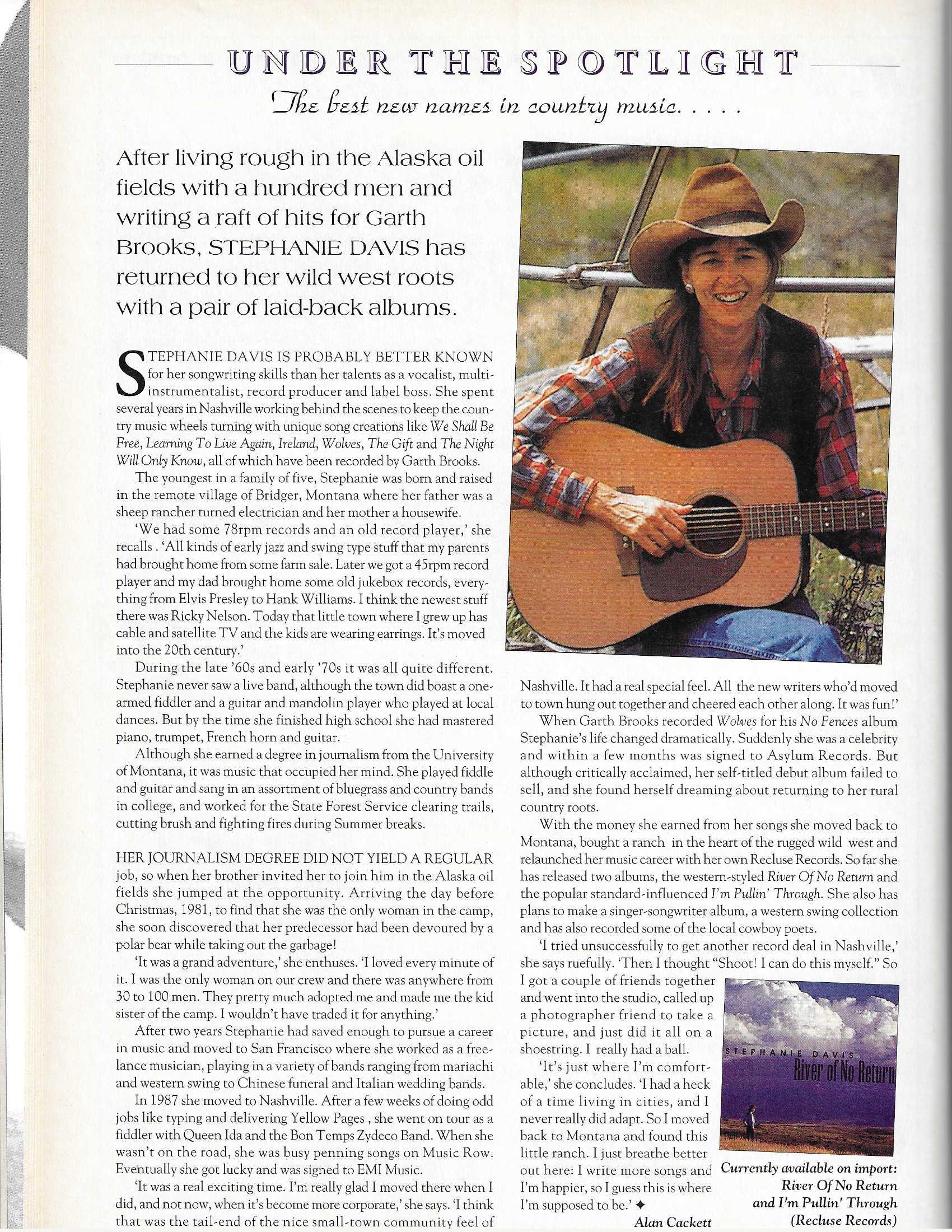 is probably better known for her songwriting skills than her talents as a vocalist, multi-instrumentalist, record producer and label boss. She spent several years in Nashville working behind the scenes to keep the country music wheels turning with unique song creations like We Shall Be Free, Learning To Live Again, Ireland, Wolves, The Gift and The Night Will Only Know, all of which have been recorded by Garth Brooks.
The youngest in the family of five, Stephanie was born and raised in the remote village of Bridger, Montana where her father was a sheep rancher turned electrician and her mother a housewife.
"We had some 78rpm records and an old record player," she recalls. "All kinds of early jazz and swing type of stuff that my parents had brought home from some farm sale. Later we got a 45rpm record player and my dad brought home some old jukebox records, everything from Elvis Presley to Hank Williams. I think the newest stuff there was Ricky Nelson. Today that little town where I grew up has cable and satellite TV and the kids are wearing earrings. It's moved into the 20th century."
During the late 1960s and early 1970s it was all quite different. Stephanie never saw a live band, although the town did boast a one-armed fiddler and a guitar and mandolin player who played at local dances. But by the time she finished high school she had mastered piano, trumpet, French horn and guitar.
Although she earned a degree in journalism from the University of Montana, it was music that occupied her mind. She played fiddle and guitar and sang in an assortment of bluegrass and country bands in college, and worked for the State Forest Service clearing trails, cutting brush and fighting fires during Summer breaks.
Her journalism degree did not yield a regular job, so when her brother invited her to join him in the Alaska oil fields she jumped at the opportunity. Arriving the day before Christmas, 1981, to find that she was the only woman in the camp, she soon discovered that her predecessor had been devoured by a polar bear while taking out the garbage!
"It was a grand adventure," she enthuses. "I loved every minute of it. I was the only woman on our crew and there was anywhere from 30 to 100 men. They pretty much adopted me and made me the kid sister of the camp. I wouldn't have traded it for anything."
After two years Stephanie had saved enough money to pursue a career in music and moved to San Francisco where she worked as a freelance musician, playing in a variety of bands ranging from mariachi and western swing to Chinese funeral and Italian wedding bands.
In 1987 she moved to Nashville. After a few weeks of doing odd jobs like typing and delivering Yellow Pages, she went on tour as a fiddler with Queen Ida and the Bon Temps Zydeco Band. When she wasn't on the road, she was busy penning songs on Music Row. Eventually she got lucky and was signed to EMI Music.
"It was a real exciting time. I'm really glad I moved there when I did, and not now, when it's become more corporate," she says. "I think that was the tail-end of the nice small-town community feel of Nashville. It had a special feel. All the new writers who'd moved to town hung out together and cheered each other along. It was fun!"
When Garth Brooks recorded Wolves for his NO FENCES album Stephanie's life changed dramatically. Suddenly she was a celebrity and within a few months was signed to Asylum Records. But although critically acclaimed, her self-titled debut album failed to sell, and she found herself dreaming about returning to her rural country roots.
With the money she earned from her songs she moved back to Montana, bought a ranch in the heart of the rugged wild west and relaunched her music career with her own Recluse Records. So far she has released two albums, the western-style RIVER OF NO RETURN and the popular standard-influenced I'M PULLIN' THROUGH. She also has plans to make a singer-songwriter album, a western swing collection and has also recorded some of the local cowboy poets.
"I tried unsuccessfully to get another record deal in Nashville," she says ruefully. "Then I thought 'Shoot! I can do this myself.' So I got a couple of friends together and went into the studio, called up a photographer friend to take a picture, and just did it all on the shoestring. I really had a ball."
"It's just where I'm comfortable," she concludes. "I had a heck of a time living in cities, and I never really did adapt. So I moved back to Montana and found this little ranch. I just breathe better out here: I write more songs and I'm happier, so I guess this is where I'm supposed to be."