St Lucia Country Music Festival
First Published in Country Music International – February 1998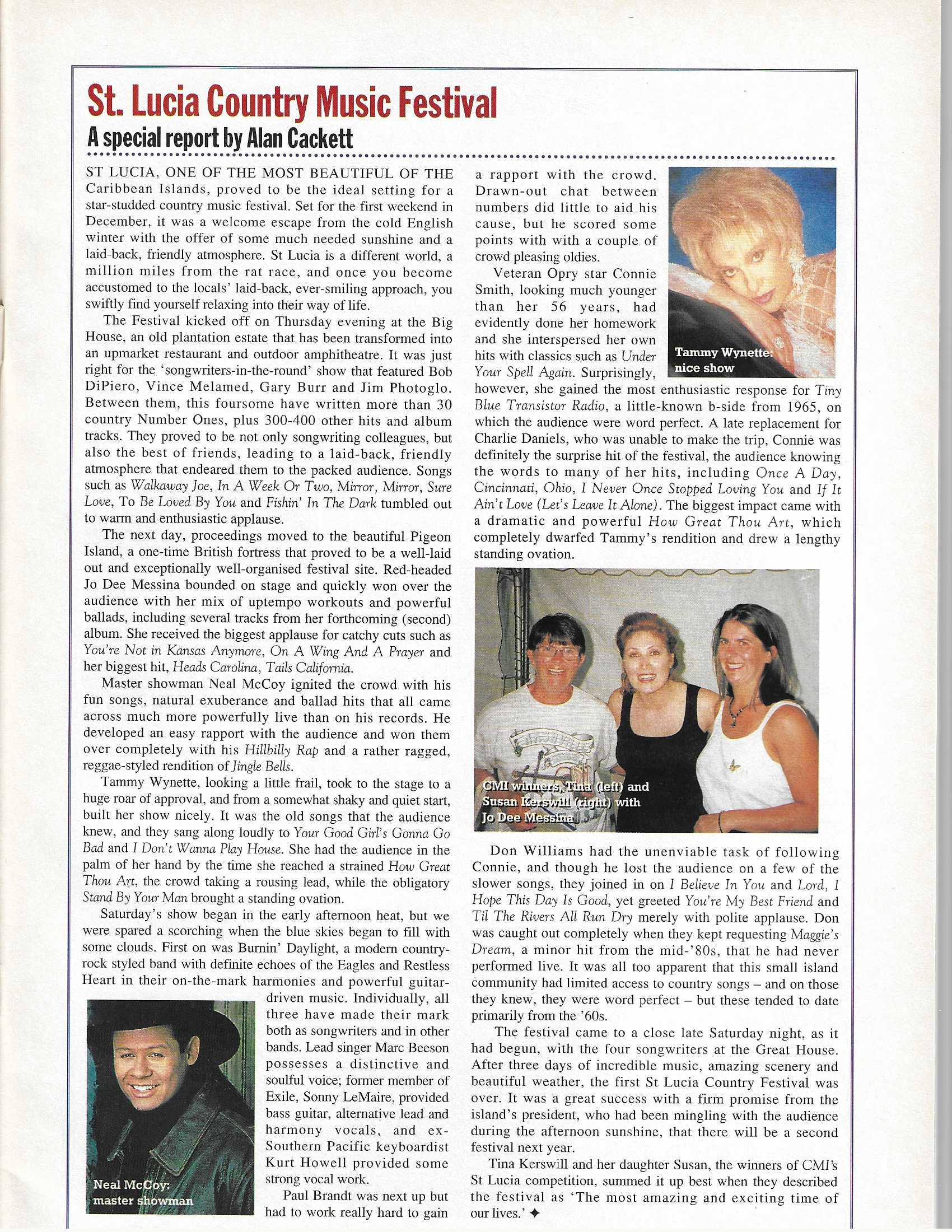 St Lucia, one of the most beautiful of the Caribbean Islands, proved to be the ideal setting for a star-studded country music festival. Set for the weekend in December, it was a welcome escape from the cold English winter with the offer of some much needed sunshine and a laid-back, friendly atmosphere. St Lucia is a different world, a million miles from the rat race, and once you become accustomed to the local's laid-back, ever-smiling approach, you swiftly find yourself relaxing into their way of life.
The festival kicked off on Thursday evening at the Big House, an old plantation estate that has been transformed into an upmarket restaurant and outdoor amphitheater. It was just right for the 'songwriters-in-the-round' show that featured Bob Dipiero, Vince Melamed, Gary Burr and Jim Photoglo. Between them, this foursome have written more than 30 country number ones, plus 300-400 other hits and album tracks. They proved to be not only songwriting colleagues, but also the best of friends, leading to a laid-back, friendly atmosphere that endeared them to the packed audience. Song such as Walkaway Joe, In A Week Or Two, Mirror, Mirror, Sure Love, To Be Loved By You and Fishin' In The Dark tumbled out to warm and enthusiastic applause.
The next day, proceedings moved to the beautiful Pigeon Island, a one-time British fortress that proved to be a well-laid out and exceptionally well-organised festival site. Red-headed Jo Dee Messina bounded on stage and quickly won over the audience with her mix of up-tempo workouts and powerful ballads, including several tracks from her forthcoming (second) album. She received the biggest applause for catchy cuts such as You're Not In Kansas Anymore, On A Wing And A Prayer and her biggest hit, Heads Carolina, Tails California.
Master showman Neal McCoy ignited the crowd with his fun songs, natural exuberance and ballad hits that all came across much more powerfully live than on his records. He developed an easy rapport with the audience and won them over completely with his Hillbilly Rap and a rather ragged, reggae-styled rendition of Jingle Bells.
Tammy Wynette, looking a little frail, took to the stage to a huge roar of approval, and from a somewhat shaky and quiet start, built her show nicely. It was the old songs that the audience knew, and they sang along loudly to Your Good Girl's Gonna Go Bad and I Don't Wanna Play House. She had the audience in the palm of her hand by the time she reached a strained How Great Thou Art, the crowd taking a rousing lead, while the obligatory Stand By Your Man brought a standing ovation.
Saturday's show began in the early afternoon heat, but we were spared a scorching when the blue skies began to fill with some clouds. First on was Burnin' Daylight, a modern country-rock styled band with definite echoes of the Eagles and Restless Heart in their on-the-mark harmonies and powerful guitar-driven music. Individually, all three have made their mark both as songwriters and in other bands. Lead singer Marc Beeson possesses a distinctive and soulful voice; former member of Exile, Sonny LeMaire, provided bass guitar, alternative lead and harmony vocals, and ex-Southern Pacific keyboardist Kurt Howell provided some strong vocal work.
Paul Brandt was next up but had to work really hard to gain a rapport with the crowd. Drawn-out chat between numbers did little to aid his cause, but he scored some points with a couple of crowd-pleasing oldies.
Veteran Opry star Connie Smith, looking much younger than her 56 years, had evidently done her homework and she interspeed her own hits with classics such as Under Your Spell Again. Surprisingly, however she gained the most enthusiastic response for Tiny Blue Transistor Radio, a little-known B-side from 1965, on which the audience were word perfect. A late replacement for Charlie Daniels, who was unable to make the trip, Connie was definitely the surprise hit of the festival, the audience knowing the words to many of the hits, including Once A Day, Cincinnati, Ohio, I Never Once Stopped Loving You and If It Ain't Love (Let's Leave It Alone). The biggest impact came with a dramatic and powerful How Great Thou Art, which completely dwarfed Tammy's rendition and drew a lengthy standing ovation.
Don Williams had the unenviable task of following Connie, and though he lost the audience on a few of the slower songs, they joined in on I Believe In You and Lord, I Hope This Day Is Good, yet greeted You're My Best Friend and Til The Rivers All Run Dry merely with polite applause. Don was caught out completely when they keep requesting Maggie's Dream, a minor hit from the mid-1980s, that he had never performed live. It was all too apparent that this small island community had limited access to country songs—but these tended to date primarily from the 1960s.
The festival came to a close late Saturday night, as it had begun, with the four songwriters at the Great House. After three days of incredible music, amazing scenery and beautiful weather, the first St Lucia Country Festival was over. It was a great success with a firm promise from the island's president, who had been mingling with the audience during the afternoon sunshine, that there will be a second festival next year.
Tina Kerswill and her daughter Susan, the winners of CMI's St Lucia competition, summed it up best when they described the festival as 'The most amazing and exciting time of our lives.'