Southern Pacific - Whatever Happened To.....
First Published in Country Music International – May 1998
Since Alabama burst upon the country scene in the early 1980s, groups have become a country music subgenre. Most last only few years: burnt out by hectic road work, torn apart by internal wrangling, bands like Atlanta, Exile, Restless Heart, Shenandoah and Southern Pacific have all bitten the dust, leaving behind a legacy of great music.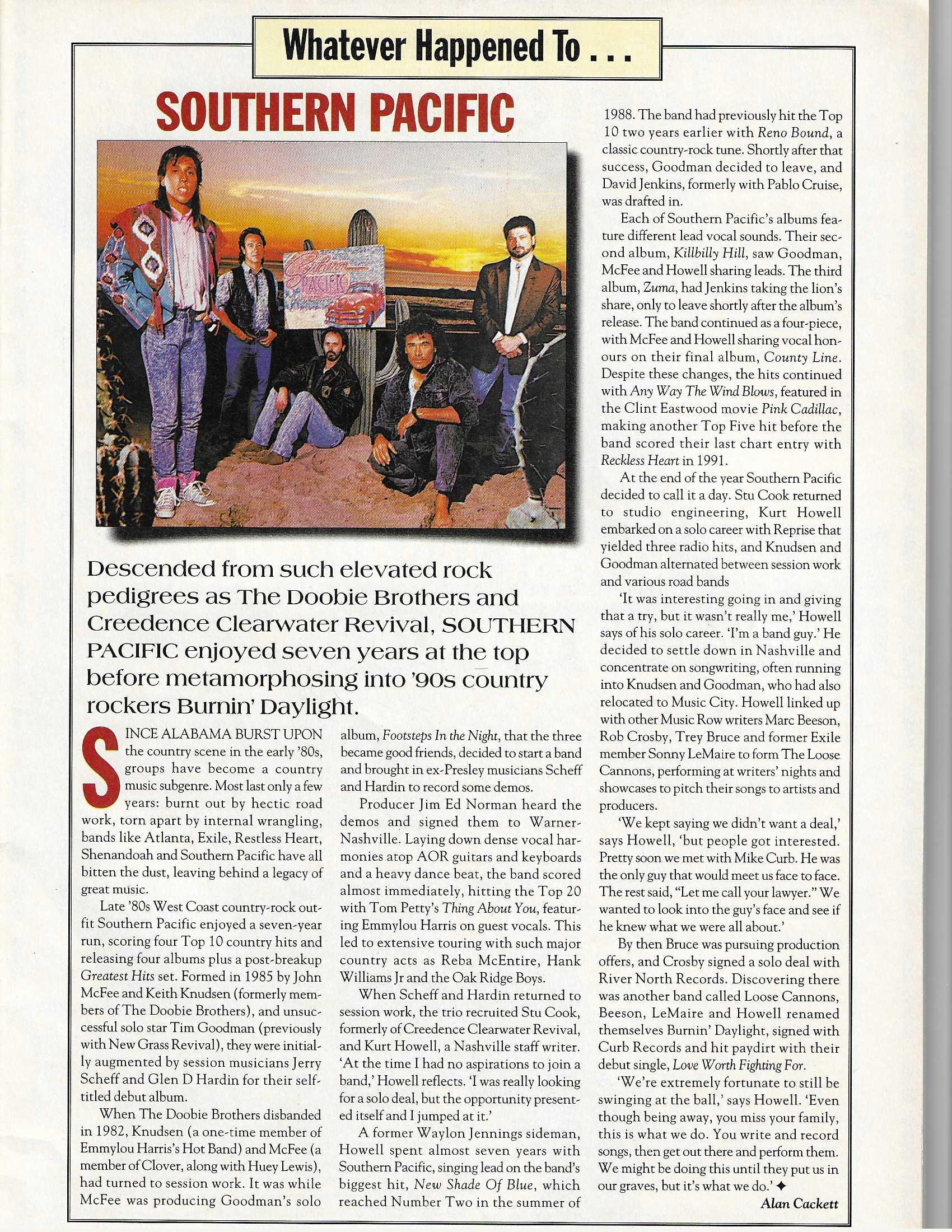 Late 1980s West Coast country-rock out-fit Southern Pacific enjoyed a seven-year run, scoring four top 10 Country hits and releasing four albums plus a post-breakup GREATEST HITS set. Formed in 1985 by John McFee and Keith Knudsen (formerly members of The Doobie brothers), and unsuccessful solo star Tim Goodman (previously with New Grass Revival), they were initially augmented by session musicians Jerry Scheff and Glen D Hardin for their self-titled debut album.
When the Doobie Brothers disbanded in 1982, Knudsen (a one-time member of Emmylou Harris' Hot Band) and McFee (a member of Clover, along with Huey Lewis), had turned to session work. It was while McFee was producing Goodman's solo album, FOOTSTEPS IN THE NIGHT, that the three became good friends, decided to start a band and brought in ex-Presley musicians Scheff and Hardin to record some demos.
Producer Jim Ed Norman heard the demos and signed them to Warner-Nashville. Laying down dense vocal harmonies atop AOR guitars and keyboards and a heavy dance beat, the band scored almost immediately, hitting the top 20 with Tom Petty's Thing About You, featuring Emmylou Harris on guest vocals. This led to extensive touring with such major country acts as Reba McEntire, Hank Williams Jr and the Oak Ridge Boys.
When Scheff and Hardin returned to session work, the trio recruited Stu Cook, formerly of Creedence Clearwater Revival, and Kurt Howell, a Nashville staff writer. "At the time I had no aspirations to join a band"' Howell reflects. "I was really looking for a solo deal, but the opportunity presented itself and I jumped at it."
A former Waylon Jennings' sideman, Howell spent almost seven years with Southern Pacific, singing lead on the band's biggest hit, New Shade Of Blue, which reached number two in the summer of 1988. The band had previously hit the top 10 two years earlier with Reno Bound, a classic country-rock tune. Shortly after that success, Goodman decided to leave, and David Jenkins, formerly with Pablo Cruise, was drafted in.
Each of Southern Pacific's albums feature different lead vocal sounds. Their second album, KILLBILLY, saw Goodman, McFee and Howell sharing leads. The third album, ZUMA, had Jenkins taking the lion's share, only to leave shortly after the album's release. The band continued as a four-piece, with McFee and Howell sharing vocal honors on their final album, COUNTY LINE. Despite these changes, the hits continued with Any Way The Wind Blows, featured in the Clint Eastwood movie Pink Cadillac, making another top five hit before the band scored their last chart entry with Reckless Heart in 1991.
At the end of the year Southern Pacific decided to call it a day. Stu Cook returned to studio engineering, Kurt Howell embarked on a solo career with Reprise that yielded three radio hits, and Knudsen and Goodman alternated between session work and various road bands.
"It was interesting going in and giving that a try, but it wasn't really me," Howell says of his solo career. "I'm a band guy." He decided to settle down in Nashville and concentrate on songwriting, often running into Knudsen and Goodman, who had also relocated to Music City. Howell linked up with other Music Row writers Marc Beeson, Rob Crosby, Trey Bruce and former Exile member Sonny LeMaire to form The Loose Cannons, performing at writers' nights and showcases to pitch their songs to artists and producers.
"We kept saying we didn't want a deal," says Howell, "but people got interested. Pretty soon we met with Mike Curb. He was the only guy that would meet us face to face. The rest said: "Let me call your lawyer.' We wanted to look into the guy's face and see if he knew what we were all about."
By then Bruce was pursuing production offers, and Crosby signed a solo deal with River North Records. Discovering there was another band called Loose Cannons, Beeson, LeMaire and Howell renamed themselves Burnin' Daylight, signed with Curb Records and hit paydirt with their debut single, Love Worth Fighting For.
"We're extremely fortunate to still be swinging at the ball," says Howell. "Even though being away, you miss your family, this is what we do. You write and record songs, then get out there and perform them. We might be doing this until they put us in our graves, but it's what we do."