Sonny Curtis - The Nashville Cats
First Published Country Music International, March 1997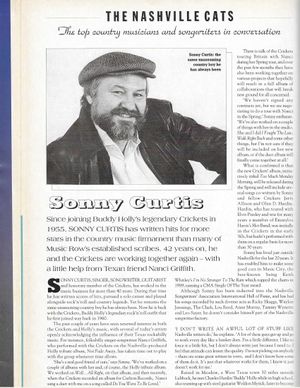 Since joining Buddy Holly's legendary Crickets in 1955, Sonny Curtis has written hits for more stars in the country music firmament than many of Music Row's established scribes. 42 years on, he and the Crickets are working together again – with a little help from Texan friend Nanci Griffith.
Sonny Curtis, singer, songwriter, guitarist and honorary member of the Crickets, has worked in the music business for more than 40 years. During that time he has written scores of hits, pursued a solo career and played alongside rock'n'roll and country legends. Yet he remains the same unassuming country boy he has always been. Now he is back with the Crickets, Buddy Holly's legendary rock'n'roll outfit that he first joined way back in 1960.
The past couple of years have seen renewed interest in both the Crickets and Holly's music, with several of today's artists openly acknowledging the influence of their Texan rockabilly music. For instance, folkabilly singer-songwriter Nanci Griffith, who performed with the Crickets on the Nashville-produced Holly tribute album, NOT FADE AWAY, has taken time out to play with the group whenever time allows.
"She's a real good friend of ours," says Sonny. "We've worked on a couple of albums with her and, of course, the Holly tribute album. We worked on Well...All Right, on that album, and then recently, when the Crickets recorded an album for Carlton Records, Nanci sang a duet with me on a song called Do You Want To Be Loved."
There is talk of the Crickets touring Britain with Nanci during her Spring tour, and over the past few months they have also been working together on various projects that hopefully will result in a full album of collaborations that will break new ground for all concerned.
"We haven't signed any contracts yet, but we are negotiating to do a tour with Nanci in Spring," Sonny enthuses. "We've also worked on a couple of things with her in the studio. She and I did I Fought The Law, Walk Right Back and some other things, but I'm not sure if they will be included on her new album, or if the duet album will finally come together after all."
What is confirmed is that the new Crickets' album, tentatively titled TOO MUCH MONDAY MORNING, will be released during the Spring and will include several songs co-written by Sonny and fellow Crickets Jerry Allison and Glen D. Hardin. Hardin, who has toured with Elvis Presley and was for many years a member of Emmylou Harris' Hot Band, was initially in the Crickets in the early 1960s, but hadn't performed with them on a regular basis for more than 30 years.
Sonny has lived just outside Nashville for the last 20 years. It has enabled him to make some good cuts in Music City, the best-known being Keith Whitley's I'm No Stranger To The Rain which topped the charts in 1989, earning a CMA Single Of The Year award.
Although Sonny has been inducted into the Nashville Songwriters' Association International Hall of Fame, and has had his songs recorded by such diverse acts as Ricky Skaggs, Waylon Jennings, The Clash, Lou Reed, Anne Murray, Tammy Wynette and Leo Sayer, he doesn't consider himself part of the Nashville songwriter factory.
"I don't write an awful lot of stuff like Nashville writers do," he explains. "A lot of these guys get up and go to work every day like a banker does. I'm a little different. I like to force it a little bit, but I don't always write just because I need to. I feel that attitude can lessen the quality. I'm not picking on anybody—
there are some great writers in town, and I don't know how some of them do it. It's just whatever works for them, I know it just doesn't work for me."
Raised in Meadow, a West Texas town 30 miles outside Lubbock, he met Charles Hardin 'Buddy' Holly while in high school, also teaming up with steel guitarist Weldon Myrick, later to become one of Nashville's most in-demand session musicians. Sonny had his first song recorded shortly after graduation. Someday was the flip-side of Webb Pierce's Number One hit, Honky Tonk Song, and substantial airplay took the song to Number 12 on the country charts.
His friendship with Buddy Holly grew, and Curtis, along with Don Guess and Jerry Allison, became a member of Holly's pre-Crickets band, the Three Tunes. The band travelled with Holly to Nashville and cut a few records, including Sonny's own song, Rock Around With Ollie Vee. When Holly's Nashville recordings were completed, the band returned to Texas with little money but high hopes. Soon after that Sonny left the Three Tunes to go on the road with Slim Whitman. "As a matter of fact, I dropped out before Holly formed the Crickets," he said. "Slim Whitman came through town and needed a guitar player, and he made me an offer I couldn't refuse—he offered to pay me real money!"
He also worked as a sideman with the 1950s county stars Carl Smith and Red Sovine, and made his first solo recording in 1957 for Dot Records. In 1960 he moved to California to work with the Crickets, and also played occasional recording dates with the Everly Brothers. It was at this time that he wrote one of his best-known songs, Walk Right Back. After his discharge from the army, Sonny continued to work in Los Angeles as a session guitarist with the likes of Bobby Vee, Liz Minnelli and Gary Lewis, and as a jingle writer.
He maintained a steady flow of songwriting credits, gaining cuts by such diverse acts as Bobby Vee (More Than I Can Say), Bobby Fuller Four (I Fought The Law), Bobby Goldsboro (The Straight Life), Waylon Jennings (Destiny's Child), Andy Williams (A Fool Never Learns), JJ Cale (Gypsy Man), and Red Steagall (Middle Tennessee Country Boy Blues). One of his most successful was Love Is All Around, The Mary Tyler Moore TV series theme, and he also wrote the theme for the Burt Reynolds TV series Evening Shade.
Although Curtis has been more successful as a songwriter than a singer (his catalogue includes more than 300 published songs),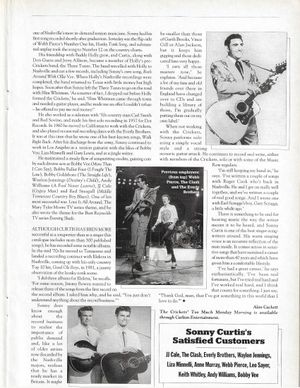 he has recorded some notable albums. In the mid-1970s he moved to Tennessee and landed a recording contract with Elektra in Nashville, coming up with his only country Top 10 hit, Good Ole Boys, in 1981, a jaunty observation of the honky-tonk scene.
"I did three albums for Elektra," he recalls. "For some reason, Jimmy Bowen wanted to release three songs from the first record on the second album. I asked him why, and he said: 'You just don't understand anything about the record business.'."
Sonny does know enough about the record business to realise the importance of public demand and, like a lot of older artists now discarded by the Nashville majors, realises that he has a ready market in Britain. It might be smaller than those of Garth Brooks, Vince Gill or Alan Jackson, but it keeps him gigging and those dedicated fans very happy.
"I own all those masters now," he explains. "And because a lot of my fans and old friends over there in England have changed over to CDs and are building a library of those, I'm gradually putting them out on my own label."
When not working with the Crickets, Sonny performs solo using a simple vocal style and a strong acoustic guitar attack. He continues to record and write, either with members of the Crickets, solo or with some of the Music Row regulars.
"I'm still keeping my hand in," he says. "I've written a couple of songs with Roger Cook who's back in Nashville. He and I get on really well together, and we've written a couple of real good songs. And I wrote one with Earl Scruggs' boy, Gary Scruggs, a little while ago."
There is something to be said for hearing music the way the writer meant it to be heard, and Sonny Curtis is one of the best singer-songwriters around. His warm singing voice is an accurate reflection of the man inside. It comes across in sensitive songs that have sustained a career of more than 40 years and which have given him a comfortable lifestyle.
"I've had a great career," he says enthusiastically. "I've been real fortunate, but I've tried real hard and worked real hard, and I think that counts for something. I just say: 'Thank God, man, that I've got something in this world that I love to do.'"