Smith & Brewer - Another Shade of Smith & Brewer
SMBR-01
****
Smith and Brewer might conjure up thoughts of a firm of accountants or solicitors, but the musical duo of Ben Smith and Jimmy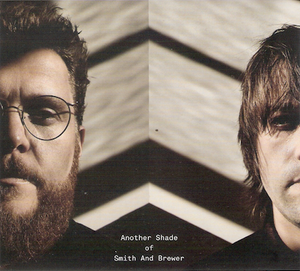 Brewer are as far removed from the stuffiness of those professions as can be. They create guitar-driven country-rock that's dreamy and fiery, spontaneous and well-crafted. From beginning to end, Smith and Brewer exemplify originality and utilise their talents to make country music with a brain. They consistently deliver impressive performances; their harmonies, guitars, and percussion are all point perfect. This British pair is very reminiscent of the merging of two famous duos together, the Louvins and Everlys without sounding too much like either of the brother pairings. While honouring the past, this debut album sounds as bright as a new penny. That about sums up the feel of this recording: planted in yesteryear but cultivated firmly in the now. The duo shine as a beacon of warm and quirky outsiderdom in a rising tide of cookie-cutter Nashville Americana that is currently the norm for most UK 'country' acts.
Blended together Ben and Jimmy's voices sound made for each other, soaring and guiding the music through all the ups and downs of these finely crafted songs. Upholding the highest standard in harmony-drenched cool-vibes country-rock, these dozen self-penned songs cover all the relationship issues from unrequited love to enduring passion and all the heartbreak in between. While this album may have more in common with songwriters from years past than it does with anything currently on country radio, this pair's music is hardly a nostalgic throwback. It's something new and entirely different, a unique approach that simultaneously pushes the boundaries of today's country music and reclaims decades-old traditions for a new generation of listeners.
Opener Isabella sounds like Ira and Charlie Louvin being dragged into the 21st century in a most pleasing manner. An ethereal force blending two voices to form a single sound, which is at once effortless, yet powerful and demands your full attention. Entrancingly soft instrumentation is perfect for the aching Another Shade Of Blue, which gives rise to a relaxing ambience ahead of the hushed but harmonious and heartfelt singing. The rhythm section of Eric Lavansch (drums) and Tom Sinnett (bass) is introduced for Life's Too Short with concise and intricate guitar and light-hearted lyrics with all the harmonies and jangle of the Byrds at their best. Beatific but thrillingly rhythmic, the duo's earnest tones beam with radiance on Favourite Photograph. The dynamically combustive Don't Say You Don't Love Me outlines the difficulties all relationships go through, but genuine love should overcome most niggling obstacles.
The sound quality on Love You Forever like the rest of the album, is clear, spacious and uncluttered. The band stretches out a rhapsodic melody like a ribbon chasing the wind. For me, the highlight comes with Music City, a kind of love-hate nod to Nashville. Over the past few years there's been several songs by Brit acts paying homage to the home of country music. Most have been sugar-coated and rather twee. Not this one; it's real and honest and captures the Nashville beyond the bright lights of Broadway. The boys finish this rather special debut with the whimsical A Lovely Day For Doing Nothing. Bucolic melody, intricate acoustic guitar-picking and lazy, dusty vocals disguise a break-up that has yet to hit home. This is determined music, as evolved as it is respectful of its roots.
Equal parts expressive guitar technique and mesmeric country-rock distillation, Ben and Jimmy and their musical buddies run through these songs with a carefree attitude, borrowing and rearranging sounds and tonality as they see fit. Remarkably, long after the music ends, you'll find yourself humming these timeless songs, nodding with a misty-eyed grin as the world dissolves away.
November 2019